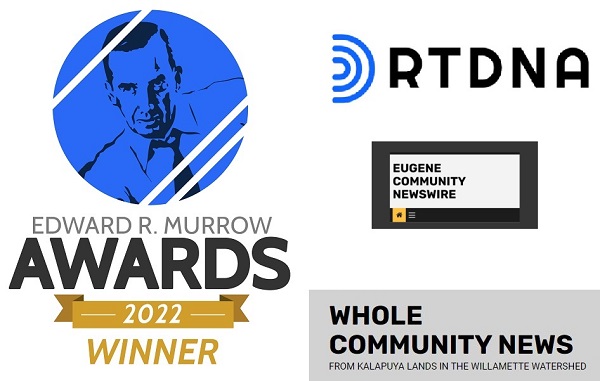 Email JohnQ@PublicNewspapers,org or phone ‪(541) 632-3692‬.
News published on this award-winning site is free and available for use by other local print, radio, television, and online news enterprises under a Creative Commons attribution license.
This free hyperlocal news service supplements local news coverage by covering beats that typically do not overlap or compete with existing commercial news media.
We report on boards and commissions, neighborhoods and nonprofits, preparedness and public comment. For example, we have followed local school boards, the city's Human Rights Commission and its Poverty and Homelessness Work Group; fire, utility, and wastewater districts; labor and renter unions; watersheds; faith communities; active transportation, housing and homelessness; and climate change and economic refugees.
In helping to share public speech, we listen to each individual speaker with the greatest respect and then seek to summarize and present their views to the whole community in the best possible light. Repetition, filler words, non-significant pauses, expletives, and background sounds may be removed, incorrect pronunciations corrected, and sequences changed. Our documentarians seek to share the latest public discourse with depth and context, summarizing a typical 60-minute or 90-minute meeting with eight to 10 minutes of audio.
Our approach, guided by the SPJ Code of Ethics (and frequently humbled by the Associated Press Stylebook), has been characterized as community journalism, public journalism, civic journalism, citizen journalism, and solutions journalism. This project was honored to receive a Regional Edward R. Murrow award from the Radio Television Digital News Association (RTDNA).
This hyperlocal neighborhood news service is one of four projects in the Whole Community Support program. The other three are: the Time Bank; the Exercise and Evaluation program; and the Incident Command System (ICS) For Neighbors.
Whole Community News is a special project sponsored by the Corporation for Public Community Newspapers. The nonprofit board of directors selects special projects each year at its annual meeting on Sept. 23.
Projects started in 2008 with the award-winning Montana weekly newspaper, the Clark Fork Chronicle and its annual almanac, serving the frontier communities of western Missoula County and Mineral County.
We are always looking for neighbors to serve as correspondents and share local neighborhood news. We will recognize your volunteer efforts with exchanges in the time bank. Contact: JohnQ@PublicNewspapers.org or phone ‪(541) 632-3692‬.
Thank you very much for your contributions to Whole Community News and other local nonprofit news organizations.