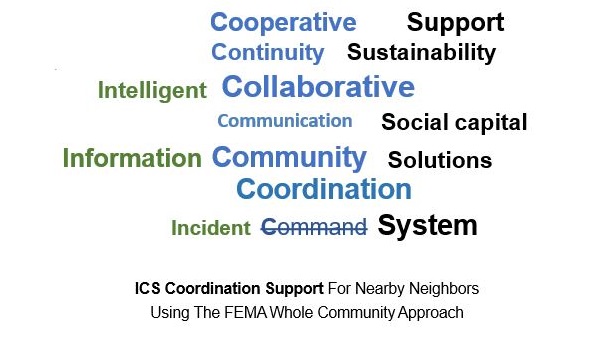 For more than a decade, nearby neighbors in Lane County have supported one another during ice storms, snow storms, wind storms, power outages, heat domes, wildfires, and other climate-change-driven extreme weather events, using the same tools we will one day use in response to a Cascadia Subduction Zone earthquake.
Lane County's urban areas consistently rank among the top populations in Oregon — and sometimes even the nation — of those most vulnerable to the extreme weather events driven by human-caused climate change: Newcomers, elders, income-constrained, and unhoused. FEMA recommends a Whole Community approach that brings basic life-giving safety and security to all persons, regardless of financial means, ability, or even awareness of the need to prepare.
The FEMA Emergency Management Cycle provides significant roles for nearby neighbors in every phase, especially during the early response, as requests for assistance outnumber the available first responders. The person most likely to save your life is a co-worker or nearby neighbor. Neighbors also play a critical lead role in the community's long-term recovery, especially as they go on to organize for mitigation and continue their efforts in local preparedness.
Based on pilot projects coordinating with City, County, Emergency Management, and CERT teams, this program is building out the nearby neighbor side of the response organization structure and its related communications network to the scale of a metropolitan area designated as a Census County Division (CCD). This supports data analysis to determine the populations most at risk and share that data with decision-makers.
FEMA recognizes the need for the Whole Community to engage in preparedness activities. Following FEMA guidance, we engage the Whole Community by standing up self-sustaining nearby neighbor teams:
Implementing a comprehensive Exercise and Evaluation Program;
Practicing use of the ICS / Whole Community Support organizational structure;
Sharing Public Information about preparedness with neighbors and community media;
Recognizing volunteer contributions in a Community Time Bank to sustain and grow nearby neighbor networks.
Read more about each of these four projects in the following sections.
Exercise & Evaluation Program
The Whole Community Support FEMA-compliant Exercise and Evaluation Program creates multiple entry points for individuals and small groups from the whole community to become involved:
Small group discussion and operational exercises (winter, summer)
Neighborhood-wide discussion and operational exercises (spring)
Large-scale all-city operational exercises (fall).
Recent small-group discussion exercises focus on alerts, evacuation zones, and evacuation routes:
Members of neighborhood groups have also recently presented the following trainings, discussion exercises, and field exercises:
Individual preparedness
Nearby neighbor preparedness
Emergency radio communications
Data privacy and information security awareness
FEMA recommends regular evaluations as opportunities for continuous improvement, and offers a variety of templates for meetings and reports.
ICS For Neighborhoods
Members of the FEMA-endorsed Community Emergency Response Team (CERT) living within each neighborhood are trained to communicate with professional emergency management teams. Many of their "civilian" neighbors are not. That is why the CERTs take the lead in organizing themselves using the Incident Command System with familiar ICS titles.
The ICS structure includes a Communications Unit Leader with specific responsibilities. This team includes ham radio operators who communicate with the local Emergency Operations Center during an event.
Each role has a clear set of responsibilities and tasks. This saves time and reduces the interpersonal conflict that can occur as individuals negotiate their roles within the group—which often continues as each new volunteer joins the group.
After filling these ICS roles during the initial response, the neighborhood team hands off to incoming professional emergency management teams. To help the incoming teams be as effective as possible, neighborhood volunteers serving in ICS roles debrief the person(s) succeeding them in those roles.
Public Information Officers (PIOs) serving within those ICS teams know that the average adult reads at about an eighth-grade level. During the stress of a disaster, comprehension can drop by several grade levels. These CERTs are trained to recognize that during the emergency is not always the best time to learn new skills. We have many opportunities to learn and practice before the disaster event.
Adopting these roles while serving as the neighborhood preparedness committee allows the persons in those roles to practice working together as ICS teams before the disaster. This also means that the ICS system is always "activated," empowering volunteers to practice whenever convenient.
While the CERTs adopt ICS titles, and view groups of neighbors as "Resource Teams" conducting operations under the Operations Chief (while also documenting their time and progress), other neighborhood volunteers are free to adopt any organization familiar and comfortable to them.
Corporate volunteers may organize based on workplace relationships. Those familiar with nonprofits or government may organize as ad hoc committees or as councils using Robert's Rules of Order. Others may take on individual projects with project managers; or adopt the large-group consensus process. Those volunteers can self-organize in many different ways.
However the neighborhood volunteers choose to organize in response to the current need, CERTs can support their neighbors and continue to gain experience with ICS roles by participating in exercises conducted at different scales through the Exercise and Evaluation program.
Reporting public information
Neighborhoods regularly share public information from the city of Eugene through print, radio, TV, websites, and social media. In partnership with local 501(c)(3) nonprofits, including advocates for the homeless, local community radio station KEPW 97.3 FM, and The Corporation for Public Community Newspapers, these public information efforts expanded to include civic journalists reporting neighborhood news.
Whole Community News is an award-winning news service with reporting on neighborhoods and nonprofits, boards and commissions, public comments and preparedness efforts.
The PIO team's video productions summarize Zoom webinars that we organized and hosted, featuring such partners as local fire officials, wildland firefighters, OSU Extension specialists, and speakers from environmental and climate change organizations.
Time Bank
A time bank is a network of individual, organizational, and business 'members' who provide services, track and bank their hours, and then spend those hours to meet their own needs. There is no barter or exchange; one member does a friendly, neighborly favor for another and records the time they spent doing so. Members share their talents and services, record their hours, then 'spend' them later on services they want. Everyone's hours are treated as equal in value.
After seeing a TED talk about how a New Zealand time bank helped its community recover from two major earthquakes, Southeast Neighbors volunteer Bianca encouraged creation of the Whole Community Time Bank to help our own community prepare for and recover from future events. The Time Bank can also contribute to community resilience. Acknowledging volunteer-hour contributions gives the Whole Community an opportunity to further build relationships among nearby neighbors.