Growing Coalition Demands City of Eugene Decriminalize Homelessness and #StopTheSweeps
3 min read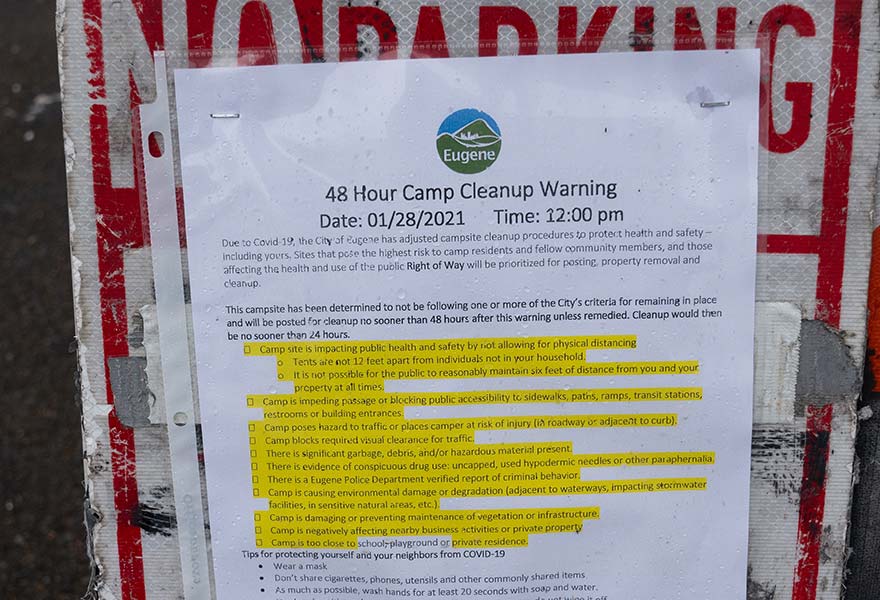 FOR IMMEDIATE RELEASE
February 1, 2021
Contact: Nick Furrow, The Way Home
Phone: 206-457-6797
Email: decriminalizehomelessness@gmail.com
Eugene, OR – Almost eleven months into the pandemic, the City of Eugene continues to take actions causing the dispersal of encampments of Eugene's unhoused residents, breaking connections with service providers, and increasing risk of community spread of COVID-19.
The City is not following CDC's COVID guidelines that state: "If individual housing options are not available, allow people who are living unsheltered or in encampments to remain where they are." Instead, the City has been busy criminalizing homelessness, issuing citations, threatening arrests, and posting notices for two sweeps of encampments planned early this week, without providing any alternative locations where displaced residents can move to.
A growing coalition of organizations and concerned community members—including The Way Home, Black Thistle Street Aid, Community Outreach Through Radical Empowerment (CORE), Stop Deaths On The Streets, Stop the Sweeps Eugene, Community Alliance of Lane County (CALC), Food Not Bombs Eugene, Springfield-Eugene Showing Up for Racial Justice (SURJ)—is urging the City of Eugene to:
Stop the sweeps and follow CDC, OHA, and Lane County Public Health guidelines.
Immediately identify and establish emergency locations where unhoused residents can safely and legally shelter in place in their vehicles and tents.
Provide basic sanitation services to camps.
This coalition is also calling for systemic changes, demanding the City cease its historical and ongoing discriminatory practices criminalizing homelessness, and:
Immediately cease issuing parking/vehicle citations, notices for vehicle impoundment, and other citations for violations of "quality of life" laws that directly target and discriminate against unhoused people and people of color, including prohibited camping, open container, violation of park rules, and criminal trespass.
Increase transparency in identifying resources to address the housing crisis by publicly releasing the City's entire line-item budget for the past 5 years. The public has a right to know how public money is being spent.
Invest resources to help create long-term access to stable and affordable housing for all.
On Saturday, January 23rd, the City announced new criteria and said it "temporarily adjusted its enforcement process around prohibited camping." While there is more clarity provided in this new criteria on where unhoused residents are NOT allowed to be, the City needs to identify where people CAN safely shelter in place. Further, this criteria invites complaints from private property owners and explicitly gives housed and business neighbors the power to arbitrarily get an entire camp evicted because they consider themselves "negatively affected." These are not objective criteria that can be implemented consistently by the City or that unsheltered residents can meet.
This week the City is planning to displace hundreds of unhoused residents from two encampments. Today, the City is expected to finish evicting members of the long-established Trainsong community camp on behalf of the railroad company that owns the land. As early as Tuesday, the City is threatening to sweep another camp on 5th and Almaden/Fillmore. Volunteers will be present at both sweeps, supporting their unhoused neighbors as they are able to- but addressing this crisis humanely should be the City's responsibility.
One resident at the Trainsong community camp was distraught over the eviction and loss of her community. In particular, where would an elderly woman in her COVID pod go? "Nobody helps her but us," the resident said as she folded up the woman's wheelchair.
In just two hours on Sunday, one mutual aid volunteer watched the City issue citations to unhoused residents at three different camps, including a citation to a 70-year old woman with a $790 fine that she cannot pay. The City's current criminalization approach perpetuates cycles of homelessness, costs millions of taxpayer dollars annually, and fails to address the underlying causes of homelessness.
This coalition is demanding the City of Eugene decriminalize homelessness and act swiftly to create viable, emergency locations for our unhoused neighbors to safely shelter in place, while rapidly expanding resources and concrete plans to create long-term, low-barrier affordable housing for all.
###