LTD to resume service Monday for 10 McKenzie bus stops
1 min read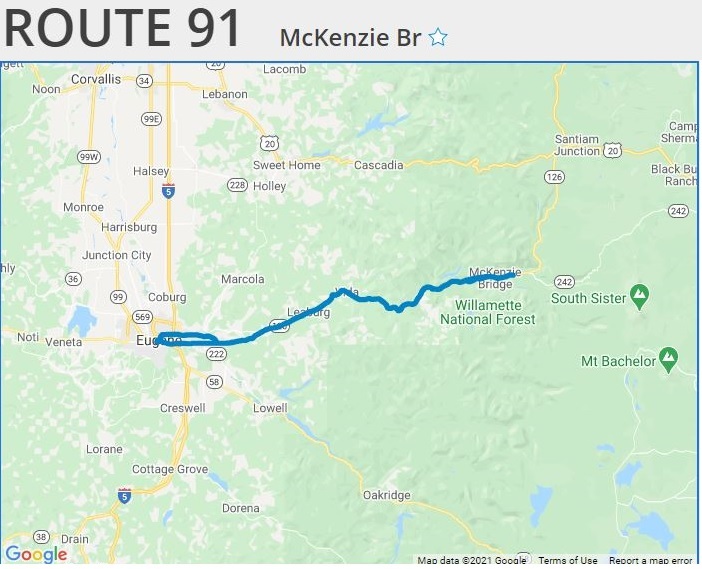 LTD will return bus service to four bus stops on Blue River Drive and six stops along McKenzie River Drive on Route 91 serving McKenzie River Highway (Highway 126) on Monday, March 22, 2021. Service along both roads had been modified due to the Holiday Farm Fire. 
Also on Monday, March 22, 2021, passengers on Route 91 along the McKenzie River Highway (Highway 126) will be allowed to safely flag an LTD bus for a pickup. Passengers are encouraged to use the bus stops on Route 91 and should only flag a bus if it is absolutely necessary.
Flagged pickups are at the discretion of the bus operator based on their judgment to safely stop the bus on solid ground that is completely off the highway on a straightaway and not near a curve.
Route 91 passengers should remain aware of the service modifications from the pre-Holiday Farm Fire Bus Schedule, including:
Departing from the Eugene Station, Monday through Friday at 7:20 a.m., 2:20 p.m., and 5:35 p.m. and will leave McKenzie River Ranger Station at 8:51 a.m., 3:58 p.m., and 7:21 p.m.
Departing from Eugene Station on Saturday and Sunday at 8:30 a.m. and 4:30 p.m., and will leave McKenzie Ranger Station at 9:59 a.m. and 6:01 p.m.
LTD is not charging passenger fares on Route 91 until Apr. 1, 2021, but beginning Feb. 1, 2021, Route 91 passengers will need to pay fares to transfer from Route 91 to other LTD bus routes.