Meet the Candidate: Judy Newman
6 min read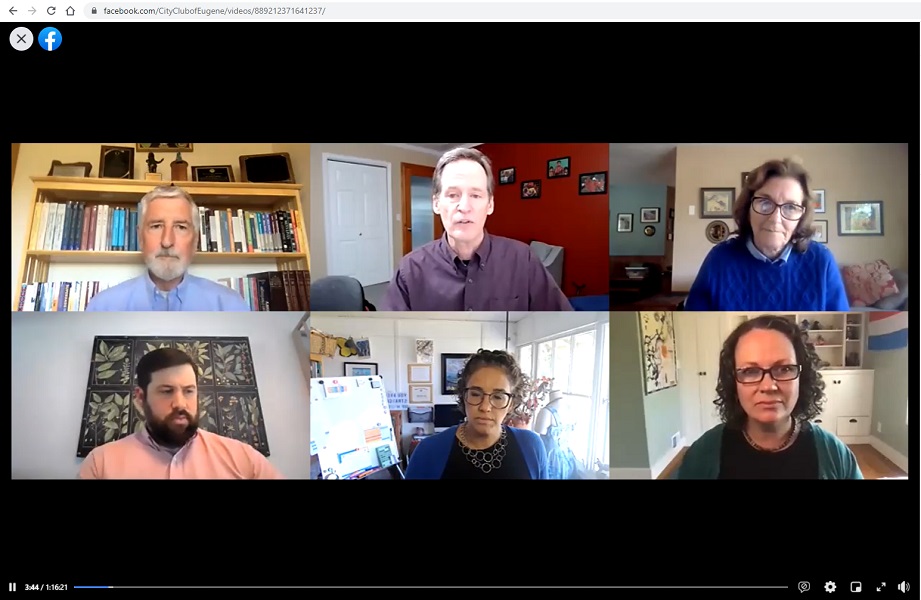 Candidate, Director Position 3, 4 Year Term
Eugene School District 4J Board of Directors
John Quetzalcoatl Murray: [00:00:00] Judy Newman, please tell us about yourself and why you're running.
Judy Newman: [00:00:04] First, I want to thank you for providing the opportunity to introduce myself. It's been really challenging in this environment to get out and meet people. So Zoom, Radio are our best ways to do it. So I'm going to just give you a little bit about who I am. I'm running first of all for a second term on the 4 J school board and I've spent my entire career in education.
I come from a long line of educators. I'm the co-founder of Early Childhood CARES. Some people know it as EC CARES, which we founded in 1991 and we provide early intervention and early childhood special education to kids from birth to when they start kindergarten. It's really about giving these kids a better start in life, trying to keep the developmental gaps smaller and have them really develop to their full potential.
And since that time we've served about 25,000 kids in Lane County, we are doing the math and that could be conservative, but at least 25,000. So I've been at this awhile. This is basically special education. And in addition to running the program and knowing special education, I've also taught teachers and people are going to be teachers and going to be administrators, special education law, and disability law at the University of Oregon, and have had a chance to influence those folks before they get into their profession. So that's wonderful.
About four years ago [former 4J Superintendent] George Russell and some other local educators and community leaders came to me, saying, 'We would really like you to run for school board. There's an open seat and why don't you consider it? We think your skills specifically early learning and special education are really what we need.'
And I said, Oh my, I never thought about running a campaign or running for office. I always thought I wanted to continue to have an impact on a bigger level for education and policy and funding, but I hadn't ever thought about running. To make a long story short, they were very persistent and I ran and I was elected.
I'm finishing my first term and I have been the first person with those skills on the board. And I ran an agency that's really a special education agency, so I was used to budget. But there was a lot to learn. Governing is very different than just being an advocate or a director or, a community volunteer in other ways.
I also work on lots of boards and other volunteer work and worked at the legislature to get funding and good policy for education for early, but also for K-12.
John Quetzalcoatl Murray: [00:02:41] What is the most important issue facing your district in the upcoming term?
Judy Newman: [00:02:46] This past year has been very challenging, full of ups and downs. It's really exposed many of the inequities that we knew were there, but even in a more stark way. but we finally have a pathway to get kids back to school and I am just overjoyed about that. I think being able to open schools safely for both staff and students was critically important and we're there. In fact, this afternoon, I get to go pick up my grandson after his first full day at school. And he was so excited. That's really, my number one priority is making sure that we're opening schools and we're looking to the summer and fall to get more days and more time and do that safely.
And we're ready. We don't know what's going to show up and we know some kids are going to have social, emotional, mental health issues. There's going to be some learning loss. And there's also going to be some things that kids learned and experience that we had never dreamed of under this situation. So I want to be sure we also focus on those strengths and that resiliency. That's probably the most important things and I have many other priorities. One is to stabilize and expand school funding. We really need that to keep class sizes down, to make sure that our kids are getting the curriculum and all the activities that really keep them engaged in school, like art and drama, and that we have career technical education, et cetera.
So that's a high priority. I been working on the committee, we voted to get rid of the school resource officers, the police in our schools. And now we're really undergoing looking at what is it that makes our schools safe and welcoming to all students? What are the services? What is the way we can meet all those needs in a way that really makes all the students feel safe. And we just had a meeting last night with our consultant we chose. We have a pretty robust community engagement and a deep dive into what's really been going on that we're starting actually today, the contract is signed, so I'm delighted. I'm really looking forward to that work. It's hard work and important work.
Graduation rates in 4J have gone up 17% over the last five years. And even for the groups that we're really feeling have lower graduation rates, like some of our BIPOC students, some of our kids with disabilities, those have gone up even more than 17%. I just feel that we've gotten some of those things in place to keep that up and I want to be sure we expand that and keep that number growing. I really want to hit a hundred percent honestly, of kids graduating.
And we have a new superintendent that we're going to be hiring, a permanent superintendent, and that is going to require a lot of time and thoughtful effort to see what we really need to keep moving us in this good direction.
John Q. Murray: [00:05:42] If elected what would you do differently than your opponent?
Judy Newman: [00:05:48] I think the one thing that I bring that is unique, in addition to the early learning and special education background, which as I've said, I'm the only person on the board with that, and 15% of our kids by the way, are on IEP (Individual Education Plan) in 4J but most importantly, I think in these times we need to bring people together to solve problems. And that is something that I am known for, that I think is really important, that I have some skills, that I have lots of connections in the community. And if you see who's endorsed me or who's supporting me, you'll see, I've worked, at ShelterCare on their board, at United Way on their board, connections with Food for Lane County, in the healthcare system with public health, because we coordinate a lot with their home visiting and their other programs, WIC.
So I think in these times, schools can't do it alone. And so my one thing I can do is bring those partners to the table to make sure those services and supports are accessible to our students. And I just feel that's really important. We need broad community support. Schools are for everyone, every single person who lives in our community should have an interest in how we're educating our kids and our future generations. So that's one thing I believe I bring I'm a good problem solver and want to bring people along and listen.
John Q. Murray: [00:07:12] Anything else you'd like to say to the voters?
Judy Newman: [00:07:16] Just that, as I said in the beginning, it's hard to reach people and I want you to go to my website, https://www.ElectJudyNewman.com. You can reach out to me. You can call me. I'm very accessible and I really do want to hear from people. I want to hear how things are going. That's how I learn and I am happy to share as well. So I guess I just would say, please reach out to me if you have any concerns, ideas, things you want to share.