Councilor Matt Keating – Ward Two Update (May 4, 2021)
6 min read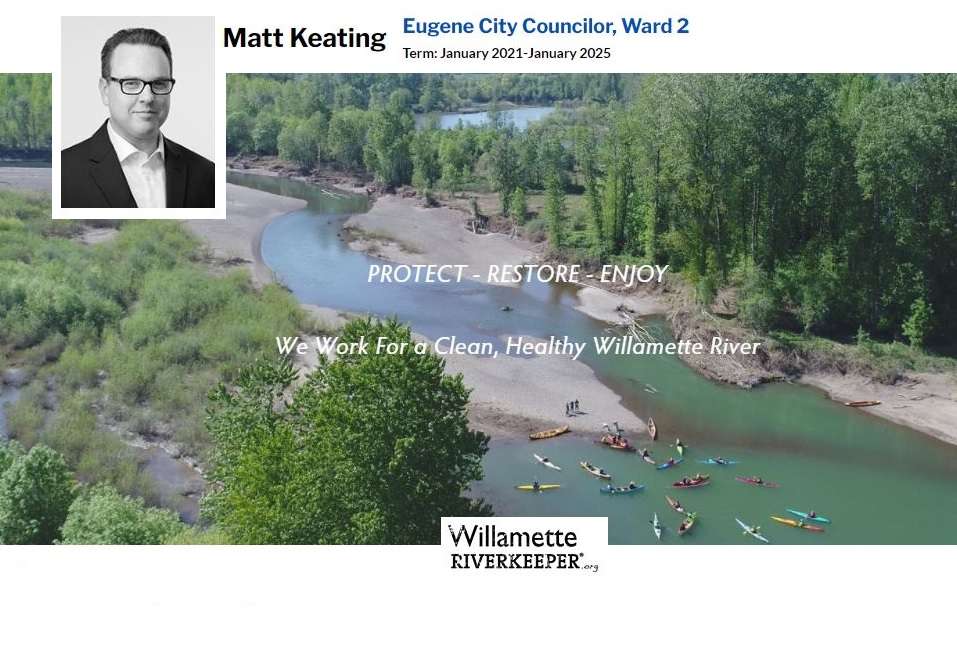 City Council Member Matt Keating: What I saw on the river was on one hand wholly inspiring, great work, on the other hand, I saw a for-profit corporation running with reckless abandon, out-of-control, with little regard for our river. And, a massive humanitarian unhoused issue.
City Council Member Matt Keating met with neighborhood leaders in Ward Two.
City Council Member Matt Keating: [00:00:22] I just met with the mayor and we discussed the environment and houselessness and holding private corporations accountable. That was all spawned from a river float trip I did with Willamette Riverkeepers. Riverkeepers are doing amazing work. The second Tuesday of every month, they float down the river and they're out there cleaning up tons upon tons of garbage and refuse. And so I committed to help them next Tuesday in the morning. That river belongs to everyone and it's up to all of us to do our part.
A good portion of the river is just overrun with needles and trash and bike parts. It's sad and alarming to see not only folks living in that situation, but the trash accumulating on the river bank when the river rises. When the snowpack melts, the refuse goes right into the river. There's a humanitarian crisis and the environmental concerns are shockingly right in front of our face.
John Q: [00:01:18] Matt said Union Pacific is wantonly destroying priceless riparian habitat.
City Council Member Matt Keating: [00:01:24] A good number of these tent communities exist on the (unintelligible) side of the river. Union Pacific go in periodically and bulldoze, literally bulldoze the riparian area and damage the habitat. And not only end up moving folks out, temporarily compacting the ground, but they disrupt and denigrate and without regard for the wildlife, just completely annihilate the riparian zone. Union Pacific, going in without letting the municipality know that they're going in, and just bulldozing away. I hope the City can take actions to hold Union Pacific accountable.
John Q: [00:02:06] Emily Fox asked how the residential neighborhood might be affected by state laws that allow greater housing density.
Emily Fox: [00:02:13] Originally in another board meeting, we discussed having a public forum just on H.B. 2001 so people really understand what it is and I'm a little concerned that whole issue might get totally diluted with a number of other things on the same agenda.
City Council Member Matt Keating: [00:02:33] The reason we want to discuss health and human services is, it's the issue that's right in front of us. Folks are living out of their vehicles because of the alarming spike that we've seen from March 2020 to March 2021. It's jumped from 337 vehicles in Eugene to 879 vehicles in Eugene.
I get discouraged and frustrated when I hear the entire unhoused population being painted with one broad brush stroke. There are families living in vehicles. They're not camping. They're living in vehicles day-to-day and they're not criminals. I hate even using the term camping because this is day-to-day survival. I think that having the housing and the human services part really allows for robust conversation and robust dialogue.
Rob Fisette: [00:03:22] Those are real people. Many of them are in a serious situation, in need of secure shelter. Anything we can do as a city would be useful. And almost everyone that I've heard give feedback about where the CSI money should go is to houselessness and housing and support services.
City Council Member Matt Keating: [00:03:40] CSI dollars by and large are going to be already earmarked as they were voted on. I don't know if it's legal to shift buckets and say, it's been voted on that these dollars go toward A, B and C, and we want to fundamentally shift where those dollars now go, I don't think that's legal.
Rob Fisette: [00:04:00] The entire feedback process for the CSI that they just recently did, I presume is based on the idea that it could be reallocated. Mayor Vinis said as much in her video. That's why they were seeking feedback is because it hasn't been officially allocated.
City Council Member Matt Keating: [00:04:14] So I'm not a lawyer. I am not a lawyer. I just don't know how, I don't know how legal that is, but that's worth exploring.
Dennis Hebert: [00:04:23] Matt, my question would be, the unhoused population, I've been here since '87. When Kitty was first elected, they started kicking the can down the road. Why has the can been kicked down the road since that time? Why hasn't anything been done by the city and the city council? Do they feel it's the county's job? Do they feel it's the state's job? Why is it all they ever did was have commissions and meetings about it? I can remember how they would make light of it in "the travelers downtown," and the likes of that. The issue came up every year, every election, but yet nothing was ever done for the last 20 years.
City Council Member Matt Keating: [00:05:08] I don't want to really speak to real or perceived problems of the past, and I can only attest to what I see it are solutions moving forward. Councilor (Alan) Zelenka floated a work session poll and he wanted the work session poll to be about a bond or a levy.
Jess Roshak: [00:05:30] I do want to say that there is not a bucket of money big enough that the city could come up with to solve our homelessness problem, because it is not a city issue. The city is left holding the bag to do triage, but it's actually all a state and national problem.
City Council Member Matt Keating: [00:05:46] Yeah. Good point. Councilor (Greg) Evans floated the idea that we ask the mayor to get the governor to request FEMA funds.
John Q: [00:05:54] Matt said his party connections are helping him learn what other cities are doing.
City Council Member Matt Keating: [00:06:00] Because of my role as a DNC member, I'm able to be a member of the Democratic Municipal Officials and at the DMO, we're able to compare notes.
John Q: [00:06:09] Matt floated some ideas for new taxes that are currently circulating in the DMO.
City Council Member Matt Keating: [00:06:15] To do nothing would be a failure on so many levels. But to get the federal government, the state government, improve our relations with County and lift up our service providers and make sure they're well-funded. If all that's firing on all cylinders, we will start to see the needle move.
John Q: [00:06:32] Neighborhood leaders said they might support new taxes if they knew where the old taxes went.
Jess Roshak: [00:06:40] I remember the city's tax on marijuana, that that passed. And I haven't heard at all about, those were supposed to go to education, public safety, and then I haven't heard. I emailed a few years ago. I emailed our city counselor and our mayor, and I never heard back from either. And I searched in the city budget and I didn't see it.
City Council Member Matt Keating: [00:06:59] More folks were turning to their local cannabis store during the pandemic. There's a dip in dollars there because Measure 110 passed. I will find for you why there's a dip and I'll find real numbers for you, and I'll get you that .
Jess Roshak: [00:07:13] That'd be awesome. There's been a six percent tax on it or something like that for over six years. There was a city tax that was specifically collected. And so that's what I'm really going after. I appreciate you getting those answers for us because those are our funds and nobody has brought that up since it was passed by City Council.