Active Bethel Citizens supports businesses during pandemic
4 min read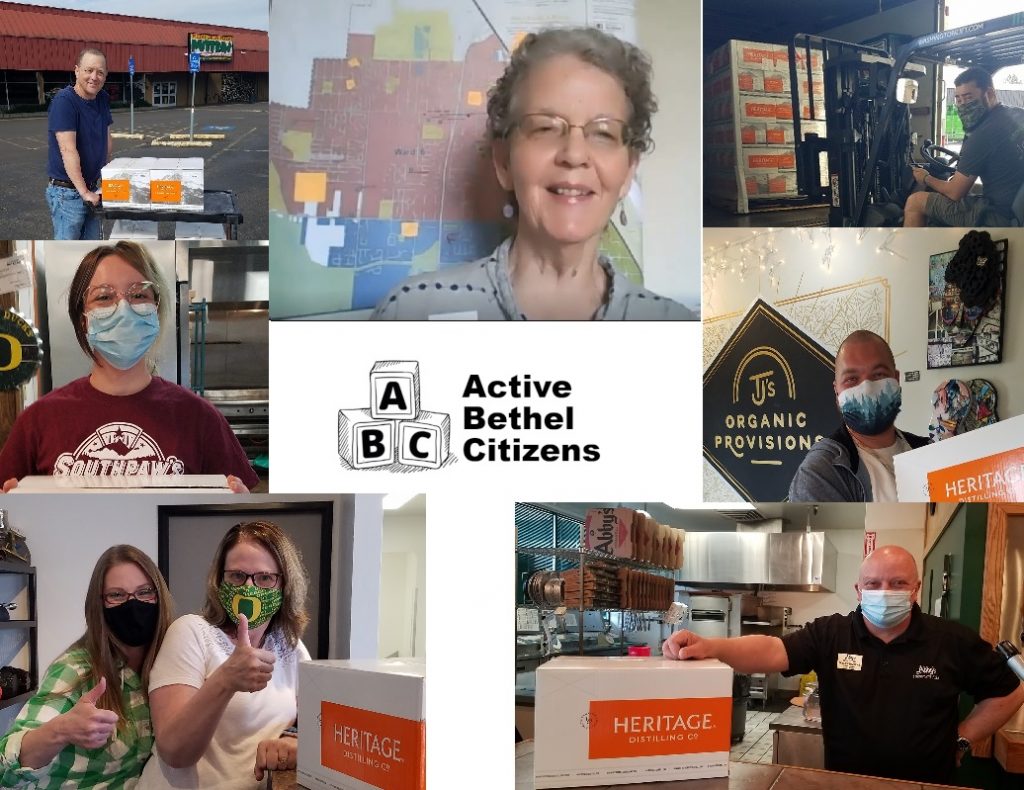 Active Bethel Citizens delivered donated "Personal Protective Equipment" to local businesses. Building on past projects, Lin Woodrich organized the event last month. It is Bethel's latest way of showing support during the pandemic.
Lin Woodrich: [00:00:15] When we first started the COVID lockdowns, we had what we called a scavenger hunt and called as many businesses as we could. Each business had a prize from their business that they drew one name and then we had three grand prizes: Jerry's had a $500 gift card, and Dairy Mart had several things that they wanted to donate and Bi-Mart had a $500 gift card. We had really nice prizes.
We had coffee can-size entry areas. People would put in their entry forms, we printed up a bunch of entry forms. Everything was in Spanish and English and posters and advertised it. We had 640 entries in our scavenger hunt. And so we announced the prizes on our general meeting in June. And then we took the prize, just like the Publisher's Clearing House with the balloons and everything, and it was a lot of fun.
We have a really good group and and I'm really proud of our Bethel businesses.
John Q: [00:01:20] Restaurants continue to support many events.
Lin Woodrich: [00:01:23] They're just happy to do any event that we have and donate food. El Charro Mexican Restaurant, and Papa Murphy's and quite a few, very generous.
John Q: [00:01:33] Building those relationships helped when Lin heard about a project to provide sanitizer.
Lin Woodrich: [00:01:39] The Neighborhood Leaders Council had said, you really need to do this. And so I contacted the Whiteaker, which had started it, and they said, Oh yeah, you can sign up for however many you need. So I called all the businesses, got 30 of them signed up and then I called the Whiteaker and I said, we'll need 30 cases.
John Q: [00:01:59] Heritage Distillers donated a whole pallet!
Lin Woodrich: [00:02:02] So there I was with 60 cases and I thought they were one gallon each because apparently Whiteaker had gotten one gallon each. Ours were going to be two plus gallons each. And I asked how much it was going to weigh and they said 37 pounds per case. So it just mushroomed.
We used our bottle drop money, we hired a 15-foot trailer with a ramp and a dolly and everything. And then my 18-year-old strong neighbor volunteered to help us carry the 37-pound cases into each building, ' I'll just put it on my shoulder and carry it.' So bless his heart.
Then I thought I'll call the school district and see if they'll just take the rest of them after we deliver all of our businesses. And so they did: 20 cases then went to the school district and they stayed on the pallet. So that worked out really well.
John Q: [00:02:54] Lin shared photos from "Delivery Day."
Lin Woodrich: [00:02:56] Steve Gilbert and he's the owner of Putters Pizza and the bowling alleys and there's four businesses there in the Gilbert Shopping Center. And so he got a case for each business . TJ's Provisions, they're on (Highway) 99. This one's Abbey's, that's Phil and he's the manager there. All of the businesses were really happy.
Then we went over to the the food trucks over by WinCo and we delivered to all of them. We did the Bobablastic, the El Sitio, Eva's Taqueria and the Fruteria Lalito, all four of them right there in that area, all got the sanitizer and every single person that I delivered to, I gave them a safety data sheets memo along with our address, if they needed the full sheet.
Southpaw's Pizza is right next to WinCo. And then Everyone's Market on Barger; Midgley's Stove and Fireplace Center, and they recently moved over to Highway 99 and and these two gals were thumbs up. Don's Maytag, and that's also on Highway 99.
We stopped at the food carts for lunch and they wouldn't take any money from us. They made sure that we had a good lunch and it was really sweet. So that was our whole day.
John Q: [00:04:13] Lin thanked the Bethel volunteers.
Lin Woodrich: [00:04:16] Amie Anderson-Forbis and Charlie Sterling did the Royal businesses and then Myles and Ryleigh, my neighbors helped with mine. Ryleigh's seven, so he held the door, and Myles had it on his shoulder, and I went in with the paperwork and said hello. So it was quite a team effort. Eugene Neighbors Inc. helped us with the 501(c)(3) designation. So thanks to Eugene Neighbors Incorporated for helping us with that.
John Q: [00:04:44] Lin gained new skills for Bethel's next event.
Lin Woodrich: [00:04:47] I learned how to drive a 15-foot U-Haul, but I did find that it was a little stressful. Anyway, it was a good day. It was pretty exhausting, but so many happy businesses and people, and I'm just really happy that I can help with the whole Personal Protective Equipment situation. So everybody's a little bit more ready in Bethel.
John Q: [00:05:08] Lin and other neighborhood leaders are always grateful for more help. To learn more, contact your neighborhood.