Evergreen to Begin Controversial Tree Cutting at Potter's Field
2 min read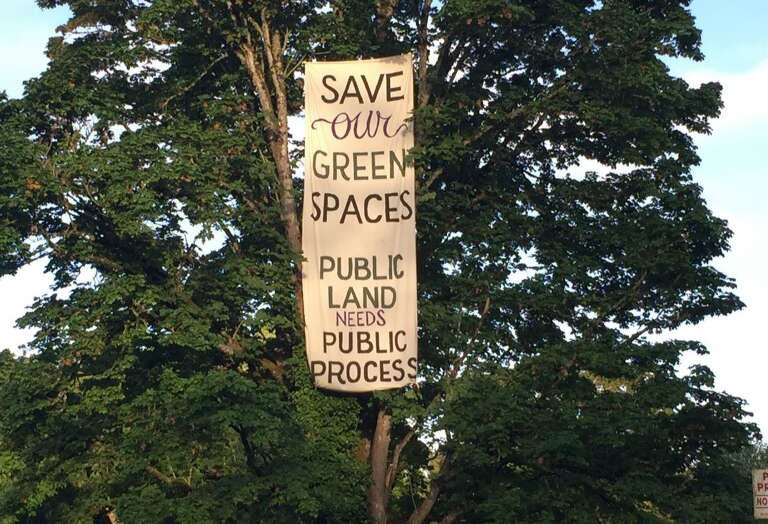 PRESS RELEASE by Greenway Guardians
Who: Evergreen Housing Development Group
What: Removing Trees and Impacting Greenspaces
When: Thursday, May 13
Contact: Miaya Sustaita – 541.513.3221 miaya [at] aol [dot] com
Seattle Developer to remove 40+ trees May 13 from parkside greenway amidst citywide opposition, rejects offers of profitable buy back.
Seattle Developer, Evergreen Housing Development Group, is slated to cut down and clear away 40+ healthy trees from Potter's Field—the riverside 3.5 acres adjacent to Maurie Jacobs Park and along the Ruth Bascomb bike path this Thursday May 13. This is the beginning of a process to install 93 units of market rate housing while paving the greenspace to also include 128 parking spaces. Neighborhood advocates and conservation groups have contacted the development group with pleas to sell the property to the Upper Willamette Soil and Water Conservation District, a local conservation group who expressed interest in buying the property for conservation and public benefit. The conservation group would pay Evergreen almost twice the amount Evergreen bought it for.
In replies to waves of public outcry opposing the complex, Evergreen has stated that these market rate apartments would be helping the homeless problem in Eugene. In fact, the average rent for a 2BR apartment in Eugene, OR is $1,115 and the complex would not include any low-income rental opportunities at all. In Eugene today,one of every four people hauled into the city's municipal court for non-driving offenses lacked a permanent place to live, while market rate apartments sit empty.
The new apartment complex is estimated to bring an average of 500+ more car trips in and out of the tiny three-street neighborhood off single-laned, Fir Lane while cutting off former public through-ways from river road to the Ruth Bascomb bike path, as demonstrated by the fence already installed.
Potter's Field contains class one agricultural soils and is an integral part of wildlife along the Greenway. The apartment complex would encroach on bird life and impact neighboring areas under protection, as well as bring human congestion and air pollution to an ecologically-sensitive area, in addition to requiring the removal of over 40 trees, many of which are over 100 years old.
Neighbors will be present to bear witness to the actions of this out-of-state Developer.
Updated 05/13/2021 to correct an error.