Oregon's first Peruvian-American legislator talks about her first 45 days
7 min read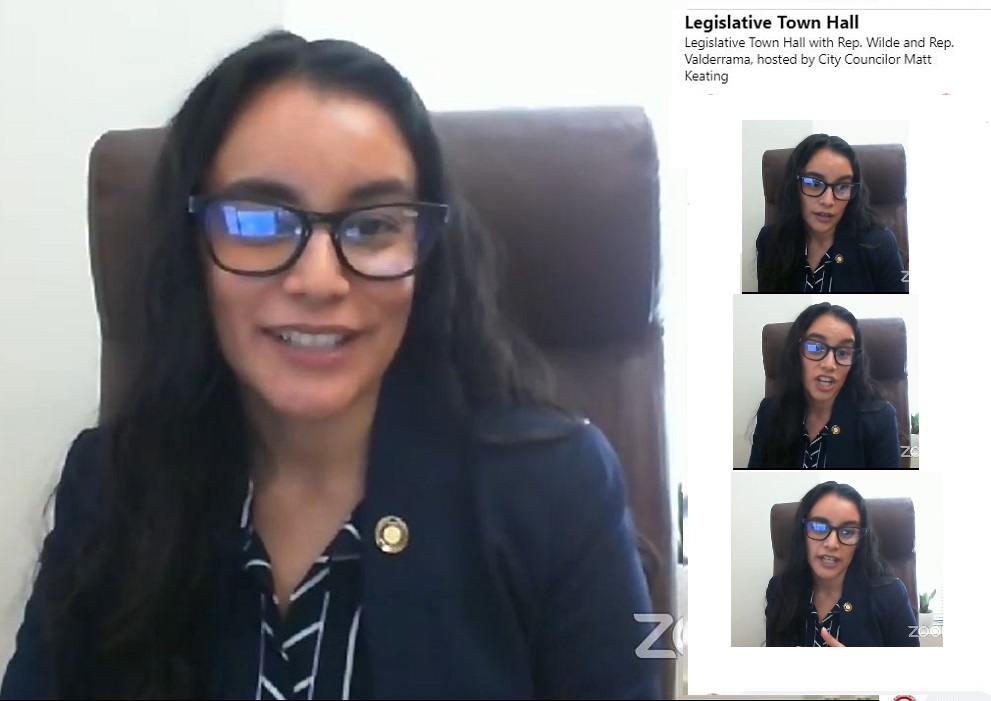 A local Town Hall featured the legislature's newest member. Rep. Marty Wilde and Eugene City Councilor Matt Keating welcomed Rep. Andrea Valderrama.
Rep. Andrea Valderrama: [00:00:11] I am so excited to be part of the growing and powerful BIPOC Caucus and really represent communities of color. I'm really honored to be the first Peruvian-American also in the legislature and really lifting up LatinX voices and communities at this time when we're experiencing a lot of impact both economic and health related to COVID. Economic and racial justice are real values that I use in my leadership. I can't really talk about economic relief without talking about childcare and mothers. And can't really talk about housing without talking about low-income renters or intergenerational households. So these are really values that I hold true to my heart, and I'm happy to lift up for my district since a lot of our community members are facing similar experiences to me and my community.
John Q: [00:00:57] Rep. Valderrama was asked about housing issues.
Rep. Andrea Valderrama: [00:01:01] A lot of people have been concerned about losing their jobs or even lost income because of housing, because they don't know if they can afford a roof over their head anymore. And I think that's a very valid concern to this question that is continuing. We were really excited to have recently passed SB 282, which does extend the grace period for repayment through February of 2022. And so that does provide a little bit more time for not necessarily having this cliff in the next couple of months, that being said the need of repayment is still there. And so that's where we need to make sure that we're again, looking and really advocating as much as possible to get additional resources from the federal level, making sure that there's good rent relief and good education around rent relief and how to get those dollars.
I also want to lift this up as a spectrum, so not just renters are impacted, but I think first-time homeowners and just homeowners in general, anyone who has really lost income is impacted by the housing crisis here. And so I think that, those are the things that we're really trying to prioritize and lift up to make sure that folks don't lose their homes.
It is so essential to coordinate with multiple jurisdictions, right? So not one entity is responsible, but I think we have a responsibility collectively to ensure that at the city level, at the state level, at the federal level, that we're all deeply invested from a values perspective, but also from an economic and financial perspective, to make sure that we are doing right by our neighbors who are in one of the most vulnerable times in their life to provide a safe space for them to sleep, to rest and have a long-term stability or a chance at that long-term stability.
And so even things like using parks as an alternative to, for folks experiencing houselessness to stay overnight, really working with the joint Office of Homeless Services and investing in wraparound services for folks once they are able to get into housing right after a shelter situation so that they can stay there and make sure that they have the services necessary to do that.
I also think it's important to think about why people are experiencing houselessness, right? Is it, for women and children, issues around domestic violence? Is it, for other people, issues around mental health or other needs? It's a really getting at those root causes again from about genuine values, just, human level, is going to be essential for us to then be able to figure out what a good funding package looks like.
John Q: [00:03:34] Matt Keating noted that Oregon is known as a "child care desert."
Rep. Andrea Valderrama: [00:03:38] I think that it is overdue quite frankly, for us to be thinking of childcare as infrastructure. I think that this is absolutely an economic justice issue. Our kids need an education, they need care. And without it, our economy really stops, right, as we've seen this past year. I, like so many other women this past year, I actually made the tough and not-tough decision to leave the workforce entirely.
My daughter was starting kindergarten, actually this past fall. And at that age she didn't know how to use the computer. Didn't know how to read. It was just, it was so unrealistic, quite frankly, to expect her to sit at her, little desk and try to read better. It was clear that someone needed to be there with her and I think it's important to remember again, a racial and gender justice lens here, that this impact of lack of childcare has absolutely disproportionately impacted women, mothers of color, immigrant and refugee communities, families who can't speak English as a first language. And this is really an essential part of getting things up and running.
I think we're really looking for the federal government to make a large investment here. We also are doing what we can at the state level, so, passing bills like HB 3073, and really lifting up the good work of the Early Learning Committee and other advocates who have been really pressing us to not only expand subsidies for small business owners, maybe, or business owners in general, have childcare facilities and make sure that they have the resources they need, but also making sure that mothers and parents have good alternatives and good spaces for their children so that we can be successful and hopefully close that gap that we know has unfortunately widened.
John Q: [00:05:22] Rep. Valderrama discussed the many bills about the police.
Rep. Andrea Valderrama: [00:05:27] I was very honored to have been part of the Legislature that passed some really incredible bills around police accountability and really public safety as a whole. The needs of immigrant refugee communities are also a public safety issue. And we're also working on issues around sanctuary and universal representation and so we have really a unique opportunity in this session to move forward based on all of the organizing of black organizers of BIPOC communities who have said "Enough is enough" right after the brutal murder of George Floyd last year.
So some of the bills are around law enforcement transparency. So HB 3355 provides a standard, which I was surprised to learn had not ever occurred before for law enforcement, to have identification on their uniforms and helmets in crowd control situations. We also passed 2936, which provides standardized background checks, which was really important to us.
There's also 2513, which requires CPR airway and circulatory training for police. HB 2929 was something that was important for us to strengthen misconduct reporting requirements. What we were finding was this unwillingness to share when there was something that needed to be reported or there was an incident of a undue violence. The last one that I'll mention is 3059, which is providing clarity around unlawful assemblies and making sure that folks have clarity around what their rights are. In protests, what we were finding was folks maybe were standing on the side and were not necessarily engaged in the protest, but were still being arrested or charged in a way that didn't make sense. And so again, really clarifying this transparency and accountability for law enforcement to be using the law effectively, making sure that we are providing clarity for those purchasing as well. And ultimately just making sure that we have clear guidelines for those who are privileged to wear guns, and enforce our communities and make sure that folks feel safe by those law enforcement.
John Q: [00:07:37] COVID had a disproportionate impact on the BIPOC community.
Rep. Andrea Valderrama: [00:07:41] I think it's really important to be creative and to center racial and economic justice as much as possible. So are there ways that we can incentivize folks maybe who are low income or need to take time off work? Is there ways where we can provide resources for reimbursement of travel. I think I saw some really creative ways that different transportation that were companies are potentially providing that, or even just public transportation as a whole.
I definitely as a LatinX community members, Spanish-speaking community member immigrant refugee communities also have language barriers, and so it's really important that we're being as accessible as possible in both the education and also the ability to get to and from sites and also to meet folks where they're at. And so if a site is in fact too far, if the transportation infrastructure is not safe, how are we making sure that folks do have that access in ways that is actually truly accessible. We talk a lot about how healthcare and vaccines are necessary, and they're right in a lot of ways, but it doesn't really equate that, if it's not truly accessible for everyone.
I would just lift up Multnomah County and all of the culturally specific CBOs here have really done an incredible job of reaching folks who are not only part of the most impacted communities, so whether it's LatinX or BIPOC or even our elder older adult community, but also really looking at ways to provide the resources necessary for folks to, to get to appointments, making sure that they're following up and getting that next appointment through and really just, I think being comprehensive with their values and making sure that we're doing everything that we can again, especially for outer East Portland, where we've been more, more impacted than others.
John Q: [00:09:22] Rep. Valderrama encouraged citizens to become involved with redistricting. When a new U.S. census is completed every ten years, we re-draw legislative districts. The 2020 Census will give Oregon its sixth member of the U.S. House of Representatives.