More drought, record low streamflow predicted
3 min read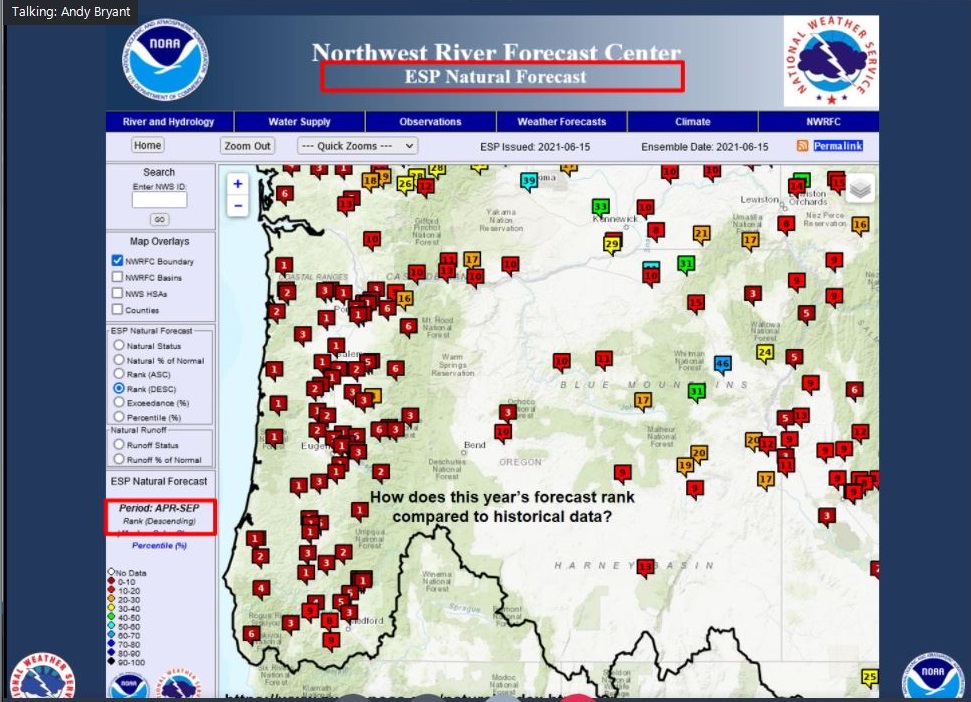 This summer, Lane County will see continued drought conditions. The National Weather Service in Portland is predicting record low streamflow. Andy Bryant.
Andy Bryant: [00:00:10] When you look at the past six years, probably three or four of those have been drought or below-average precipitation and snowpack. There are some cumulative effects that build up over the course of multiple years of drought.
Record dry conditions for much of the Willamette Valley and Northwest Oregon has expanded and intensified the drought condition. We're talking about anywhere from 10 to 15 inches below what we should have received for these last three months.
We are anticipating that summer temperatures will be above average. We are anticipating that summer streamflow will be either record or near-record low for almost all Western Oregon rivers.  We're well below average in the southern part of the Willamette Valley, especially for the reservoir storage.
So we are expecting drought impacts to continue through the summer and into the fall. We're anywhere from 25 to 50 percent of average in Lane County.
John Q: [00:01:19] Heading into our dry summer months, Andy said, the recent rains provide some relief.
Andy Bryant: [00:01:25] This rain that we had the last few days, it doesn't fix our problems, but it does provide some short-term relief. And I think it delays concerns about forest conditions for maybe a couple of weeks. And, given that we're coming up on Independence Day, it's good to to have some rain on the ground and in the soil.
The rain is shutting off for, it looks like, the next couple of weeks. Looking at the whole July-August-September period, there's increased likelihood of above average temperatures. So the big message with that is, there's currently not an expectation of a cooler than average summer that would involve more morning cloudiness and onshore flow. That's not the expectation right now for Western Oregon. Doesn't mean that it couldn't happen, but what seems most likely at this point is that we would lean towards above average temperatures this summer. And when we talk about precipitation, basically, for July-August-September, we climatologically don't get much anyhow.
In context for our river forecast locations, so, their river gauges for various rivers, how does this year compare to history for that location? And so you see a lot of single digits, you see a lot of ones. That means that if this year's forecast verify that, it will be the lowest volume of water for that April to September period on the record.
John Q: [00:03:02] With drought conditions, area reservoirs did not refill over the winter.
Andy Bryant: [00:03:07] The (Army) Corps of Engineers, when we've had near, near-average rainfall and near average, all of these reservoirs would be full at this point. That's always their target operation is fill these reservoirs to a summer full pool level. And none of them are anywhere close to that level. Overall, the system has a pretty significant deficit of about 35% and all of the reservoirs down. Not only is natural stream flow low, but reservoir storage is low and it's reservoirs are already being drawn down to help supplement and meet requirements for downstream flows.
There's, potential for drought impacts this summer with low stream flow potentially impacting irrigators. And depending on municipal water supply could impact utilities that are dependent on withdrawals from the area of rivers.
It's also going to be a tough year to be a fish. It's going to be low stream flow and very warm river temperatures as we get into the summer, which are not hospitable conditions for a lot of our native species. And then of course the ongoing fire concerns.
John Q: [00:04:22] Andy presented to the Lane Preparedness Coalition on June 16.