Vaccine clinics at Springfield Station, Echo Hollow Pool
2 min read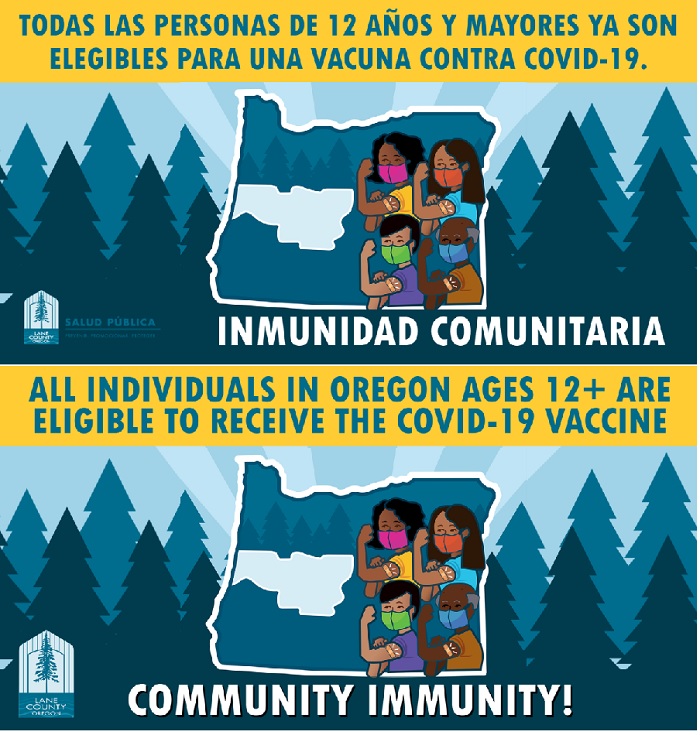 Lane County Public Health will be doing walk-in vaccine clinics at Echo Hollow Pool (1655 Echo Hollow Road) from 9 a.m. to 4 p.m. June 22-25 and June 28-30. They will have both the Pfizer and J&J vaccines available, and people can schedule online ahead of time or walk in without an appointment.
See their website for the scheduling links in English and Spanish, as well as other info about vaccine clinics:
https://lanecounty.org/cms/one.aspx?pageId=17388003
There is an option in the online scheduling for requesting transportation assistance if needed. People who don't have internet or for whom navigating websites is a challenge can call their call center at 541-682-1380.
Also, if you know of anyone who is unable to leave their home but wants a vaccine, they can email Amber at amber.roche@lanecountyor.gov and she can put them on a list for a State-contracted service that has been doing in-home vaccinations. She will need their name, phone number, and address to get them on that list.
Due to a strong positive community response, Lane County Public Health has also scheduled more vaccination clinics at Lane Transit District's (LTD) Springfield Station during the weeks of June 21 and June 28, 2021.
During the week of June 21, 2021, clinics will be held on Monday from 9 a.m. to noon, and then Wednesday and Thursday from  9 a.m. to 4 p.m. at Springfield Station.
During the week of June 28, 2021, clinics will be held on Monday and Thursday from 9 a.m. to 4 p.m. at Springfield Station. Information about Lane County Public Health's vaccination effort is available at https://bit.ly/3zxhTMz
Community members are encouraged to ride the bus, ride a bike, walk or drive to the vaccination clinics at LTD's Springfield Station.
LTD supports Lane County Public Health's pop-up vaccination clinics as part of a community-wide health-first partnership with LTD, Lane County and 20 other local private and public organizations. Together, these partners have participated in the Don't Invite COVID: Follow the Four public awareness campaign, aimed at encouraging people to wear a mask over the nose and mouth, social distance, limit gathering sizes, and wash hands. Because of these efforts by the community, Lane County moved to Low Risk Level on June 9.
In addition, the campaign encourages community members to get vaccinated against COVID-19 to support efforts to reach Governor Kate Brown's goal for 70% of adult Oregonians to be vaccinated by the end of June 2021. Reaching the goal would allow the state to return to pre-pandemic activities, including work and family events.