Public, 4J Board thank Anne Marie Levis for 12 years
5 min read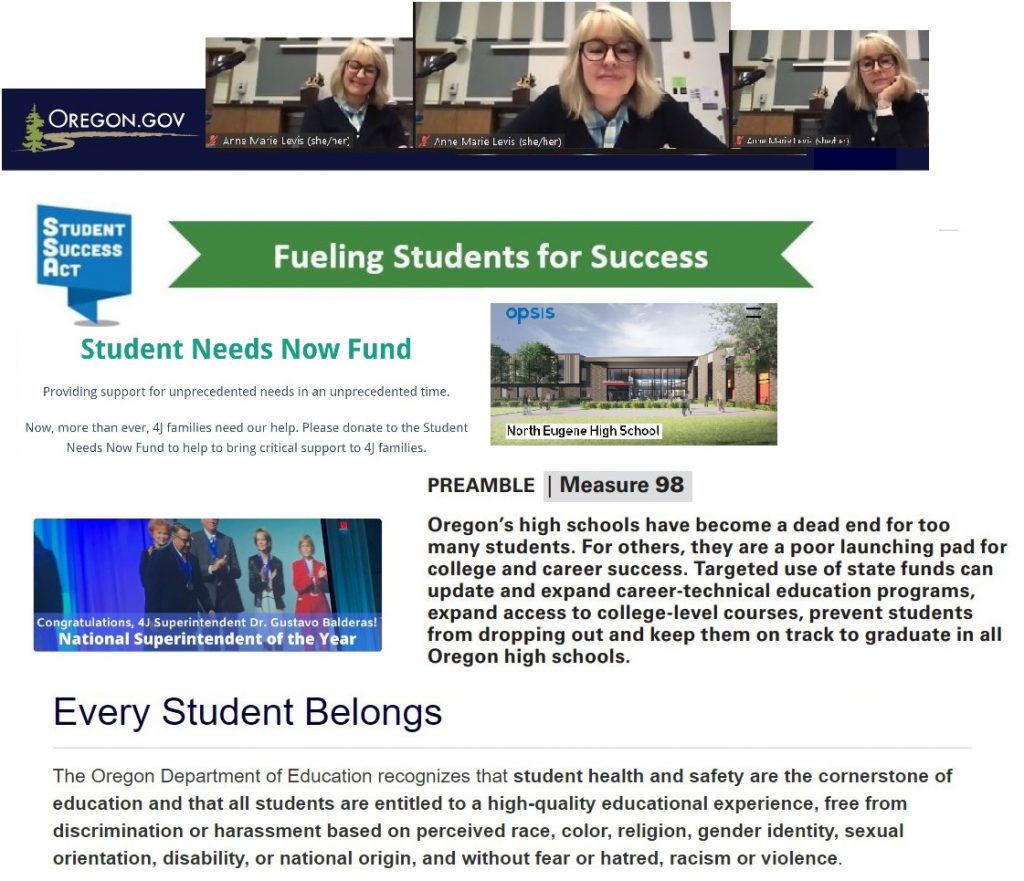 Anne Marie Levis said goodbye this month after 12 years on Eugene's School Board. Not only did the other board members thank her, she was also praised during the public comment period.
Megan Kunze: [00:00:13] I would like to thank the board members that are leaving us: Anne Marie Levis, of 12 years, and Jim Torrey, of 14 years, for their service. Anne Marie and Jim have been prominent supporters of students and their education and 4J throughout the years. Both have knocked on doors for bond levies and state legislative measures. They claimed the importance of Measure 98, as well as career and technical education; their advocacy helped pass the Student Success Act, inviting teacher and community input. In a series of open forums, they have honored science and consideration of curriculum and mental health support for our students to address the pandemic crisis. Anne Marie worked with the Eugene Education Foundation to create the Student Needs Now fund, which has raised hundreds of thousands of dollars for our 4J families. Anne Marie Levis and Jim Torrey have dedicated thousands of hours and hundreds of meetings over the collective 26 years.
Public service is often associated with minimal external appreciation. Serving on a school board is no exception at this time. We've recognized Anne Marie and Jim for their time intensive, all volunteer work for a dozen years or a dozen plus two years. Critical to the board's work with the district and its people is civility and the skill of listening: listening to students, parents, teachers, business owners, and community members, Anne Marie and Jim have ably demonstrated the skill over the years and have been open to learning. Thank you both for your civic service.
John Q: [00:01:54] Board member Alicia Hays remembered her first board meeting.
Alicia Hays: [00:01:58] Anne Marie was late for her class. I hope you all know that. We're all waiting around just to swear Anne Marie in, and, uh, she shows up with her family tardy without a tardy slip.
John Q: [00:02:15] Anne Marie remembered that first board meeting, too.
Anne Marie Levis: [00:02:18] So I, I have to say, I love that 12 years later, I'm still getting called out for being late to my first meeting and anybody who knows me (and Alicia does know me really well) knows that I have so much anxiety about ever being late for anything. So thanks for making me laugh.
So I gave with my heart. Everybody knows this. I can get choked up no matter what. So mine's going to be, I know I'm getting into try not to. I've been sitting here breathing deep, not to cause I really, I want to communicate my deep appreciation. So bear with me as I do this. And as I've walked through
So first is, I want to thank the community for giving me this elected position. I was elected three times to this seat to support public education and our kids in this community. It's been an absolute honor to sit here and I've made some of the best of friends—some call you out for being late—and I've done some of the most important work. It's been something. I've been so proud.
Thirteen years ago, I ran because I'd been volunteering in schools and I looked around and I thought, this is great, but isn't there more and there's so much need. And what do we need: We need people who are willing to say it's important enough for me to sit there, for me to deal with difficult conversations, for someone to sit, to listen to people, to hear people, to change your mind. I really wanted to make a difference for our kids in this district who were struggling. And I can say in retrospect, that making a difference really did happen over the past 12 years.
And it really wasn't me. I appreciate all the compliments tonight. It makes me a little bit choked up. We'll say we as a school board and as a district have really done amazing work together, things I'm very proud that over these years. We've passed bonds. People talk about building schools. We've made a difference in our communities. We passed levies, we've hired superintendents, we've navigated COVID online. Oh my, we navigated COVID. We started our "All Students Belong" process to dismantle systemic racism in our school district. We passed the first transgender policy in our state. We focus on our health, mental health for our kids.
We've raised funds to help our families and we've done so much more. Again, this was we, this was all of us. This was not me. I am proud of to being a part of this team. I'm proud of how I show up here. I show up being messy. I show up being emotional. That's. That's what I do show up. And I say things with kindness, and I say things with integrity. And I say things at the table. I have been very proud of this.
There's things that I'm leaving undone, and that frustrates me. The "All Students Belong," I'm just so jealous of this board to be able to be a part of that and work on that, because that will make such a difference for our kids. I'm really frustrated that we didn't have a community benefits agreement done. That will frustrate me for many years, but we tried.
I want to thank our staff, our teachers, our educators, everybody in our schools, you work tirelessly to meet the needs of our community and our students. I've learned from you. I have changed my mind completely because of the conversations we've had. I respect you and I'm in the community, I volunteer, every meeting, and there are times when it is difficult to listen to the comments that are critical, that are hard, that made me cry. But I met some of the most wonderful people in this community. They care about their kids. They care about, which really matters so much. Please, keep standing up for your kids, please advocating, keep advocating, keep trying to change our minds. That is what a democracy needs and thank you for everything.
Thank you for doing graduation. I had a kiddo who graduated. I went to three graduations. I can't think staff who did everything they could this year for our families, for our kids. It was an amazing celebration.
Finally, thank you to my friends. Thank you to my family. Thank you to my two kids who gave up hundreds of hours because I wasn't home. My youngest son said to me at one point, mom, why do you always have to be gone on Wednesday nights? And I said, honey, you're going to be fine. I believe in public education, I believe in standing up for you, I need to stand up for other kids. So thank you to my kids. Take you to my wonderful husband who was very frustrated many nights when he had to deal with all of the issues while I was gone. But thank you again to the whole community for giving me this amazing opportunity to sit here at the table with just wonderful people.