Evacuation zone maps now available online; official rollout week of July 19
3 min read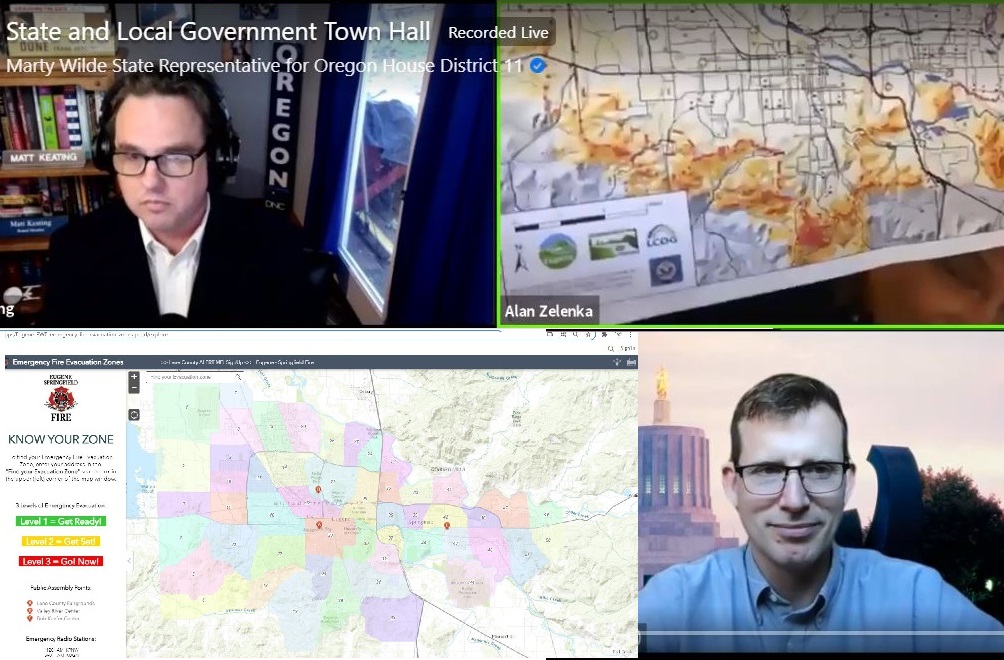 Evacuation zone maps now available online; the official rollout is the week of July 19. Eugene City Council Member Matt Keating.
Councilor Matt Keating [00:00:10] (reading submitted question): "During the May work session on wildfire preparedness, Eugene Springfield Fire displayed maps of evacuation zones and said that these were ready now and would be shared with the public. With wildfire season now underway, more neighbors in both Eugene and Springfield are asking for new and updated information. Do we know when the maps will be available?" Representative, is there anything at the state level we should know about evacuation zones?
Rep. Marty Wilde: [00:00:37] Yeah, I just wanted to point out, I can't speak to the local evacuation maps. The mapping we've been doing it as part of our wildfire bill was the Woodland urban interface or wildland urban interface. And so there's gonna be rulemaking in the next 100 days from the, through the Oregon Department of Forestry. So they'll identify high-risk areas. And that was so that we can start on those high-risk properties to work back in terms of creating defensible space and that sort of thing.
I think in terms of prevention, we wanted to take care of the highest risk first. And that's the stuff we could all agree on. So we're working on that and I'll hand it over to Councilor Zelenka about the locals.
Councilor Alan Zelenka: [00:01:10] Yeah. The reason we're talking about this is this map right here. This map is City of Eugene and all of that south part of the city, which is all red and orange, is all in a high or very high, hazard area for fire. And that's why we're talking about this. That's why we did the fireworks ban south of 18th and east of Agate. And so what we're talking about is that area south of, and around the backside of Eugene.
And so we need to take that very seriously. And I know our fire departments do and our police departments do and all people in terms of making sure your house has got a perimeter that's safe around it and knowing how to get out and listening to and being prepared to do the different levels of Level two and Level 3— Level 2 , meaning get ready to leave, and Level 3 , get out now, don't even stop. And I think Matt, you've got some up-to-date information on the evacuation maps.
Councilor Matt Keating: [00:02:11] I do. Thank you. (Fire) Chief (Chris) Heppel writes that we have not officially released the evacuation plan. However Eugene Springfield Fire has provided information to council last month as a heads up.
And currently Eugene Springfield Fire has an evacuation plan loaded into their dispatch system. Just yesterday Eugene Springfield Fire worked out the communications plan for an official rollout that will happen the week of July 19th. There still might be some policy or guideline development before then.
Our training and our neighboring jurisdictions will need to coordinate appropriately, of course. And that needs to occur prior to the the week of the 19th. The chief expects that there'll be a number of questions from the community when the map is posted. They're being very deliberate, I appreciate that. And Eugene Springfield Fire will provide an informational email, both to Eugene's City Council and Springfield City Council, when the rollout occurs so elected officials will be empowered with the information. Again, the goal is to officially release this information the week of July 19th and I, I have a preliminary map, but it's premature for me to make that public prior to the Chief's rollout.
And the Chief says if you have questions or community members have questions, please advise them to place those questions on the "Evac Zone Frequently Asked Questions" page— Evac Zone FAQ. And you can also go to the county's website. There is an emergency management evacuation information that Alan alluded to on the county's website as well, just search for "Lane County Oregon evacuation."