Resignation creates vacancy for Eugene seat on LTD board
2 min read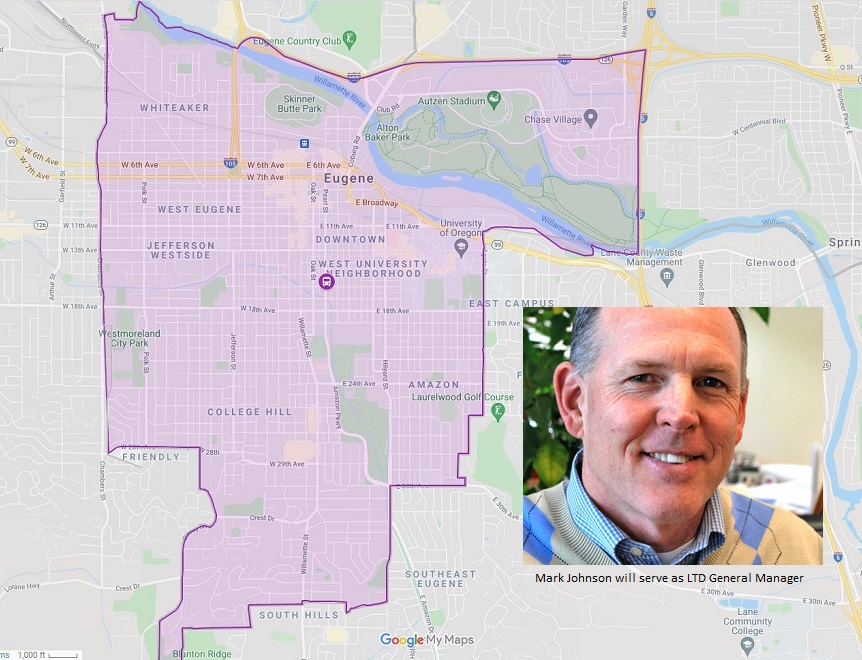 The recent resignation of Joshua Skov created an opening on the Lane Transit District board of directors. Subdistrict 5 includes parts of many Eugene neighborhoods. It covers: all of the Whiteaker, Downtown, Jefferson Westside, West University, South University, Amazon, and Friendly neighborhoods; large chunks of Harlow, Southwest Hills, and Southeast; and according to the map, even a few small slivers of the Fairmount and Cal Young neighborhoods.
Gov. Kate Brown reportedly wants to move quickly to fill the vacancy, appointing the position as early as mid-August.
Complete information on how to apply is available on the LTD website here: https://www.ltd.org/qualifications-duties-process-for-appointment/
The rapid appointment would allow the new board member to help select the district's next General Manager. On September 7, current General Manager Aurora Jackson moves to WSP USA as a vice-president for the Northwest Pacific District. She will continue to live in the community. "I'm really looking forward to supporting the transit industry on a more national basis," she said, during her final board meeting.
The LTD Board named Mark Johnson as the interim general manager.
"LTD is an excellent organization comprised of hard working people who are dedicated to their passengers and the taxpayers," Johnson said. "I am pleased to accept the interim general manager position until a permanent replacement is hired."
A former bus operator, Johnson has served in various leadership and management capacities during a career spanning nearly 40 years. He has been at LTD for 23 years, where he has served as the District's Assistant General Manager, Director of Operations and Customer Service, and Director of Transit Operations. Prior to LTD, Johnson was the Assistant Manager of Operations at Pierce Transit in Tacoma, Washington. He is a graduate of the University of Washington and Tacoma Community College.
"The community is fortunate to have someone of Mark's professional reputation and experience step into the general manager's role during this time of transition," said Caitlin Vargas, LTD's President of the Board of Directors. "Mark provides the leadership continuity needed for the good work LTD has underway. He is well suited to continue building relationships with the District's partners to provide outstanding public transit service from McKenzie Bridge to Veneta and from Cottage Grove to Coburg."
Vargas added that the LTD's Board of Directors will begin a national search to find the District's next general manager in late 2021.
Joshua Skov, who resigned as board member from LTD Subdistrict Five, also announced that he would be joining WSP USA.