You can help convert Oregon's childcare desert to an oasis
6 min read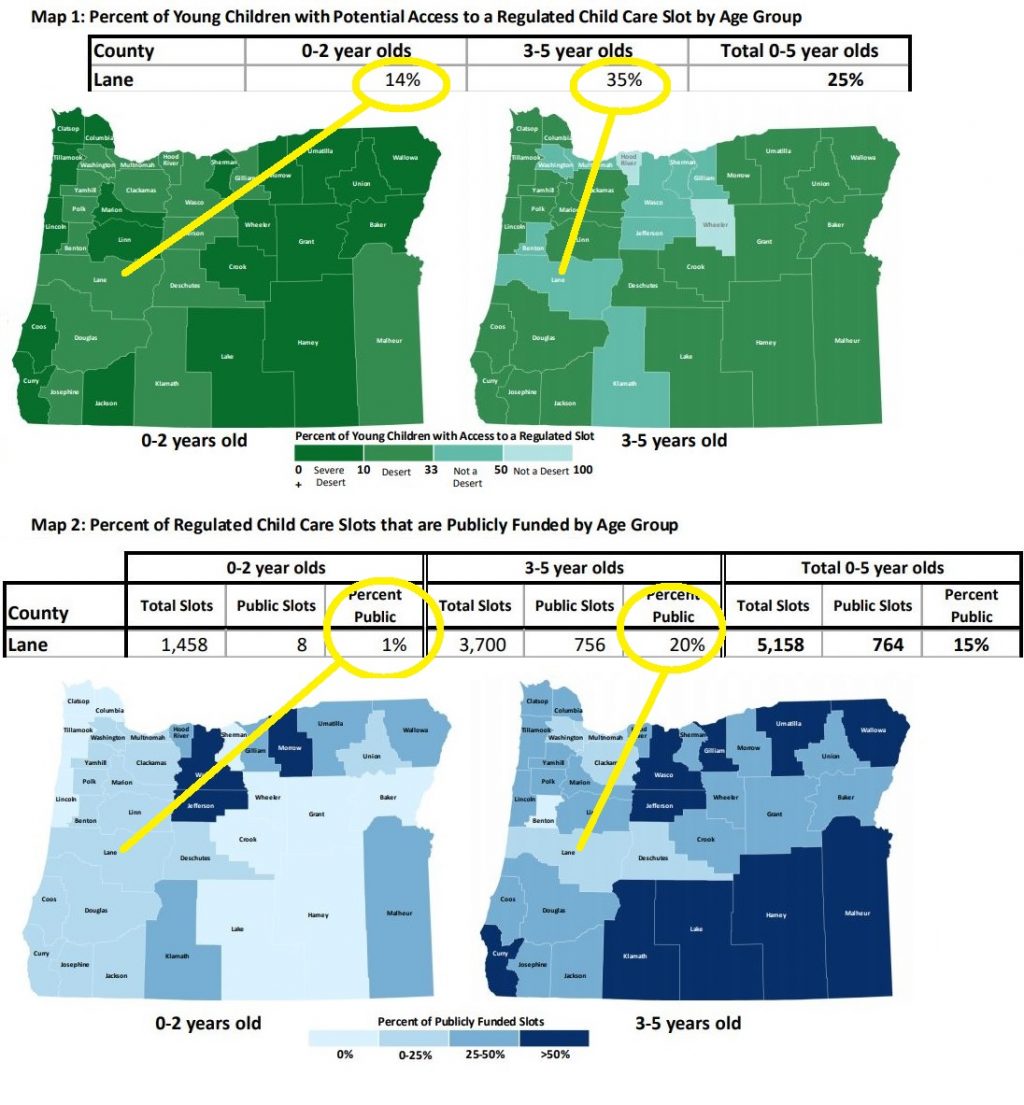 A recent report described Oregon as a childcare desert. City Club President, Kitty Piercy:
Kitty Piercy: [00:00:07] My name is Kitty Piercy. Recently, OSU published a new report titled Oregon Childcare Deserts, 2020. And as anyone looking for affordable care in Lane County knows, the news isn't good. Lane County does not have enough childcare spaces available for its infants and toddlers, qualifying our community as a childcare desert, meaning that for every three children under the age of two, there is only one childcare space available.
The lack of available affordable quality care impacts every family and local community at large, but hits moderate and lower income families particularly hard. Policy makers have openly observed that for many families it's housing or childcare. The annual cost of care in Oregon is more than in-state college tuition.
Oregon has the fourth highest childcare costs, in the nation, think of that. But sector leaders also acknowledged that most childcare centers operate on razor-thin margins. The labor-intensive industry is largely subsidized by the low compensation of its care providers, most of whom are women and particularly women of color. Intensive work and low compensation are not a recipe for new workforce recruitment, which makes childcare even more scarce and competitive.
We welcome Cheryl Henderson, Manager, Lane Community College Child and Family Education program.
Cheryl Henderson: [00:01:41] I'm Cheryl Henderson and I am the manager of Child and Family Education here at Lane Community College. In Lane County, the total current total capacity in childcare for children, birth to age six, is about 10,367 slots currently. There are about 25,000 children in Lane County under the age of six. And again, this is, you know, hard to find exact numbers. The numbers change all the time. Parents change and providers change. So that number we know is not accurate, but we know that, um, meeting the needs of over 25,000 children, can't be done with just over 10,000 total slots.
It is especially difficult to find infant toddler care, evening and weekend care and childcare for children with disabilities. And when we think about it, even families who have two working parents, they are young and at the start of their career and therefore their salaries are lower. And when we compare that with knowing that quality childcare in Oregon costs more than current in-state college tuition, that we know then, this is a big issue.
So currently we're running a business network for small family childcare providers and infant toddler network, as well as the leadership network for center providers. We answer a lot of questions and provide a lot of consultation. To support retention of childcare providers in Lane County, we also provide scholarships for childcare providers who are going to pursue their associate's degree in early childhood education.
A dream of mine were to be, if the City of Eugene or the City of Springfield or anywhere would consider having childcare options be zoned in new developments or be a part of zoning new developments or permitting them.
Cindy Bellamy: [00:03:53] Hi, I'm Cindy Bellamy, director at Oak Street Child Development Center, a non-profit childcare program located in downtown Eugene's Market District. The childcare desert is not just an issue in our community, but one that expands throughout the state and our nation as well. During the pandemic, it became more apparent that something needs to be done.
Senator Ron Wyden visited our playground recently to speak on this issue, and along with Senator Elizabeth Warren is backing the Building Childcare For a Better Future Act, which was first introduced in late May. The bill calls for $700 billion in spending and prioritizes funding for establishing neighborhood-based childcare, renovation of childcare facilities, recruiting staff, increasing worker compensation and funding childcare development, and low income community.
We're in the process once again of remodeling office space in the Oak Court Building that is connected to our building that has been vacant for many years and are hopeful that we will be successful in completing the project. Money has always been the determining factor along with maneuvering the complex permitting process that is required by the city of Eugene. Childcare space is very specialized and requires overhead sprinklers and other modifications, not usually thought of in renovation.
If we're successful in adding more space for care, we would increase our capacity by approximately 10 spaces in the first phase and possibly up to 50 more spaces in the second phase of our expansion. But more spaces means more teachers and caregivers, which have been hard to come by. Childcare workers are among the lowest paid workers in ours and any community. We are overworked and underappreciated in many ways. We've worked for many years at changing the stigma of our profession. Yes, childcare and early learning providers are professionals, not babysitters. We have college degrees and attend trainings required of us by the state to continue to be able to provide care to our most vulnerable population children.
Alyssa Chatterjee: [00:06:12] Hi, my name's Alyssa Chatterjee. I am the acting Early Learning System director with Oregon's Early Learning Division.
We've been hearing even before the pandemic hit about the workforce impacts for businesses, having difficulty recruiting and retaining staff due to the lack of childcare in their community.
We have a few levers at the state level that we can really start to utilize to help address this crisis across the state. The first is childcare subsidy rates. House Bill 3073 includes changes to the childcare subsidy program to increase eligibility so more families can access subsidized childcare and it also would cap copays so that no family who's eligible would pay more than 7% of their income. We are also excited to see that this would create a new Department of Early Learning and Care, allowing the Early Learning Division to separate from the Department of Education and stand alone as its own agency focused on birth to five programming in particular.
House Bill 2166 among several things creates an early childhood suspension and expulsion prevention program. We know that children are removed from childcare and early learning settings and often this looks like what we call soft expulsion. It's not an official designation like it might be in the K-12 system, but we'll see providers suggest that a child only come part-time, or they often call the family to pick the child up to the point that the parent might actually withdraw the child from the program. We also know that this is disproportionally affecting our kids of color and our kids experiencing disabilities so we are looking to create a program that would provide assistance and support to families and providers so we could connect families to referral services if their child may actually need some interventions.
Cheryl Henderson: [00:08:14] I want everybody to talk to their friends and family and neighbors to talk about what you can do to affect the childcare deserts in Oregon and Lane County. I want to do a specific shout out to any parents or grandparents who are home during the day or evening or weekend that might be willing to even serve three children in their homes, any business owners or government agencies that have any space that they are not currently using, you can call us at Quality Care Connections.
Cindy Bellamy: [00:08:50] I encourage all of you to look deep down into yourselves, to see what you can do as a business or as an individual to help support the effort to change the childcare desert into an oasis of childcare choices for generations to come.