LTD offers free rides to cooling centers during heat wave
2 min read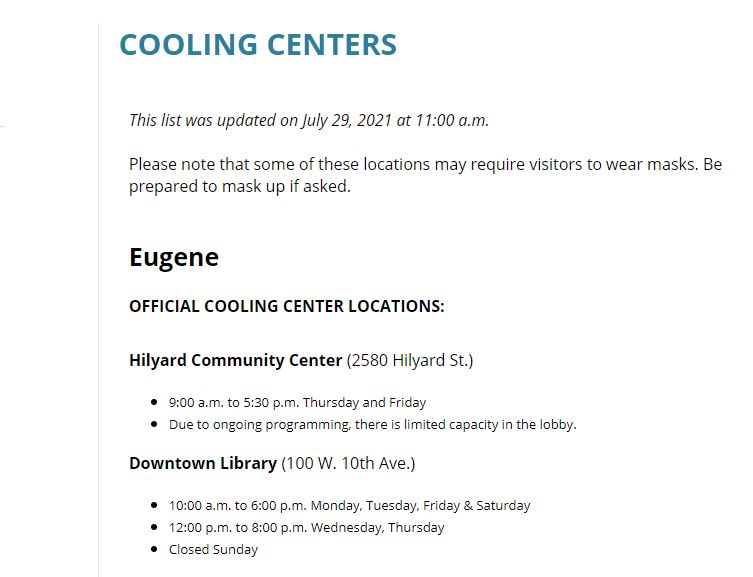 EUGENE, Ore. —(Aug. 10, 2021)— With Governor Kate Brown declaring a State of Emergency due to a forecasted heat wave from August 10 through 15, Lane Transit District (LTD) will offer free bus service to people traveling to and from designated cooling centers until the declaration is lifted.
Passengers will not be charged a fare if they inform the bus operator that they are going to or returning from a designated cooling center. All other passengers will need to pay fares to travel to and from their desired destinations.
All passengers are encouraged to consider preventative measures for heat exhaustion and for sun exposure, such as using sun block, dressing appropriately, and carrying a water bottle.
As a reminder, all passengers are required by federal regulations to wear a face mask covering the nose and mouth on all LTD buses and property.
For more information about how to stay cool and about local cooling centers, see the Lane County website, https://www.lanecountyor.gov/cms/one.aspx?pageId=17881059
###
About Lane Transit District (LTD)
LTD provides more than 10 million boardings per year on its buses and EmX Bus Rapid Transit line in Lane County, Oregon. Encompassing the Eugene-Springfield metro area, LTD is a special district of the State of Oregon and led by a seven-member board of directors appointed by Oregon's governor. LTD also operates RideSource, a paratransit service for people with disabilities, and numerous transportation options programs to promote sustainable travel county wide. LTD bus schedules are available: https://www.ltd.org/route-schedules-maps
Governor Brown's news release: https://www.oregon.gov/newsroom/Pages/NewsDetail.aspx?newsid=64228