Residents call for environmental justice; Councilor Evans to sponsor work session on J H Baxter
7 min read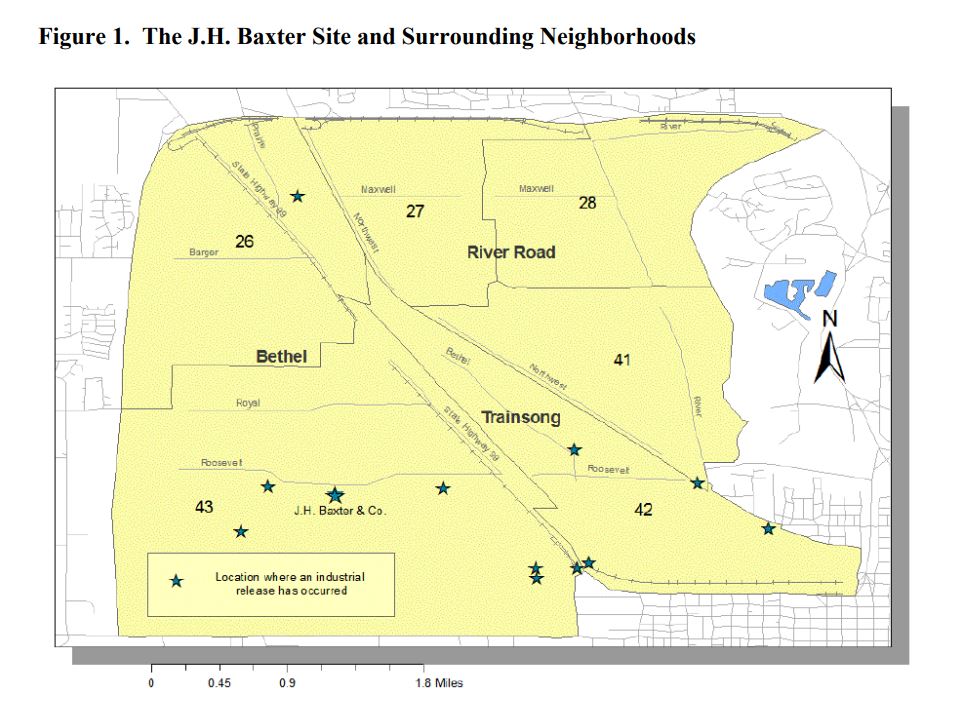 West Eugene residents asked the City Council to safeguard their environmental health. From public comment September 13:
[00:00:08] Lin Woodrich: My name is Lin Woodrich. I'm the Active Bethel Community co-chair, living in Ward Six with my 92-year-old dad, and I'm a homeowner in the Bethel portion of Ward Eight. We're working hard with various agencies to find out if some of the businesses in West Eugene have been poisoning the air, soil, and water.
It's a long and scary process. We appreciate Clean Air Oregon and the DEQ, but are frustrated with how long it takes to gather the data. I live a couple miles from one of the polluters, J H Baxter, and smell the mothball odors coming from the plant. Not all the time, but often enough for me to be concerned.
LRAPA has a complaint line that tracks the calls, but this has been going on for so many years that the residents in West Eugene have for the most part given up hoping that something will be done, so don't make the call. I've been posting to let them know the urgency, but I don't think it's making them call.
Please put the issues of environmental health for west Eugene residents on your agenda in the near future. It is so important for all residents and especially elders like my dad and to the children living in Bethel.
[00:01:21] Arjorie Arberry-Baribeault: My name is Arjorie Arberry-Baribeault and I am the West Eugene Environmental Justice Organizer for Beyond Toxics. I'm a member of the West Eugene community. In September of 2018, my then-13-year-old daughter was diagnosed with Hodgkin's lymphoma. I believe that her sickness was due to the environmental pollution within the industrial corridor of West Eugene. I'm here today to support my community by raising my voice to try and help stop the spread of avoidable cancers, heart and lung disease, strokes, nervous system disorders, and a myriad of other health issues, as well as a diminished quality of life.
I believe that these health concerns are brought on by the impact of environmental pollution from our industrial neighbors. My hope is that by starting conversations today about the desperation the community feels, we will be able to make strides in the right direction to help the environmental racism West Eugene experiences daily, simply by breathing in the toxic air surrounding their homes and families.
Thank you for the opportunity to raise awareness about the injustices felt by many throughout West Eugene. I would also like to ask on behalf of Beyond Toxics that the City Council address this problem by scheduling an agenda item in the near future so that this discussion can be more comprehensive and that you can really hear from the community.
[00:02:40] Mira Mason-Reader: My name is Mira Mason-Reader, and I live in Ward Eight. All citizens of Eugene deserve clean air. West Eugene has historically been underfunded, underutilized and marginalized, and it's time for the City of Eugene to take the actions it has neglected for decades.
In the wake of social movements our city councilors champion, like Black Lives Matter, the city must understand and recognize that people of color are disproportionately affected by pollution and climate change. It's no mistake that West Eugene was segregated from the rest of the city with a separate school district and a lack of foresight for environmental planning due to greed and industry.
Now is the time to rectify the segregation by ensuring that the horrendous air quality in West Eugene is tackled as a city-wide emergency. I am asking all of you to ensure that this is added as a future agenda item for a Eugene City Council meeting, as soon as possible. This problem isn't just for us residents of West Eugene and needs to stop being treated as such.
If you care about social justice and the environment like you purport to, then make sure this air quality emergency is added to the soonest available agenda.
[00:03:55] Emily Pyle: My name is Emily Pyle. I live in Ward Seven and I'm a member of the Active Bethel Community neighborhood association.
In 2017, my partner and I realized a dream of many years and bought our first house on a quiet street in the Bethel neighborhood. We were overjoyed and looked forward to many years in our new home.
Unfortunately, within a week of moving in, we noticed the smell of mothballs in the air, so strong that it made our eyes and noses burn. As I got to know my neighbors and asked about the smell, I learned that the odors were commonplace and I heard the name J H Baxter for the first time. I learned that this wood treatment facility in our neighborhood had been polluting for decades and had even been sanctioned and fined for this multiple times, but somehow was still operating, still spewing out toxic fumes, for my neighbors and the children a few blocks away at Fairfield Elementary School, to breathe.
I learned that naphthalene, a known cancer-causing agent, was responsible for the smell of mothballs, but that no one could actually tell me what other substances J H Baxter may be invisibly releasing into the air, water and soil around our homes. I was shocked that in a city as progressive as Eugene, that this has been allowed to continue for decades.
I helped organize plastics recycling drives in the Bethel neighborhood, and I know firsthand how committed and how conscientious my neighbors are about their impact on the environment. We save, wash, and sort our plastic containers, take the labels off and laboriously remove the glue. But we live down the street from a known polluter who cuts corners, flouts regulations, and pays nominal fines as a cost of doing business.
My neighbors and I are tired of this, and we need your help. We need regulatory processes that take the needs of communities impacted by pollution into account and include us in decision-making over how companies like J H Baxter are permitted and held accountable. We deserve accessible information about what substances polluters are releasing into our air, soil and water.
We ask for real accountability for polluting industries, so that endangerment of public health is no longer business as usual in Eugene. In these interests, we request the Eugene City Council create an agenda item to address the J H Baxter facility, the issue of environmental justice in West Eugene, and the investigation of Baxter under the Cleaner Air Oregon program.
[00:06:11] Ali AAsum: My name is Ali AAsum. I'm a resident of Ward Six. My husband and I purchased our first home about three years ago, one mile from the J H Baxter facility. We did so because we found our dream property and envisioned ourselves raising a family here.
Within our first week, we smelled a chemical odor. We soon realized we were smelling this odor at our home and on our walks around the neighborhood. Our dog too had put his nose in the air anytime the smell is present. It's a smell that on some days has kept us from going outside. We began reporting to LRAPA. They noted the odor was from J H Baxter. From there we began researching and were shocked to find this pollution has been known and allowed to continue for over two decades with little to no accountability from local agencies, all the way up to the EPA.
For a year now we've joined the Zoom calls to participate in the Cleaner Air Oregon process, talking to neighbors and advocating for the health and safety of our community. Many of our neighbors believe their voices do not matter and no change will happen. We've heard from others, 'If you don't like it, just move.' Along with these sentiments, we've had close friends move out of the neighborhood because they had strong concerns raising their kids in a polluted environment. My husband and I share those concerns and we want to see change. We asked that the city council further address with problems by making it an agenda item as soon as possible.
[00:07:39] Councilor Randy Groves: I too am concerned about the air quality in West Eugene. And my very first house was very near J H Baxter, and so I understand what neighbors in that area are experiencing. I worry about the effects on children growing up in that area. I understand that DEQ is probably the primary player in this, but maybe if somebody could respond with an email back to Mayor and Council of exactly where our authority lies, it would at least be helpful.
[00:08:13] Councilor Greg Evans: I've lived in Bethel for 21 years. This was an issue when my wife and I bought our house…. As long as I've lived in Bethel, and as much as people have pressed this issue, somewhere it gets lost in translation with regulation at the state and federal level. So you know, that certain companies and certain people have undue influence —I'll just put it to you real— undue influence in the political, and regulatory processes.
So, if we are going to address this issue head on, we better know what we're doing, dot our I's and cross our T's. Because the only way you're going to get them to change is by the regulations that are already in place and applying those regulations so that people could live a healthy life in that area. We really need to take this head on. I'm willing to sponsor a work session around it so that we can have this conversation and get more information.