LTD board meeting: 4J students need LTD bus pass; drivers ask for more support
6 min read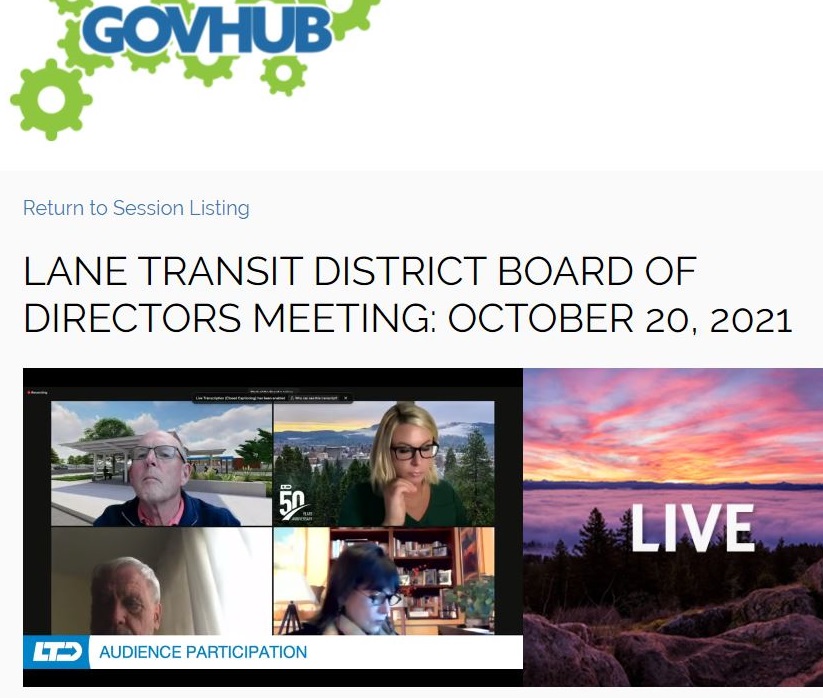 Eugene moms highlight the need for LTD passes and bus drivers ask for more support. We start with Employee of the Month.
[00:00:08] Josh Smith: My name is Josh Smith. I'm the operations field supervisor. And I would like to present our EOM, (Employee of the Month) this month. Karin LeGendre. She's received multiple nominations and just compliments from the public. And she did get a EOM nomination this time and it was someone was on board bus and she was having to deal with a different passenger on the bus and this passenger just recognized how well she was able to deescalate the situation and just put in a good word for her. And she's just been a fabulous employee. And like I said, she's received multiple just nominations for doing a great job. And I just want to give her a, just a shout out and a great job.
[00:00:56] Rachel Smith Anderson: I live in Eugene. The parents of 4J received an email last week to let us know that 4J is cutting bus service to many areas around the edges of town, because they don't have enough drivers. So I want to let the board know about that, that some families will be relying on LTD buses more than normal over the regular 4J school buses.
[00:01:23] Jess Tuerk Roshak: How can the STIF-funded bus pass program rollout go better and reach more students more easily? And is October 31st, 10 days from now, still an appropriate deadline this year, to cut kids off of this when need has suddenly, as you might be aware, become greater than ever for this program? …Lots of families just this week discovered that school bus routes are canceled due to district shortages and were asked to take a small stipend instead so they can arrange alternative transport. So this is where the incredible opportunity for the STIF- funded bus pass comes in. But, . LTD handed the rollout of the bus pass program over to the districts. The districts handed it down to the schools. The schools gave it to one of their very overworked and overwhelmed staff on September 10th with no support, no warning, no guidance, a million other things to do.
[00:02:19] I'd like to get a pass in the hands of every single student. Every single student needs one to learn to ride or to ride as needed. There's only 10 days, according to LTD's current messaging so I would highly encouraged the October 30th deadline to be extended to December 30th. And I would recommend the LTD work with a core of trained, maybe volunteers, maybe its own staff, to table or reach families at each school in person, maybe at the drop off day or the pickup or during lunch to make sure that parents and students get passes in their hands. No questions asked.
[00:02:56] Bill Bradley: My name is Bill Bradley, ATU executive board officer representing the operators, mechanics, customer service, public safety here at LTD. I'm calling in today to push for more support out there on the system. This is ongoing conversations we've been having with LTD district management. So right now we have less public safety officers than we had budgeted for. So we had budgeted for nine and a half. Currently we only have eight. We've had a struggle recruiting into that position. Even at nine and a half, it is our workforce's feeling that that is an inadequate number and we should shoot a little higher , not only because we're dealing with mask issues out there on the bus, but we have a different kind of population that we're going to have to retrain to riding transit. And we're going to need more support out there on the system to be able to deal with that. I've been dealing with issues from our operators over the last couple of weeks or where, more support in the system as needed, but it wasn't available.
[00:03:59] That's not on the district per se. We've all struggled hiring, but it's just a goal to keep in mind as we look to the future of adding these positions. Getting back to a hundred percent service is a worthy goal that might require more staff in the support positions than we had in previous years, as we come out of COVID as we deal with the populations that are on there, on the bus. I just want to advocate that the district has the resources available, even if they were more than what we had two years ago.
[00:04:27] Other things I want to say, Jess pointed out that the schools are having struggles with their bus drivers and, 4J is doing what they can to recruit and retain bus operators. And LTD is there to supplement some of these transportation routes. And the same thing is true for LTD that we need to retain and recruit operators and s o everybody's dealing with this problem. We have a limited pool of resources to pull from within the community.
[00:04:53] Farley Craig: My name's Farley Craig. I am a driver for LTD and I thought Bill did a really good job of talking about it. The feeling that I have as a driver amongst my peers is that we are becoming very frustrated with lack of security, lack of public safety. And I really, I appreciate that Karen, Karen is a great, she's a great lady. She got nominated for deescalating the situation, unfortunately, that is becoming more and more often that it's up to the driver to deescalate the situation on the bus. And us as drivers are feeling less and less supported. I'm even having customers come up to me and voice their frustration at my inability to provide a safe and a comfortable spot for transportation.
[00:05:48] There definitely is an issue. It's been happening and it's tending to become worse. There's a lot of people drinking. There's a lot of drug use on our bus. And as we go forward and we're getting more kids riding the bus, I think it's also pertinent to bring to attention that these kids are directly in harm's way with this group that we have. I don't know exactly what the answer is, but I feel that if we could get more support out there, if we could have more presence, I think that would help out quite a bit.
[00:06:27] John Gangl: Hi, my name is John Gangl. I'm an LTD bus driver and also an ATU union rep. We were talking about safety and that's obviously something we all care about—our passengers, our managers, the operators. I know I'm repeating what's already been said today, but we need more of a safety and security presence. We operators, we don't always feel supported out there in the system and our supervisors are doing the best they can with the numbers. Our public safety are doing the best they can with the numbers they have, but we have a growing population coming out of COVID. We have a growing population as Bill Bradley says that needs to be retrained on how to use our public transportation system safely. And we have a very diverse group of people riding our buses: The elderly, the ADA community, K-12, U of O, LCC. Our goal is excellent service and a safe system out there. I hope that the board can find a way to increase the numbers in public safety. Not just for the operators who are trying our hardest to defuse situations, but for our customers for our community.