BEST, neighborhoods welcome new LTD board members
4 min read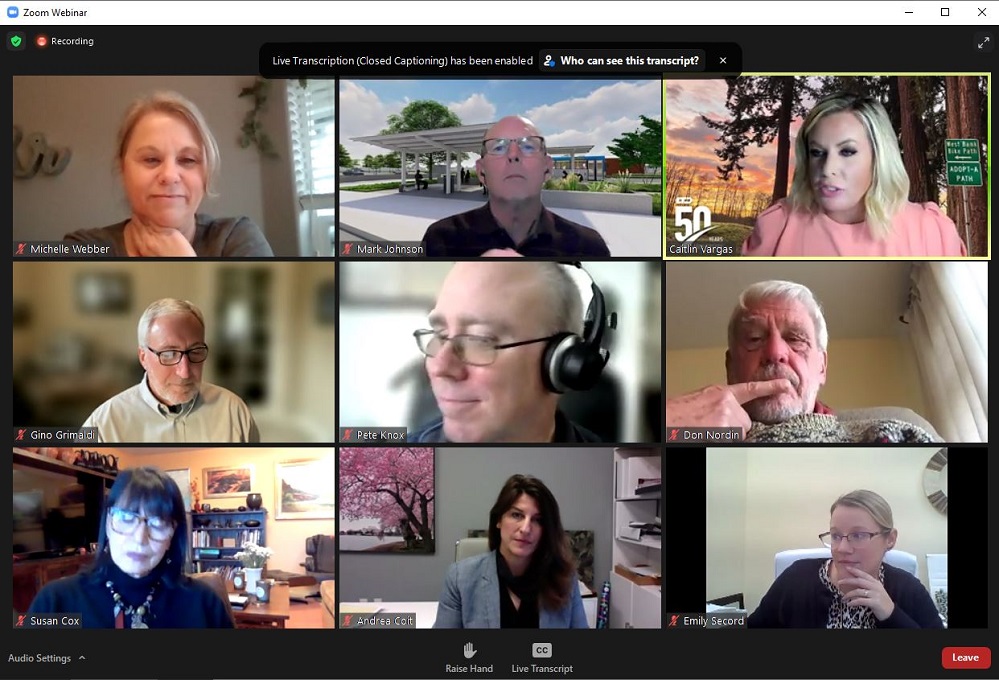 Public comments welcomed new LTD board members. From Better Eugene Springfield Transportation, Executive Director Rob Zako.
[00:00:08] Rob Zako: This is Rob Zako, of course, with Better Eugene Springfield Transportation. Thank you (board members) Caitlin (Vargas) and Michelle (Webber) for your nice words. Thank you to Michelle (Webber) and Susan (Cox) for attending the rally to thank LTD bus drivers last week.
[00:00:20] We were really pleased with the event. We had about 75 people participated. Amazingly the sky cleared up and we had blue skies. It was really a good event. And I just want to say that that was really a partnership with the community. We worked with the Amalgamated Transit Union bus drivers to organize that.
[00:00:36] And we had elected officials, Congressman DeFazio of course, was in Orlando with some others for the APTA conference but Dan Whelan came. Labor Commissioner Val Hoyle was not able to attend, but sent her greeting. Senator James Manning, Representative Julie Fahey, Mayor Lucy Vinis, City Counselor Matt Keating, County Commissioner Laurie Trieger, and many others spoke.
[00:00:56] And I just think that demonstrates the importance of transit to our community and the support that LTD, especially bus drivers, have from people dependent on it. And that people understand that others depend upon that. So we're really happy to put that event on and a thank you to LTD staff for working with us to open up that space, at Rosa Parks Plaza, it was a great event.
[00:01:17] The only other thing I want to say today is I would also like to welcome the two new LTD board members, Gino Grimaldi and Pete Knox. It sounds like you're not quite official there. I don't know whether the Senate confirmed you earlier today or not, but it sounds like in a few days you'll be official. So welcome to the LTD board and we look forward to working with you.
[00:01:35] Lucy Bambrey: My name is Lucy Bambrey, and I am a Southeast Neighbor Transportation Committee member. And we would like to welcome the two new board members to the board, and we look forward to interacting with you.
[00:01:49] My comments today are with respect to Transit Tomorrow.
[00:01:53] Southeast Eugene has evolved with LTD and is now in its 50th year as a transit dependent neighborhood. Our fixed bus routes serve low-income housing, transitional housing, supportive housing for people with disabilities, emergency housing for youth, elders, residential care, essential workers at all of these facilities, and many, many students. Since South Eugene is 90 percent residential, we all rely on the bus to access our daily needs.
[00:02:21] LTD is essential to us because Southeast is not, I repeat not, a highly walkable neighborhood. Our steep hills also make it un-bike-able and un-scooter-able, particularly by elders and families that make up the biggest part of our population.
[00:02:37] As enthusiastic, regular bus riders, we were initially excited to learn about the plans for Transit Tomorrow. We participated in the surveys and said, 'Sure! We would indeed like more frequent service.' We were shocked to see the final plan.
[00:02:50] For most of our neighbors, LTD's public engagement consisted of one neighborhood meeting announcing the elimination of all three of our neighborhood routes.
[00:02:58] We analyzed Transit Tomorrow in detail. We recommend seven ways to improve public participation, increase ridership and better meet our climate goals.
1. We asked for individual notices on each of the bus stops that would be closed under Transit Tomorrow.
2. Recognizing that eliminating neighborhood routes would initially increase car traffic, we asked for LTD's projected breakeven point for net reduction of greenhouse gas emissions.
3. We asked for regular data sharing to allow neighborhoods to confirm those climate targets.
4. We asked for equity for bus-dependent people. We need our neighborhood buses to connect to the buses downtown and the corridors.
5. We offered a way to preserve neighborhood service at the same or lower costs using Amazon Station and other neighborhood stations.
6. We suggested scheduled time for the board to respond to public comments, to allow for more two-way communication.
7. We, with Rob Zako and BEST, recommended that LTD adopt the IAP2 public participation model as part of public engagement.
[00:04:05] We hope that you will respond to the suggestions made over the past few years. Our suggestion today is that the board officially scrap—and I say scrap—Transit Tomorrow. The public engagement often failed to meet the requirements of even the lowest level of the IAP2 model, in other words, 'inform.' We encourage the board to reboot this project and 'collaborate' instead, starting with a plan based on Jess Roshak's infinity loop, which we sent earlier to the board, a high frequency network linking neighborhood hubs with continuous low-frequency service to outlying areas.
[00:04:43] Thank you very much for your time. And we look forward to working with you.
[00:04:47] John Q: LTD, back to full strength after two board members, the general manager, and the general counsel left during a wild week in July.