Legalize Survival: Charles Durrett sees benefits in organizing W-J residents
7 min read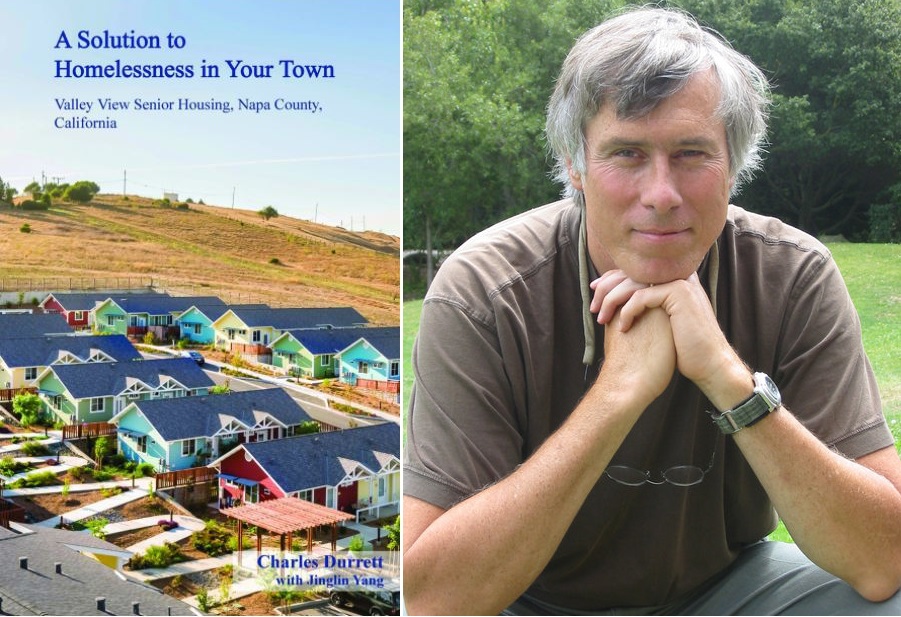 The program Legalize Survival airs every Wednesday at 6:30 p.m. on KEPW 97.3 FM. This month, the architect who coined the term "co-housing," Charles Durrett. He was welcomed by the program host, Jana Thrift.
[00:00:16] Jana Thrift: And the great news is that we have Charles Durrett here. Thank you so much, Charles, for coming on our show to let our listeners know what your book is about.
[00:00:26] Charles Durrett: Well, thanks for having me. The book is called, 'A Solution to Homelessness In Your Town.'
[00:00:31] The book is about a project, 70 units, that was just finished a little over a year ago, mostly for homeless vets, and about a hundred people live there. It's in a little town in California called American Canyon, and I think it's a stellar example of how cities and counties can participate and become part of the solution. It's not just housing and it's certainly not warehousing. They're little cottages and it's designed to feel like a village, basically. There's a 5,000-square-foot common house for all kinds of common activities, including job training, veterans counseling and common dining.
[00:01:08] They had seen another book that I had written about 10 years ago called 'Revitalizing Our Small Towns,' and American Canyon certainly is a small town. And in that book, I wrote a lot about how you can make homeless shelters an attribute to any given town, including the economics.
[00:01:27] It actually brings a lot of money to town, not just a $10 million project that gets built with lots of donors, but also all the staff that comes to town, makes jobs there, and the social services, like the VA services that came in this case, they certainly had no presence in that town before. It just brought a lot of budding ancillary industry to town that they were smart enough to pick up on and they picked up on it because of that book, 'Revitalizing Our Small Towns.'
[00:01:56] The Director of Community Development, he said the reason that that town adopted that project was a combination of the process and the product. In other words, they were just so happy with how the folks were super organized and have every intention of being accountable for their behavior. They're right in the middle of a single-family-house neighborhood, which is usually the beginning of the end for a new homeless project. I mean, right in the middle of a very established family-house neighborhood, but the city and the neighbors were very, very happy with our very concerted effort to make everybody comfortable from the beginning.
[00:02:32] John Q: He said the key is organizing unhoused residents into a functioning community.
[00:02:37] Charles Durrett: I was just in the great town of Eugene this weekend, all day Saturday and Sunday. And I spent the two days trying to organize the folks who live under the bridges there at Washington Jefferson. And it was an incredible experience. First of all, I was, you know, kind of disappointed with how unorganized they are, but I was super uplifted by how organized they want to get. So I'm actually looking for an an organizer, a community organizer.
[00:03:06] The problem, and therefore the opportunity for getting together, started with the neighbors being so riled up. That's certainly something that we have to solve over and over again. And we have to think about how to make neighbors be good neighbors to the new neighbors. And new neighbors be good neighbors to the existing neighbors, whether it's noise or, or just, one big problem after another that's happening under the Washington-Jefferson bridges.
[00:03:32] Jana Thrift: So what did you think, as far as the opportunity for Washington-Jefferson Park to become more stable, and maybe end up with a space that is meant to be more long-term.
[00:03:46] Charles Durrett: Yeah. I have a lot of opinions about it. I believe that it can be stabilized. I think you've got to stem and mitigate all the neighborhood opposition, all of the forces that are going to City Hall and saying, 'Get rid of these people.' And I'm highly motivated to get them organized. Now, I only did two days worth of meetings with them, but they went a long ways. You know, they've got to clean up the camp considerable amount. There's about 10 percent of them that are very, very high functioning. And I think they can make 50 percent of them very accountable and a community. And I think the rest of them will follow suit by example. I think it takes a real talent.
[00:04:24] Now I did this project in downtown San Francisco where it was a 55-unit affordable housing project and they had three full-time cops living on duty at this housing project, 24-7. So, I mean, I know what it means to go into difficult places. I don't think Washington-Jefferson is that difficult. I mean, we got so far in just two days. That project in San Francisco took about 20 meetings. I think this one would take about 10 to 15 before they could do things like go to the City and articulately make a case about whether— if there is an exit strategy that we all like. I interviewed 50 people this week and I didn't find one person who liked the idea of being moved out of Washington.
[00:05:07] John Q: Co-host Julie Lambert.
[00:05:09] Julie Lambert: Speaking about the WJ, my phone was blowing up all weekend because people were getting evicted, and I don't work in the field directly anymore, but I have my feelers out and I will go out and do a story. And it is distressing how many times my phone went off.
[00:05:28] Charles Durrett: There's a lot of pathologies there. I mean, the cops are there incessantly, the fire department is there incessantly, it's a mud hole, the paths are slippery and dangerous. The sanitary stuff is not happy. There's a lack of water and I just feel like the city is inadvertently suffocating that crew right now, but it's an easy target because they're not organized.
[00:05:50] So if you guys know of one single good organizer in Eugene, I would like to coach them. It's about another 10 meetings. And I think then you would have a group of people who are capable of going to the City, going to the neighbors, talking to the neighbors and talking to each other in a way that, you know, respect is simply not lost.
[00:06:10] And what needs to come together is a group of people who knows how to be organized. It's like union organizing, if you will. And you know, that's what's needed and that I haven't been able to find anybody in Eugene who's ready to do.
[00:06:24] John Q: He has a long history with housing activists in Eugene.
[00:06:28] Charles Durrett: I'm a big fan of Opportunity Village. And that's one of the big reasons that Opportunity Village is a success. At first, they had no water, no sewer, they had no electricity and the residents themselves played a big role in getting all of that stuff in place. I have a chapter in my book about Opportunity Village. Andrew Heben is a good friend of mine.
[00:06:50] Jana Thrift: I love that guy!
[00:06:51] Charles Durrett: Yeah, yeah.. So I'm a big fan. I wrote in Andrew's first book, Tent City Urbanism, so if you have that book, I did the back cover of it. You know, I don't know why we just don't do one Opportunity Village after another, anywhere.
[00:07:06] Eugene has more homeless people per capita than any town in America. and I feel like there's some way that we have to turn that into a positive. You know, Copenhagen, Denmark had a very high homeless population and they took a different approach. First of all, there was the suggestion—that person on the street that's down and out could be my brother, so let's do something about this. They allowed a camp to build their own cottages. And now there's housed, 1500 residents in a camp, and that saved the city so much money.
[00:07:48] I know that human capacity, human potential is infinitely higher than what you see at Washington-Jefferson now. So I can't recommend enough folks, activists of all types, get a copy of that book called A Solution to Homelessness In Your Town.
[00:08:03] John Q: For the complete interview, search KEPW.org for Legalize Survival.
[00:08:08] Jana Thrift: We just had a fabulous interview about his book and his experience with trying to participate with helping us here in Eugene, making Washington-Jefferson a more manageable and positive situation for our community. Charles said that we in Eugene have the highest per capita homeless population in our nation, but turn that into a positive.
[00:08:39] This is Jana for Legalize Survival at KEPW LP 97.3 FM.