NLC wants to share your neighborhood's stories
3 min read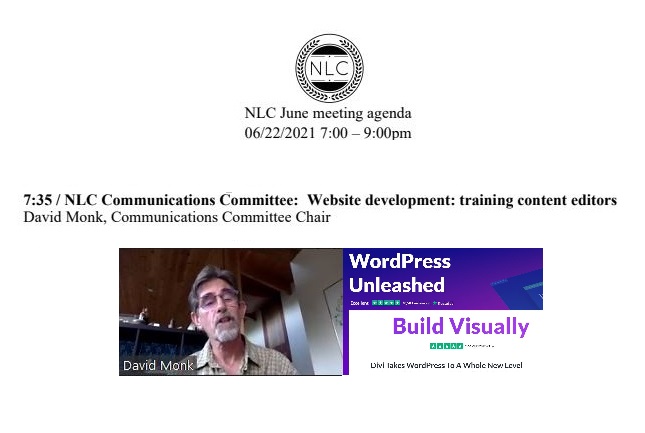 Eugene's neighborhoods have a new website, where they hope you'll share your story. From Southeast Neighbors, speaking at the NLC earlier this year, David Monk.
[00:00:10] David Monk: As you know, in the NLC has a new website and a lot of work has gone into developing this new website. For years, certainly during my time as co-chair, nothing was done on that website and in websites are really useless unless you can direct traffic to it.
[00:00:29] So we've got an opportunity now to really articulate to the larger community, what you all are doing in your respective neighborhoods, what you're doing in your NLC committees, what you're doing in the committees in your neighborhood. So this is a really great opportunity, but it's only going to happen if there are volunteers to help create content for it, to send pictures that are really valuable to show our community.
[00:01:01] I reached out to Cindy Koehler to inquire about sending the same request for help on the website to all of your board members. And so when your respective board members come to you and say, what do you think, should I get involved in helping the NLC with their website? Basically, I'm here to encourage you all, you should say 'Yes, definitely do so.' Right? I mean, there is so much opportunity here.
[00:01:27] John Q: David said it all started with emergency preparedness.
[00:01:31] David Monk: We've put in the matching grant proposal got funded, worked through this with with a website developer. And so we have this new site, it needs a lot of content in needs. It needs maintenance. So that's what we're asking of you. If you can, if you have that skill set and you can spare whatever it is, couple hours a month would be fabulous.
[00:01:56] Just providing some content, something that you're submitting to your own newsletter and you think it has relevance, citywide, you should provide that. Okay. So that's really what we're asking of you is look at this opportunity. Don't let it be squandered because that website has been stagnant for so long and you all are doing such good work and putting in so much time and effort, the larger community needs to know what you all are doing.
[00:02:24] John Q: David and other NLC members took a class from the website developer.
[00:02:28] David Monk: As you know with your own websites, it's allowing you to bring in photos, bring in whatever article you want to submit. And what I learned from that admin training was this Elegant Divi, it's amazing what you can do with it. WordPress is already a pretty common-sense platform and even myself, who I consider myself a Luddite, I could actually work on a WordPress site. So this Elegant Divi is fabulous, and I think you'd really love it if you got involved in this effort, you can see how functional and how many options it gives you to provide that information.
[00:03:06] Send an email, if you want to get involved in whatever at whatever level, right? Doesn't have to be some huge commitment, but if you have some content that on occasion you want to provide, we want to help you do that.
[00:03:19] John Q: For more information, contact your neighborhood association, or the Neighborhood Leaders Council.