Emergency Management team: EPD 'drone fleet' can help broadcast warnings
7 min read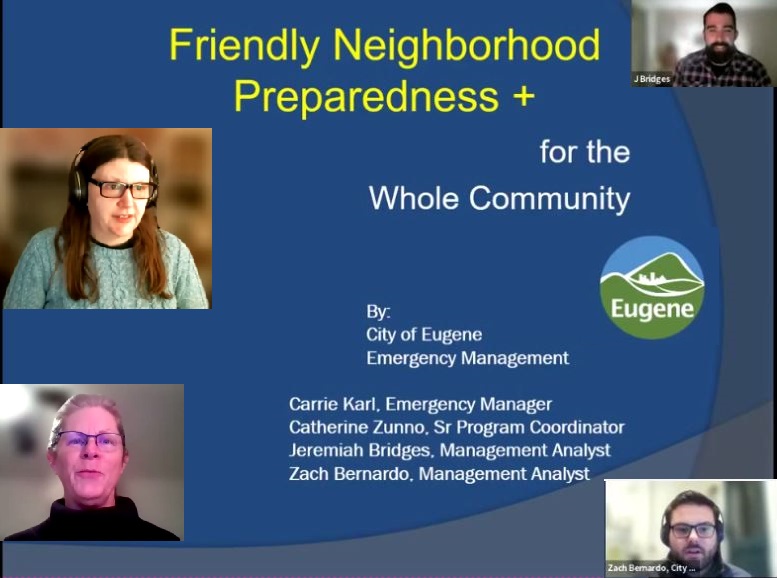 The City's Emergency Management team spoke with the Friendly area on January 27. A significant event happened that week in the year 1700.
[00:00:10] Carlos Barrera: The 322nd anniversary of the 9.2 earthquake that occurred off our coast.
[00:00:16] John Q: From the City of Eugene, Catherine Zunno.
[00:00:19] Catherine Zunno: Hi, I'm Catherine Zunno. I'm the senior program coordinator. This is our team here: Carrie Karl, myself, Jeremiah Bridges, and Zach Bernardo. We all work for the City of Eugene in the Emergency Management Department.
[00:00:31] The City of Eugene works consistently in updating three major planning documents. Those documents are the Oregon Resilience Plan, which is a statewide document for reducing risks and recovery; and the Eugene Springfield Natural Hazards Mitigation Plan, also known as the NHMP, which talks specifically about our community and breaks down our plan by the type of incident. And finally the Eugene Springfield Emergency Operation Plan, which provides the guidelines and methods of responding to an incident, it's our playbook, so to speak, kind of like a football playbook and helps us in moving through the incident and gives us the guidance that we need. These plans are all part of and used in the national incident management system that the city of Eugene operates on and they're in constant upgrades and use throughout our daily operations.
[00:01:18] The Natural Hazards Mitigation Plan was last updated in the spring of 2020 and we are already starting on the next upgrade. If you're interested in anything having to do with hazards and so forth, it is absolutely fascinating to read through.
[00:01:31] In the City of Eugene, we look at known disasters and evaluate them for potential occurrences and how the disaster would affect the community. It's called the risk assessment.
[00:01:40] Although the City of Eugene covers and plans for varying risks, other agencies and jurisdictions take the lead on certain risks. An example of this would be the case of a dam failure that may affect low-lying areas of Eugene and Springfield. The lead agency for dams would either be EWEB for their EWEB dams or the Army Corps of Engineers.
[00:02:02] This winter, the Army Corps of Engineers is going to be publishing to the public all of their information specific to each dam. So I would encourage you to maybe put a little marker on your calendars, just a little post-it note or something for November to go ahead and look on the Army Corps of Engineers website.
[00:02:22] John Q: Catherine encouraged everyone to study multiple evacuation routes.
[00:02:26] Catherine Zunno: If you live in a low-lying area, you may be in a flood zone. So knowing the safest route to get to higher ground should also be determined. Periodically radio and TV stations will put out emergency alert tests. Pay attention. If your radio or TV sounds out that familiar alert, buzzing sound, sometimes we may think the alert is only a test when it may in fact be a real alert. And remember your vehicle has a radio in it. You can always go in and hear the alerts on radio stations.
[00:02:57] Even if you're traveling, the emergency alert system does go through your radio. So you'll also hear those tests come through and you'll hear actual emergencies come through on your radio. So in the case of a power outage, when you don't have power in your house, you can step outside to your vehicle, turn it on, listen to the radio and get the updates on that.
[00:03:14] John Q: She encouraged everyone to sign up for emergency alerts.
[00:03:18] Catherine Zunno: It's also important to sign up for Alert Sense. If you have a smartphone, you can download that on your phone. You can receive additional real time alerts that are based on your actual location.
[00:03:30] If you're traveling, check the weather and see if you should cancel your travels or find lodging until it's safer. If you're home, you may also be sheltering in place. So be sure you have enough food and water that you can prepare in the case of an extended period or leave your home to go somewhere else that has not been affected.
[00:03:47] Additionally, whether you're traveling or at home, when the power goes out, be mindful of others around you that may not have prepared as well. Or your neighbors who are elderly or compromised. They may need a calming smile, some extra food or water or anything else that you can offer to them. Sometimes just even checking in on them in their house. Remember to be kind, be caring and remember to take care of yourself first so that you can assist others. It's better to prepare than to take whatever comes your way. Additionally, it's best to have a bit extra to share with others who are not as prepared.
[00:04:24] John Q: She said it's important to take care of people in the right sequence.
[00:04:27] Catherine Zunno: In this order: Take care of yourself, your family, your neighbors, your employees, and your coworkers. It's just like being on the plane, when the stewardess and stewards are telling you to put on your own oxygen mask first, and then you help others.
[00:04:42] John Q: Residents can receive additional training through the CERT program.
[00:04:46] Catherine Zunno: We're hoping to still be able to offer our in-person class at the end of March. There's also many opportunities that you can serve your community that open up when you become a CERT volunteer. So check in with Carlos Barrera in your neighborhood there.
[00:05:00] Jeremiah Bridges: Jeremiah Bridges invited people to practice their emergency communications skills.
[00:05:04] So the neighborhood radio communications response guide was created of August 2021. Late last year, we conducted our first exercise utilizing this guide. And what this guide does is, it empowers neighborhood associations to work in conjunction with CERT principles and to help yourself, your family and your neighbors following a disaster or an emergency.
[00:05:22] By learning the basics of two-way radio communications and the skills and the processes and practicing it, you're better able to prepare yourself and your neighborhood and to inform the EOC (Emergency Operations Center) during one of these incidents. We encourage everyone to participate in these exercises and we are hoping to do another exercise at some point this year. The last one was really great and it helped really give us some good insight on how the guide was working, and that also led to us making some adjustments. So during these exercises, it's not only for us to practice with you as the community. It's also a way for us to see what we need to change about these guides and what we can do to better serve this radio communication guidance. You can also talk to your CERT representative, which is Carlos Barrera, and he can help you potentially be a part of our next exercise.
[00:06:07] John Q: Lena gave a plug for the Eugene Emergency Communications exercises with Andy Davis.
[00:06:12] Lena: Eugene EmComm Net that happens once a week on Wednesdays, that's with Andy Davis with the CERTs and we all try all of the districts' ham operators, then each of the districts, CERT districts. FAN's pretty involved and I really encourage anybody in FAN, if you have a walkie-talkie, we do still have a few to to give out for a time commitment of participation. We have some available.
[00:06:38] John Q: Jeremiah said the Police Department drone fleet can help during an emergency.
[00:06:42] Jeremiah Bridges: We also have a small amount of drones. And I actually worked very closely with EPD and they have a very large drone fleet that are at our disposal in the event of something of a disaster and those can be utilized for damage assessment and for relaying information. I know that EPD has the ability to have ones that have speakers on them. So if we need to get information out to the public, we can fly a drone over and, let you know where the nearest water receptacles or any kind of aid that you need is,
[00:07:12] John Q: The other members of the team introduced themselves.
[00:07:15] Zach Bernardo: My name is Zach Bernardo. I am one of the analysts on our team. A little background for me, my background emergency management actually started as a first responder. So I spent roughly seven years as a first responder, some of that time being a firefighter paramedic here in the Eugene Springfield area.
[00:07:32] John Q: The team's manager is Carrie Karl.
[00:07:35] Carrie Karl: My name is Carrie Karl. I'm the new emergency manager with the City of Eugene. I was a park ranger in Grand Teton National Park in western Wyoming and during the fire season in the early 2000s we actually had some major fires come through and I was given the opportunity to work in an emergency management, so it was a really interesting exposure to emergency management for me. And when I started with the City of Eugene and I was in public works and a volunteer coordinator with parks and open space for over eight years and able to work on a lot of the major storm events.
[00:08:06] John Q: The team answered questions.
[00:08:08] Carrie Karl: What are the top three things Friendly residents can do to prepare outside of the emergency situation of the two weeks ready? Know your neighbors. Know what resources your neighbors have around you, connect with your neighbors and understand who's going to need help and who isn't.
[00:08:23] The more you're connected, the more you can support folks around you. I always think of preparedness as a privilege because it takes time. Sometimes it takes money. It takes the resources to put it together in the space. So if you have that space to do that, knowing who's around you, who may need that support can help may allow those first responders to go to the areas that really will need it.
[00:08:45] John Q: For more, visit Ready Friendly.