River Road hosts Delta-Beltline panel discussion Feb. 14
5 min read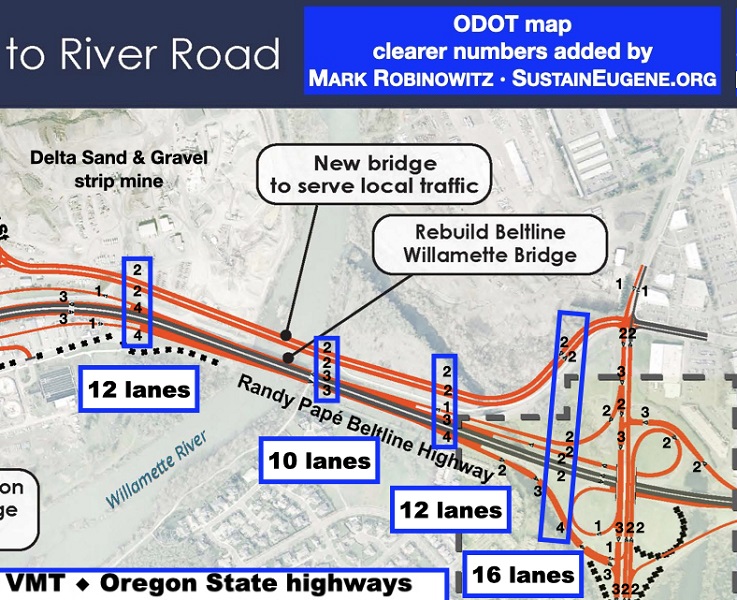 The River Road Community Organization will host a panel discussion Monday night that asks: Should we widen the Beltline? Offering a preview at the Northeast Neighbors meeting this week, board chair Kevin Reed.
[00:00:11] Kevin Reed: I was asked to speak at the River Road neighborhood association meeting to discuss the Delta – Beltline interchange development. I will tell you that River Road has an outspoken person that is definitely not in favor of any type of expansion to that road, cause she feels as though that because of the carbon footprint that we have, we need to get people out of cars and using an alternative modes of transportation, which at first blush might be a good idea, but when you live out here and you've got kids going to and from different functions and trying to get people to school and to work, that may not be a reality.
[00:00:49] And so when they asked me to come and speak on behalf of our neighborhood association and the position that we've taken on the development of the area and why we took the position that we did, and what next steps are as far as we're hoping to see happen. So I'm kind of talking in the positive, but what I'm really going to be doing is sharing with them all the information that we've compiled over 10 years of being involved in this conversation and the outcome that we finally have gotten to, and why it's a good idea.
[00:01:18] The way they were talking, they're misinformed. They think this thing just happened in a vacuum and it didn't, this has been on the planning board for quite some time. And lots of conversations have happened. Lots of people have put in their input and it's taken a lot of money and time and effort to get to where we're at thus far. So I don't want to see it be shot up just because they're just now getting their arms wrapped around this particular topic.
[00:01:42] John Q: The City approached Northeast Neighbors about supporting new neighborhoods. Board chair Kevin Reed.
[00:01:47] Kevin Reed: We also got approached by the City of Eugene, and they are trying to put together an ad hoc committee to discuss how they can put together policies and procedures that make other neighbors feel comfortable on how to join in the process and how to put together a neighborhood association and how they can utilize it, and also be able to get a platform built and extend their concerns and questions and directions to the decision makers. So this is all an attempt to bring up to the 21st century, the policies and procedures that dictate how neighborhood associations are organized and structured so that new neighborhood associations can be developed so that people have a platform so that they can air their feelings and questions and differences. So I told them I would be happy to participate in that if that's the case.
[00:02:48] John Q: Kevin said he didn't want to get involved in acrimony among the Neighborhood Leaders Council.
[00:02:53] Kevin Reed: What I'm not going to get into a situation where the NLC, which is the neighborhood leaders council, which is representation of leaders from every one of the neighborhood associations attend that, and it gets into this tit-for-tat and a lot of backbiting and a lot of animosity was driven and nasty emails are going back and forth. I'm not, I don't have time for that. I don't participate in that kind of conversation nor do I think like that.
[00:03:19] My role and responsibility as the chair of this neighborhood association is to make sure that we are creating a platform of education and information for all the people that live in our area so they can make informed decisions on their own. I mean, there are pretty venomous things going on there for awhile when I completely walked away from them and said, 'I'm not attending any more of these meetings until you guys calm down, it's just not necessary. Life's too short.' So I will keep you apprised as that unfolds too, because the reason why I'm getting involved in that is because I'm concerned that they're looking at whether or not, because of all of this negativity that was going on with this NLC situation, the viability and the justification of supporting these neighborhood associations. And I think that they're very, very important. I am very happy with the way ours is operated and how it's run for the past few years. I think it does exactly what it's supposed to do, and that is educate and inform the neighbors. And I think that we've had some wonderful, wonderful responses from our neighbors on issues that were of importance to them, where they've testified, written letters, and done things that were necessary in order to impact change. And that to me was just, it was wonderful. That's exactly what we're here to do.
[00:04:33] So if this is an attempt for them to try to get it structured so that we get the blessings of the city council to continue supporting the neighborhood associations as they're structured now, I'm very supportive of that and I will help. But if it's trying to get a political wing or some agenda pushers, I'm not interested in doing that, so I'll keep you apprised as this unfolds, but they came to me and asked me if I would support it and participate, and I said I would.
[00:04:58] John Q: Kevin Reed from Northeast Neighbors will participate Monday night, as River Road hosts a panel discussion on widening the Beltline. You can find the Zoom link at the RRCO website.