'Whole Community' approach in Lane County is a great model for others
6 min read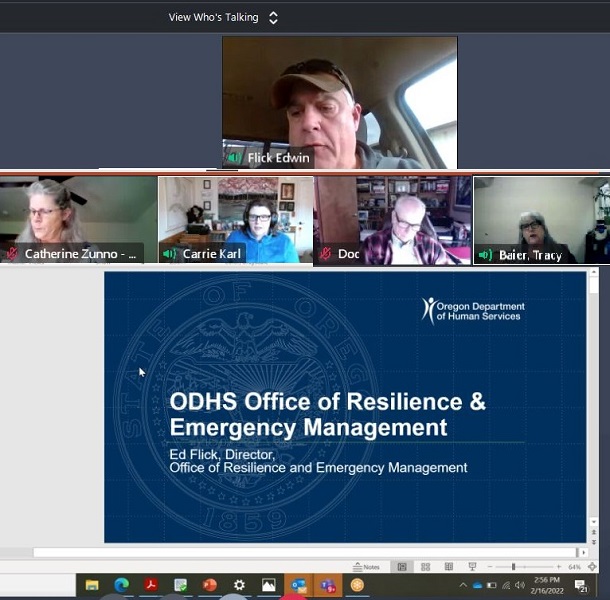 Local emergency managers and community leaders gather once a quarter as the Lane Preparedness Coalition. Speaking on February 16th, Ed Flick.
[00:00:08] Ed Flick: I'm Ed Flick. I'm the director of the Office of Resilience and Emergency Management in the Oregon Department of Human Services. I've been in that job really since the day after Labor Day 2020, when I was asked to come over from Oregon Health Authority and in the immediate term help to respond to the unprecedented wildfires that swept through Western Oregon.
[00:00:28] When the fires struck in 2020, we weren't ready. And that's real hard to say, but that's true. And furthermore, we knew we weren't ready. As a state we knew we had not been prepared for a long time and specifically in this area, and the term in our trade is "mass care." There was a study that was commissioned by the legislature that was reported out in 2018 that laid out that we weren't really ready for a big catastrophic event to provide mass care.
[00:00:55] Our ability in both private sector and also in government is stressed, certainly, when we see something that approaches the magnitude of, oh, the fires. It overwhelmed all of our systems. As a coastal county Lane County is also faced with this specter of a future Cascadia Subduction Zone earthquake, and how we would take care of people in the western part of the county.
[00:01:16] I want to really emphasize our role is really to support local efforts. You know, we really think that's the heart of what we do. And being able to do that effectively across all of Oregon, with emphasis on communities that are disproportionately impacted, so we've taken a lot of steps to grow this capability in the department. There was about one person doing this job when I took over. And we're up to a staff of about 53. And we have folks from around the various communities in Oregon statewide now to do the work.
[00:01:43] Another thing we learned is, we have to be realistic about what we can expect from any organization. And so what we know we need to do is really think through not just the small things, but also the larger things that we know will happen and be prepared to take our share of that task. That's especially true when we start looking at things like Cascadia, when we know that the local governments can't do it alone. The nonprofits can't, the state can't do it alone. It really takes a concerted effort by all of these partners. And that brings me to my next point.
[00:02:13] We really, really see the value and applaud the work that's done by community-based organizations. We're working now to support community-based organizations and really make sure that the local organizations that understands the community needs the best are at the forefront of efforts to plan and respond. And we think we have a clear role in helping to enable that effort.
[00:02:35] And these are some things I know that Lane County is working really closely on, in a Whole Community approach. And I think actually the work being done in this community is really a great example that could be followed by others. And we want to help share that knowledge and experience across the state.
[00:02:50] John Q: Ed later explained the Whole Community approach.
[00:02:53] Ed Flick: There's always some people that are left behind and I think that's the biggest thing is, looking for the folks that are not involved in at the table. And I think only local folks know where those folks are and can help them navigate. And that's formal and also really informal navigation. Some of the work that is done best is done at the block and street level.
[00:03:15] We all need as individuals to do our civic responsibility, to be prepared and to be prepared to help our neighbor. And we've seen examples of wildfire in, in, in places that we just wouldn't expect it.
[00:03:27] I think we need to have a good sense of awareness. And the best thing an individual can do is be prepared themselves and know who up and down their street, they would need to go check in on that may need additional assistance.
[00:03:40] John Q: From the City of Eugene, Emergency Manager Carrie Karl.
[00:03:43] Carrie Karl: That's a really good point. That's something that I think that we try to message on a regular basis is the importance of knowing your neighbors, how you can support each other, because they're going to be there for you. They're going to be the folks that are closest and able to support you in the hour of need. And even preparing yourself a little bit more to recognize that those neighbors who can't be prepared or don't have the resources to bring to bear, you can help support them in the event that it's needed.
[00:04:10] Ed Flick: You know, the disasters also have really placed a burden on people for food security. We really found where people need to have a more reliable source of food and that those systems have been strained. So we're doing a lot of work on food security and all of this though has been enabled by a lot of federal dollars and state dollars.
[00:04:29] And one of the things that we're really focused on as a department is how do we get assistance to people sooner? I've been so excited to see the evolution of the long-term recovery groups in the communities, but it's taken so long, right? And I think that what we really have to do is think about what do we need to be able to have in place before something happens, so we can get assistance to people in a much more expedited manner.
[00:04:52] We also have work to do figuring out how can we support reunification. Fortunately, there weren't a lot of families separated by the wildfires, but that's a huge issue. And how do we identify people's needs at that point where they're evacuated and not have to wait for them to find us, right, if they need to find us and how do we get information to them.
[00:05:12] We really are focused on how can we do a better job at evacuation points and making sure that the people that need assistance immediately are connected with it.
[00:05:20] My boss, the deputy director at DHS, has often said what we've learned over the last year and a half is how to work more closely with housing authorities and with community action agencies and coordinated care organizations and other organizations, public and private, that are part of the human services landscape. And really figure out again, how can we have a more integrated approach to assisting survivors much sooner?
[00:05:44] And then how do we sustain that, you know? Because if we've learned anything, we've learned that particularly some of the federal systems, we really appreciate the assistance our federal partners have provided, but sometimes it's really complex for people to navigate and they need some help to do that.
[00:05:57] And then finally, when we're looking at the fires, one of the biggest challenges that we had is, it happened in the context of what essentially is a housing emergency. There just weren't houses to put people into. And as a result, we've been sheltering people now for in some cases a year and a half. A lot of people didn't have insurance, or they were informally housed, or they were multi-generational. Not everybody fits that neat mold. And our disaster response systems, unfortunately, in a lot of ways are really geared for the folks that do have insurance and own their home and have savings and have job portability and can work from a different place. And so many members of the community affected by these fires across Oregon just didn't fall into those buckets and our system really underserved them. And so we really have to think about how we can help meet those needs.
[00:06:45] John Q: Endorsing the Whole Community approach, the director of Resilience and Emergency Management for the Department of Human Services, Ed Flick.