EPD now accepting applications for Citizen's Police Academy April 4 to June 6
2 min read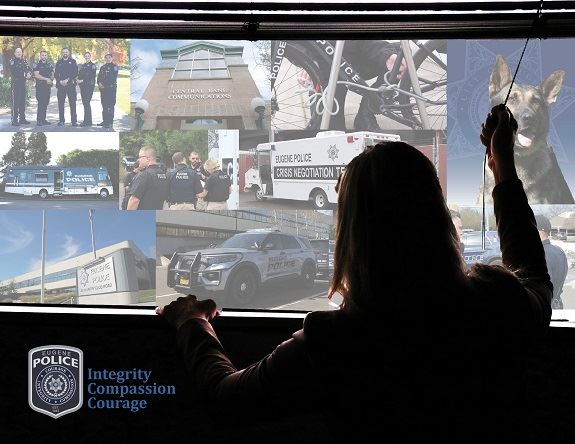 by Eugene Police Department
We are currently accepting applications from City of Eugene residents for the Eugene Police Department's Citizen's Police Academy! City of Eugene resident is defined as someone who lives in the incorporated area of Eugene. You can confirm this by following the attached link and then entering your address to determine residency: https://www.eugene-or.gov/944/Community-Engagement-Team.
The Eugene Police Department is seeking interested citizens who wish to learn more about police operations, by attending the 27th Citizen's Police Academy, which will be held April 4 – June 6.
The Citizen's Police Academy is a 10-week program with classes on Mondays from 6:00 p.m. to 9:00 p.m. and Saturdays from 8:00 a.m. to 1:00 p.m. To be considered to participate in this academy, applicants must commit to attending every session. This academy isn't designed to train individuals to be police officers, but rather to educate those who wish to learn about their community's police department.
Eugene residents will have the opportunity to learn more about law enforcement and how their local police department works. Applications must be submitted online via this link:
https://www.eugene-or.gov/FormCenter/Police-10/Citizens-Police-Academy-Application-571
We will continue accepting applications until our academy is full.
Citizen's Police Academy participants will learn about a variety of topics within the police department such as: organization overview, police officer training, budget, recruiting, crime statistics, K-9 Unit, SWAT Team, Traffic Safety Unit, Forensics and Property Control Units, Central Lane 911 Center, Explosives Disposal Unit, Drone Team and more. This academy will include a visit to the 9-1-1 Communication Center, Lane County and Springfield jails. Students will learn about De-Escalation, Crisis Intervention and Defensive Tactics, will get to drive a police car on the Emergency Vehicle Operations Course and be given the opportunity to shoot a police firearm at the range.
For each academy, the police department seeks a diverse group of participants who are representative of Eugene's population. Participants must live in the incorporated area of the City of Eugene, be at least 21 years of age, and pass a criminal background check. The academy is offered free of charge.
For more information, you can contact EPD Community Engagement Team Program Manager Jeff Blondé via e-mail (jeff.v.blonde@ci.eugene.or.us), mail (300 Country Club Road, Eugene, OR 97401), or via phone by calling 541-682-8332.