SEN provides feedback on East 30th: And please fix the 'Agate Death Turn'
5 min read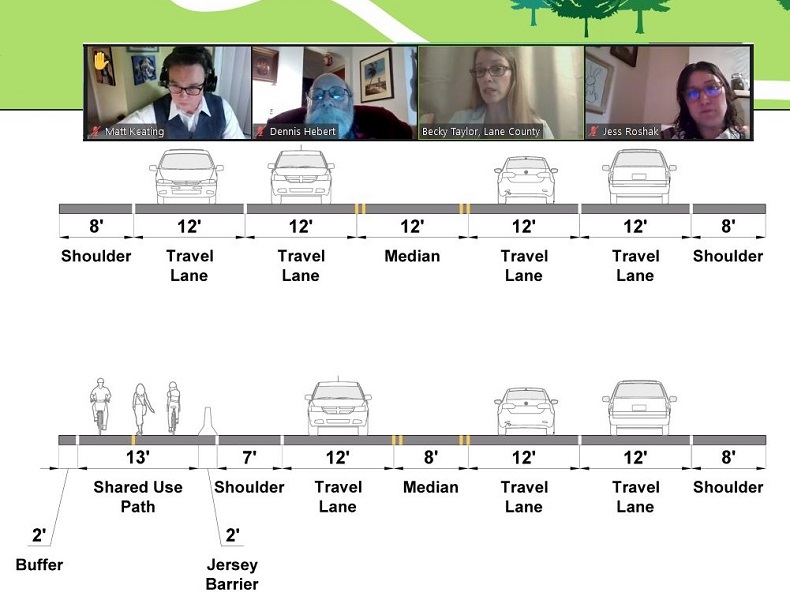 Becky Taylor: There's more traffic and there's more crashes in the urban area, but there were more people dying in the rural area.
[00:00:06] John Q: That's Becky Taylor, Lane County East 30th project manager. She gave a briefing to the Southeast Neighbors board on March 1st.
[00:00:14] Becky Taylor: Between Spring Blvd. and Eldon Schafer (Drive) between 2003 and 2019, a total of 88 crashes, four people died, two of those were people walking and one person bicycling. 55 people were injured, three people while biking, and one while walking.
[00:00:34] When we looked at all of Lane County roads, 30th Avenue had the most bicycle- and pedestrian-related fatalities and severe injuries. And we recommended that we… study to really figure out what the problem is, what the opportunities are, what are some design solutions and then have a public process so we could figure out what the public would prefer.
[00:00:58] John Q: Becky said Lane County is considering three choices: do nothing, do everything, or do something in between.
[00:01:05] Becky Taylor: Between 'Do Nothing' and 'The Cadillac' is there, like, something that's more economical that we could do right away and meet the most basic safety need? And so we've called that the 'Interim Design Solution' and that's where we would, just through pavement markings and plastic posts, delineators, maybe some concrete work, we would reallocate the space to create a wider shoulder that's protected from vehicle traffic.
[00:01:33] John Q: That would change the current four lanes to two going uphill and one going down, and a separated lane for walking and biking.
[00:01:41] Becky Taylor: The 'Interim Option' is creating this kind of shared use path within relatively the existing pavement, just through pavement markings, and the critical element to provide that extra buffer is a concrete wall—that's called a 'Jersey barrier.' So that provides like a solid physical separation between an area where people can walk and bike from kind of the fast-moving traffic. And we recognized just doing that isn't going to lower vehicle speeds per se, and so it doesn't meet all of the objectives, but it gets us closer.
[00:02:15] John Q: The rebuild option would include roundabouts.
[00:02:17] Becky Taylor: We're proposing a roundabout at Eldon Schafer & 30th; at Gonyea, we would be using the existing cloverleafs and supplementing two roundabouts; at Spring Boulevard we'd be introducing a roundabout; and then based on some public feedback that we've been receiving, we're looking at Agate and thinking about introducing a roundabout at Agate.
[00:02:35] John Q: Southeast Neighbors recommended the Agate roundabout.
[00:02:39] Councilor Matt Keating: I happen to live right off of Agate and East 31st. So I'm on that, I'm making that left turn or that right turn daily, and it is alarming how fast motorists come blaring both down and up the hill.
[00:02:53] Devon Mann: Not unlike Matt, I use that Agate ingress/egress from 30th every single day, multiple times a day. and I just can't even hardly believe that anyone driving on 30th said there's no bikers or pedestrians (laughter) because I sit at that stop sign and wait for them.
[00:03:11] And then there's that Agate Death Turn, you know, that curve that's almost a complete circle to get down and then onto 30th. Does this plan—or any of the plans—include fixing that way to access 30th, or is that City of Eugene? Or you're working with city of Eugene? Because there's no footpath there at all, or shoulder, and there's a guardrail where kids walk between the guardrail and the cars that are not going 10 miles an hour around that curve.
[00:03:43] David Monk: It's when you get past Spring (Blvd.) coming into town that the problems arise and I've heard others talk about, as soon as you round the corner, just before you're coming to Agate (that should stay 35), that's the place for the roundabout. You know, having traffic coming down at 35 miles an hour rather than 45. So to me, that's the place for the roundabout.
[00:04:02] I'm going to go on your website because, a roundabout at Spring? You'll spend more money on that alone than anything else you do. I mean, the elevation changes 20 feet. I mean, I can't even imagine that one. So lastly, there's no question: A divided walkway bicycle path. Clearly that has to happen and it has to be protected with the concrete barrier.
[00:04:29] Jess Roshak: I really am uncomfortable with the idea of progressing forward from the county standpoint too far before you are in lockstep with plans that the City will then do, from Agate to Hilyard or beyond…
[00:04:46] I was a little surprised not to see anything about McVay and more concentrating on that corridor.
[00:04:52] I have a question about who is in charge of the Spring Blvd. bridge. 30th Avenue is the evacuation route that a lot of our neighbors would take if we could get out that way during an emergency.
[00:05:05] And other than that, I would just encourage you to share the survey results in as far as you can, because I think the public would love to see (or at least I would love to see), you know, who was surveyed, that the public outreach got enough people. We're really worried that public engagement is only of the select few. We want to make sure and help you get as wide a net as you can.
[00:05:34] Councilor Matt Keating: Please put me as South Eugene City Councilor enthusiastically in the 'Do Something' camp. I think 'Do Nothing' is an unacceptable answer. Lane Community College students have passed away on that road. And as a former LCC student, as a former LCC board member for two terms and someone who has performed in more than a dozen plays at Lane Community College, I've traversed 30th thousands of times, not hyperbole.
[00:05:59] We cannot afford in this community to let 30th continue to be treated like a highway. It is not a freeway. It's a street in which students cross, of all ages, to go to school. And it's unacceptable and there are many more tragedies awaiting if the county doesn't act. I hope that's helpful feedback, Becky…
[00:06:19] And please, somewhere along that corridor, where it makes sense, have an environmental study done and provide some pathway, both for hikers and for wildlife to get across safely.
[00:06:33] John Q: Southeast Neighbors hear the latest on East 30th.