Oregon22 briefs neighborhoods on riverfront festival, traffic, e-scooters
7 min read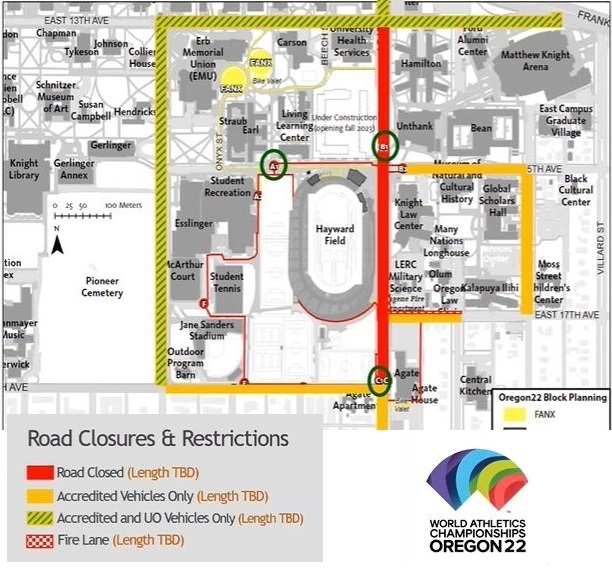 The whole world will be watching. Eugene neighborhood leaders were briefed about the World Athletics Championships coming to Hayward Field for ten days in July.
[00:00:08] Jessica Gabriel: My name is Jessica Gabriel. I'm the Communications Director at Oregon22.
[00:00:12] We do want to acknowledge that you know, certainly this is a big event. We're proud of this very big event coming to our community, but we know that that doesn't come without some real life impacts to the people who live in this community, and so we're very cognizant of that. We realize that, and we want to just make sure that we're sharing information with all of you so that, yeah you feel bought in and a part of this journey that all of us are going on to bring this event to our community.
[00:00:35] So with that, I'll give a little bit of key event information so we know what we're all talking about.
[00:00:40] It's over 10 days, the world championships—it's going to showcase the best athletes in the world. It really is the pinnacle of the sport. It is the greatest track-and-field-only event that exists. It has been going on since 1983 and this 18th edition is going to be the first time it will ever be hosted on U.S. soil. It's been in cities like Doha, London, Rome, Berlin, Beijing, some pretty big places on the map. And so certainly this is a really big deal that we are able to host this event.
[00:01:12] Maybe you are thinking that maybe it still is just another track and field meet. But I think that this is different, not least because of how many people are going to be watching this event. We're talking about 2,000 athletes from more than 200 countries. And in some of these countries, track and field is the pinnacle event that they have, and these athletes are their heroes.
[00:01:36] And so the type of visibility that this event is going to be having across those nations is pretty unprecedented. We're talking about 6,500 hours of live television coverage across the world. That includes prime time broadcast on NBC. The global television audience is more than 1 billion people. There's media coverage too, right? There's social media. There's press mentions, there's radio. And all of it beaming images, words about this place. So just want to emphasize that what we're talking about is something a little bit different than what has come before.
[00:02:09] It's 16 in-stadium sessions across 10 days: six days where there are both morning and evening sessions, four days where there are only evening sessions. We're going to have men's and women's marathons and men's and women's race walks taking place in the streets of Eugene and Springfield. which you're going to hear about from my colleague, Becky.
[00:02:28] John Q: Managing the road events, Becky Radliff.
[00:02:31] Becky Radliff: The marathons, both men's and women's, and the 20K and a 35K race walk will take place with a shared start and finish on Martin Luther King Jr. Blvd. and Autzen Stadium will be used as our stadium, as our back of house venue. When you have a media team that needs 150 spaces for media to work, we said, well, that already exists at Autzen.
[00:02:54] The marathon is a 14-kilometer loop that goes through Eugene and Springfield and even a little bit of Glenwood as well. And this one will be probably the most disruptive, but also a great opportunity for really anyone to go out, line the course, cheer on. We have a lot of opportunities for fans to experience the best marathoners in the world: along MLK at the Start/Finish line; along Centennial and MLK; in Eugene and Springfield along Rainbow and Walnut, and then along West D Street and in Alton Baker Park.
[00:03:30] So just in order to do a competition on the road, we have to close it. We've been working with the City of Eugene since last summer on the safest way to do that.
[00:03:41] As everyone knows, and I'm sure, you know, especially on Monday morning, you have to get places. There will be delays expected on those mornings. When runners are on the course, there will be monitored road crossings when there are breaks between the loops of the course and monitored crossings during setup and cleanup as well. So, we're telling everyone to expect delays between 12:00 AM and 10:00 AM on July 17th and 18th.
[00:04:12] We'll be establishing a work group and just a really clear communications plan to all the neighbors who are affected, and especially any of those who live inside that loop so that they know how to safely get in and out of their neighborhoods during the marathon mornings.
[00:04:28] John Q: As with other events at Hayward Field, access to Agate and other streets will also be restricted. With events ending between 8 and 9 p.m. neighbors should expect to hear the roar of the crowd. There may be a flyover the first day. And with the University of Oregon serving as the Athletes' Village, neighbors may also hear the party on the last day.
[00:04:49] Sasha Spencer Atwood: Hi everyone. I am Sasha Spencer Atwood. I am the Director of the Athlete and Team Experience. We're looking forward to welcoming around 2,000 athletes. And in addition to that, team officials, physios, medical staff, and such, bringing our population to right around 3,000. And we're super fortunate to have the University of Oregon serving as our Athlete Village. One of the things that is featured in the Athlete Village is an International Plaza. So from a noise standpoint, you can anticipate that there will be a stage and large screens from which the event is being streamed for athlete viewing and constituent event constituent viewing only. So that is something to be mindful of there in the neighborhood.
[00:05:31] Additionally, on the final day of competition, there is going to be an athlete party. So from a noise standpoint, that's something that you might be mindful of.
[00:05:41] John Q: With streets blocked and more visitors than we've ever seen, the City is looking to promote active transportation, including e-scooters.
[00:05:50] Stephanie Scafa: My name is Stephanie. I'm the City's liaison to the Oregon22 event.
[00:05:54] We're really aware that there's many events going on in town during the 10 days of the event. And so really thinking about how to move people in an efficient and effective way, utilizing the bus system, our bike share, there will be more bikes and Peace Health ride bikes coming. E-scooters may be launching in June—there's still some pieces to that project that need to be figured out. And lots of just walking and biking options.
[00:06:20] For the visitors that are coming here, people are used to moving around in a kind of a walking fashion. And so our community is small enough to be able to do that in a lot from neighborhood to neighborhood and kind of key locations to key location. So we're really going to be promoting active transportation. We'll have plenty of bike parking, valet bike parking; lots of wayfinding to help with walking, biking and taking shuttles.
[00:06:47] John Q: Stephanie also spoke about the Riverfront Fan Fest.
[00:06:51] Stephanie Scafa: If anyone has been to the Olympic Trials in the past, you know, that there is generally a giant space for the community to come and watch the events on the big screen, enjoy food and beverage, see local entertainers. And we knew that there isn't space in Hayward for that particular community involvement to happen because of the amount of people that are going to be in town, specifically for the championships. So early on the City stepped up to host the fan festival on the riverfront, really looking at this as our opportunity to showcase the new riverfront park and really just drawing attention to this new neighborhood. So some of the goals that we have in hosting the festival are to celebrate everything about being a host city, really celebrating the best of Eugene and the best of Oregon. We're looking at this as an opportunity to really kickstart and catalyze our recovery from the COVID-19 pandemic. We're also looking at this as an opportunity to welcome the world, inspire the world and showcase the best of ourselves.
[00:07:55] John Q: So how many people will be here?
[00:07:59] Jessica Gabriel: Because there are multiple sessions on a day, from a spectator perspective, it's a little bit hard to give what feels like a very accurate number, because we don't necessarily have the ability to know for sure how many repeat customers there are across the board. It's why we focus in on that 20,000 to 25,000 attendees per session.
[00:08:19] For context, we remind ourselves of Autzen and football games and the capacity there and we realize this is a multi-day event, but our city is well experienced in handling large crowds. And we're certainly not going to approach on any given day, even what we might on a football game day.
[00:08:38] John Q: With the world coming to Oregon in July, organizers share the latest information with Eugene neighborhood leaders.