LTD: MovingAhead River Road plan will impact 112-132 trees, cannot use electric buses
6 min read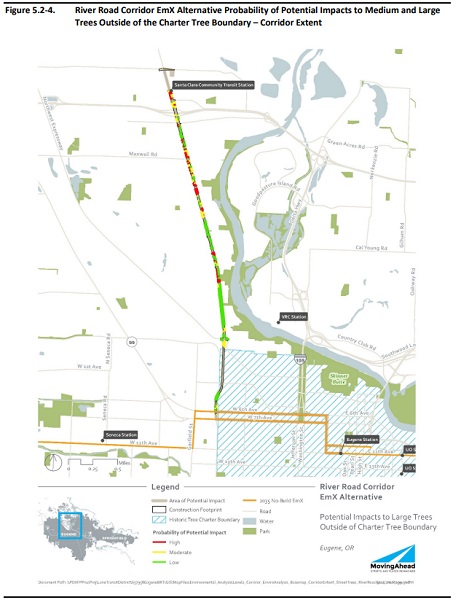 LTD Planner Andrew Martin: We've seen several pedestrian fatalities in recent years.
[00:00:03] John Q: At River Road's April general meeting, LTD Planner Andrew Martin.
[00:00:08] Andrew Martin: MovingAhead is a partnership between the City of Eugene and Lane Transit District. And we've been studying a range of alternatives, looking at redesigning five major corridors in Eugene. And our goal is to make them safer, more accessible for people walking, biking, and riding the bus.
[00:00:23] We've heard from many people who live in the area and elsewhere that River Road doesn't feel safe because a lot of people speed, unsafe driving behaviors, like weaving in traffic…
[00:00:33] John Q: River Road Community residents asked how EmX will change the River Road corridor.
[00:00:38] Andrew Martin: Most of River Road, the outer lanes of the street conceptually would be turned into these 'Bus and Turn' lanes, and then you'd have one lane in each direction and a center left turn lane.
[00:00:48] Beltline has a lot of congestion issues, and so there would be an off-street path to make it safer for people who are walking and biking to get through the intersection and a little section of dedicated transit lane so that the bus doesn't get stuck in traffic as long.
[00:01:02] Jon Belcher: Is this project helpful in moving us towards meeting our climate change goals?
[00:01:11] RRCO co-chair and session moderator Jon Belcher: Will the buses be electric?
[00:01:14] Andrew Martin: As of now, we are not able to purchase buses that are electric that are the 60-foot buses. The technology's just not quite there. There, we have the 40-foot electric buses but the EmX, they're all 60-foot articulated buses. And right now the technology is really just not there to make those electric and have them run for kind of the length of time we need them to run.
[00:01:36] So right now, no plans to take EmX electric.
[00:01:39] Jon Belcher: Why not a smaller EmX bus?
[00:01:42] Andrew Martin: Our experience with EmX is that it's not full all the time, but it certainly is full a lot of the time. And I'll say, even our regular fixed-route buses, the 51 and 52, going up and down River Road, we often run articulated 60-foot buses on those routes because they also can get quite full at peak times. So smaller buses, they just don't hold as many people, and we're trying to move large numbers of people. So it really does make sense on River Road, even today, to run the larger bus.
[00:02:11] Jon Belcher: Has any consideration been given to adding back routes on side streets? That would increase ridership.
[00:02:17] Andrew Martin: Not as part of Moving Ahead. We did a comprehensive operations analysis in 2019, and we'll be doing that again.
[00:02:24] The more we detour through neighborhoods—you have to do that a certain amount to get people close to the bus—but we don't find that those routes really provide as much ridership as our buses going down more busy corridors. They're going by less people. They're going by less jobs for every hour they're out there running, so they're certainly useful and we definitely need those in our community. But our experience has been—and the experience of many communities around the world has been—operating more frequently on major corridors tends to lead to more people riding the bus.
[00:02:59] Jon Belcher: What is it going to take as far as property acquisition is concerned? I know the original plans were done in 2017, and did show some indication of what property acquisition would be anticipated.
[00:03:12] Andrew Martin: If you want to put a dedicated transit lane there and you want to put a shared use path to make it safer for people walking and biking, we probably do need to acquire property. We've learned that that's probably unavoidable. So on lower River Road, really not much if any, some probably just minor—six inches here, a foot there—not along the whole way. It would be at station locations, or where we need to build pedestrian crossings, or some other feature like that.
[00:03:39] But at Beltline we have identified that there, we'll have to really work to refine the designs with those property owners, to try and minimize the impact on them. But if we want to put those features there, it probably will require property acquisition.
[00:03:58] Jon Belcher: We lost so many trees when River Road was widened, how many trees will be removed for the EmX project? Our tree canopy is vital to cooling in our community.
[00:04:10] Andrew Martin: If we are going outside of the right of way, there could be tree impacts. Whenever that occurs, we plant at least one tree for every tree that's removed. In West Eugene, I think LTD planted more than two trees for every tree that was removed. So we do find ways to really make the urban tree canopy better in the long run, particularly replacing any trees that are cut down with trees that are really good street trees, by working with our urban foresters.
[00:04:36] Jon Belcher: Are they the smaller street trees that were planted when the road was widened? Or are they the big few Doug firs that we have left?
[00:04:43] Andrew Martin: If you don't mind, I will send you an email, Jon, after the meeting and I will dig out all of the tree impact work we've done and send a summary to you.
[00:04:52] John Q: In that email message, Andrew said between 112 – 132 trees will be removed or experience significant impact from the EmX buildout. With more questions, RRCO co-chair Jon Belcher.
[00:05:06] Jon Belcher: Could there be secure, dry lockers for bikes at the bus stops, to allow biking six or eight blocks to the bus stop?
[00:05:12] Andrew Martin: Sure. I love the lockers idea. We have those at the Santa Clara station that we opened. We have a couple of lockers there. It would be great to put them everywhere, but I'll say that that takes up more space. So as we're dealing with some of these issues about, 'How do we put an EmX station on River Road without going over somebody's property line,' things like bike lockers are something that we have to think about. But also, it's a kind of a trade-off of, 'How big do the stations need to be? How much money do we have to spend on the project?'
[00:05:42] Jon Belcher: Could you talk about the 'last mile' concept? How do people get to and from the transit system?
[00:05:48] Andrew Martin: We are still planning to have neighborhood routes. We're not going to cut those just because EmX happens. Exactly how they'll work, that's the next phase where we need to address a lot of these really specific issues.
[00:05:59] John Q: Wrapping it up for Eugene Public Works, Rob Inerfeld.
[00:06:03] Eugene Public Works, Rob Inerfeld: You may be familiar with the PeaceHealth Rides bike share system. We're hoping to expand that over time. The State of Oregon is interested in helping bike share systems become electrified. And that would also probably enable us to expand our range and add to the number of bikes. We're also getting ready to launch an e-scooter share system in Eugene.
[00:06:20] We're trying to create an environment where not everyone needs a car to get around Eugene, that people can choose different modes to get around our community.
[00:06:29] They're using an e-scooter or a bike or walking to get to a bus stop, taking the bus to their destination, and then on the other end using one of those different modes to get to where they're going after they get off the bus, really making it easier for people to live either car-free or car-light. Maybe not every household of two people needs to have two cars.
[00:06:48] So really, it's creating a community where, we're not telling people you're not allowed to drive, but where fewer people will be driving.
[00:06:56] John Q: The River Road Community hears the latest from the City and LTD about MovingAhead. The full meeting is available from RRCO, and check out the lively conversation in the chat.