Recall Claire Syrett campaign launches with signature drive May 7
3 min read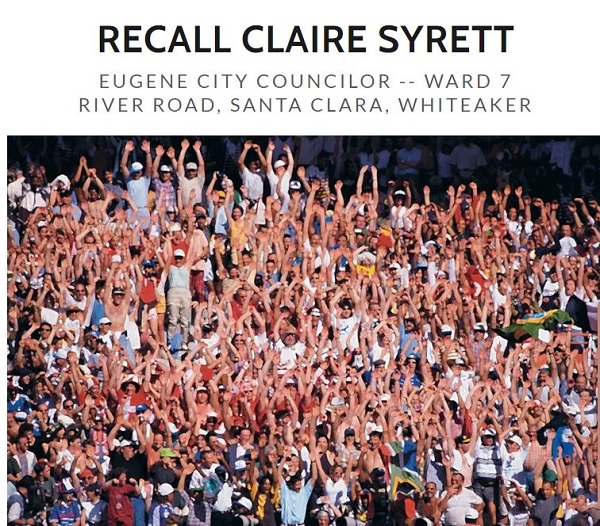 by Meta Maxwell
The Eugene City Recorder has approved circulation of a petition to Recall Claire Syrett, Eugene City Councilor, Ward 7.
On the petitions, the Statement "Reasons for demanding recall" reads:
Claire Syrett voted to advance the multimillion dollar MovingAhead project that will remove two lanes for cars on River Road and replace them with dedicated EmX bus and turn lanes. This will leave only one lane for cars in each direction for direct traffic and take private property from businesses and residences, including removal of parking and trees. Traffic congestion may increase.
Syrett is ignoring the facts concerning opposition she has received. On 28 February 2022 she said, "I don't believe I have received one communication from a property owner along River Road who has concerns about this proposal."
Five days earlier, over 150 petitions against MovingAhead, signed by people in and near her ward including numerous people living and working on River Road, were delivered for her to the City Manager's office. She also received notes and emails in opposition.
Syrett supports MovingAhead's EmX plan despite the fact that taxes may need to increase to support operations and maintenance for a system which cannot be re-routed to accommodate changes in ridership. Bus ridership has declined nationwide since 2012 despite increases in population. Syrett supports an EmX system many feel is not wanted and not responsive to new eco-friendly transportation alternatives.
Signature gatherers for the petition will be knocking on doors of registered voters in Ward 7 beginning Saturday, May 7. They will be wearing buttons saying, "Stop MovingAhead."
To sign a petition, Voters Registered in Ward 7 may also stop by Graffiti Alley, 675 River Road, 11am to 7 pm Tuesday through Friday, or 4 pm to 6 pm Saturday. People wanting more information or to schedule a time to sign a petition, should visit http://clairesyrettrecall.com, email: SyrettRecall@gmail.com or call 541-731-9161.
Syrett may be ignoring the will of the people in and near her district, as well as the facts regarding LTD's failed EmX lines, by pushing for:
Removal of two lanes for cars on River Road;
Cutting down 112-132 established trees to accommodate dedicated EmX lanes;
Elimination of parking for businesses;
Taking of private property from homeowners;
Purchase of 60-foot non-electric articulated buses that cannot be re-routed when smaller more eco-friendly buses are currently running near empty;
Construction of extensive environmentally unfriendly concrete infrastructure [which releases large quantities of carbon dioxide into the atmosphere] for dedicated EmX lanes when existing infrastructure, including bus pull-outs, is sufficient to meet needs;
Ignoring the challenges of EmX lines on W. 11th and Gateway loop that since 2007 have never come close to ridership projections, have had cost overruns, and necessitated cutting other desired bus routes in the city.
Syrett may be ignoring the will of constituents who, for convenience, health, and safety reasons, will continue to choose affordable alternatives to riding a bus where they exist. Syrett also has been promoting EmX — the expanded bus rapid transit system — instead of eco-friendly transportation alternatives: smaller electric and carbon-neutral buses that can be re-routed to meet the population's needs, private electric vehicles, Uber and Lyft (both converting to carbon-neutral fleets), all electric taxies, Arcimoto, organized carpooling, car sharing, biking, efficient motor-bikes, and many newer on-demand alternatives. It's time to start holding City Councilors responsible for making informed decisions that meet the needs in the community within existing budgets.
---
For more information, see http://clairesyrettrecall.com, email: SyrettRecall@gmail.com or call 541-731-9161.