Councilor Matt Keating talks HB2001, parking incentives
4 min read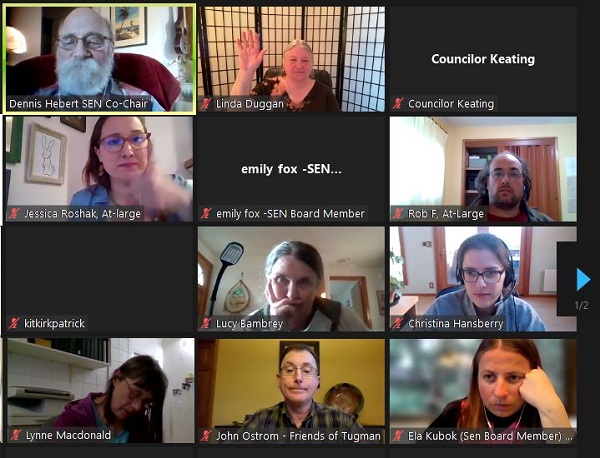 Councilor Matt Keating met with Southeast Neighbors on May 10.
[00:00:05] SEN Co-chair Dennis Hebert: So now we roll on, to Councilor Keating.
[00:00:08] Councilor Matt Keating: Thank you, Co-chair, I appreciate the opportunity to connect with neighbors. I am Matt Keating and I can be found at Matt.Keating@eugene-or.gov. And I'll put my number in chat as I prefer just a text or a phone call—541-515-3819.
[00:00:28] John Q: He highlighted three upcoming Council meetings and the ongoing budget process.
[00:00:34] Councilor Matt Keating: If you've got a pen handy, mark these dates down.
[00:00:37] We're going to conclude our middle housing work sessions on Wednesday, May 18th with a possible action to follow.
[00:00:43] Based on your feedback, I will present an alternative to the planning commission recommendations regarding the removal of onsite parking incentives.
[00:00:53] To be clear, the Eugene Planning Commission recommends that there be no onsite parking incentive, meaning, developers will be incentivized to build housing with zero onsite parking within a half mile of EmX and a quarter mile of an LTD transit line.
[00:01:08] As I've argued publicly, this 'as the crow flies' approach fails to take into account hilly terrain and communities with no sidewalks and limited transportation options, as we have here in the South Hills.
[00:01:20] I will move reducing the 'half mile from EmX' to 'a quarter mile of EmX', remove 'the quarter mile from an LTD transit line.' That should satisfy my campaign pledge to build up along transportation lines and insulate the South Hills from experiencing an increase of housing with no parking spaces attached.
[00:01:41] Reason being, from a public safety perspective, I recognize more cars all taking up space on an already crowded street, obviously isn't safe, but from an e-vehicle, from an environmental perspective to reduce our carbon footprint, I long for more spaces and places that residents can plug in, especially at their domicile.
[00:02:02] Removing parking spaces from housing simply increases the number of cars parked on our streets and limits the potential plugin opportunities for e-vehicles.
[00:02:13] So Wednesday, May 18th if you'd like to come testify either in support or against of what you just heard, you are more than welcome to do so.
[00:02:20] Monday, May 23rd. We will hold chronic toxic polluters accountable.
[00:02:25] On Wednesday, May 25th City Council will engage in a discussion about our future at the downtown Lane Community College building, I said it on the campaign trail and it bears repeating here:
[00:02:37] A permanent home for City Hall at the downtown LCC building would be a great boon to taxpayers and a win-win for the Community College and the community as a whole. And rather than relocate to EWEB or near the Park Blocks, I would much rather see the Science Center in the EWEB building and the City invest in affordable housing downtown.
[00:02:59] And the downtown Lane Community College Center happens to come with a plethora of student housing and it might be even more to our advantage, to walk the walk, not just talk the talk, and have affordable housing directly connected to our City Hall at the LCC building.
[00:03:15] The LCC building is highly functional and perfectly positioned right across from the library, from the Atrium Building. And it's just down the street from Municipal Court. And of course we're kitty corner from LTD.
[00:03:27] John Q: Councilor Keating also touched on neighborhood concerns.
[00:03:30] Councilor Matt Keating: There's been growing concern about vehicle camping on East 39th, just off of Donald. Essentially that's the backend of Tugman Park and what caught my attention was the possible collection of, and dumping of, raw sewage in the park and or in the storm drain on East 39th. So as a result, I have communicated with the city's Parking Facilities Management and indicated my support of neighbors' wishes for no overnight parking or designating that space on East 39th as a two-hour parking zone. More to come on that front.
[00:04:03] The City's $650 million budget process is in full swing. So you're aware, I am supportive of allocating a portion of American Rescue Plan dollars, ARPA funds, to City employees who were on the front lines during the first six to 12 months of the pandemic. The devil's in the details. I will see how that comes to fruition through the budget process.
[00:04:24] Speaking of ARPA funds, about six months ago, City Council approved the use of $1.9 million in American Rescue Plan Funds to support four local housing projects for low-income families and individuals.
[00:04:36] The Grove on Garden Way by Cornerstone Community Housing, that's 122 affordable units.
[00:04:42] The Polk 2.0 by Dev Northwest. It's a new two-story building with 12 single room occupancy units.
[00:04:48] Peace Village Co-op by Square One Villages, a new tiny home village development of 70 new permanent affordable resident-owned homes for people with very low incomes.
[00:04:58] And The Coleman, by Homes For Good Housing Agency. It's a new four-story building with 51 permanent supportive housing units in partnership with Sponsors Inc..
[00:05:07] So to observe or participate in our upcoming budget process I invite you to go to Eugene-OR.gov, monitor the following proceedings.
[00:05:17] As always, I can be reached at Matt.Keating@eugene-or.gov or on my cell directly 541-515-3819.
[00:05:26] Thanks so much, neighbors.
[00:05:27] John Q: Councilor Matt Keating with the monthly report to Southeast Neighbors.