30,000 expected for UO graduation June 13; use alternate routes
2 min read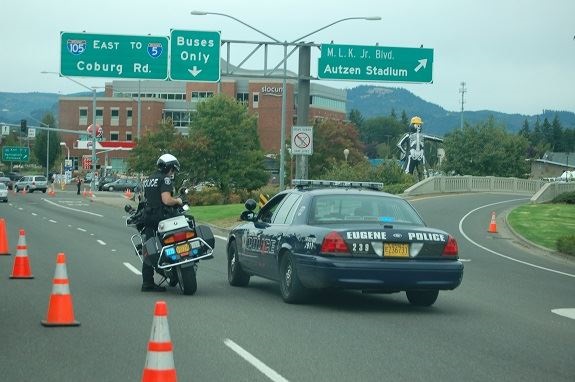 by Eugene Police Department
The University of Oregon Graduation Commencement on Monday, June 13 is expected to draw up to 30,000 people to the Autzen Stadium area between 6 a.m. and 1 p.m.
The main event will be at Autzen from 9 a.m. to 11 a.m., with other events on campus later in the day. Traffic in the area will be congested, especially during the morning commute time and on Martin Luther King Jr. Boulevard and Coburg Road between Martin Luther King Jr. Boulevard and campus.
Eugene Police Traffic Safety Unit and other EPD personnel will manage traffic flow similar to what is done for a home football game.
Here are a few tips to help everyone navigate easier in traffic.
To ease congestion in the Ferry Street/Coburg Road area that morning, we recommend that motorists not traveling to the events to use alternate routes to access the area. Alternate routes such as the Washington/Jefferson Street Bridge, Delta Highway, Cal Young Road, Harlow Road, Goodpasture Island Road, and Green Acres/Crescent Avenue are several ways motorists can access the Coburg Road area without competing with traffic from the commencement events.
Other transportation options include walking and biking to Autzen Stadium along the numerous pedestrian paths and bike lanes throughout Eugene, or taking the bus.
If you are headed to the events:
Have a Plan – Those coming to the events should pre-plan their travel routes and where they will park once they arrive. Normal traffic patterns around Autzen Stadium are dramatically changed when there are events and will limit your ability to drive freely through the area.
Obey the Law – It's vital that everyone observes basic traffic laws when commuting to and from the game. The traffic cone patterns around the area of Autzen Stadium on event days are considered traffic control devices and cannot be arbitrarily disregarded. Failure to obey these cones patterns or the officers who are directing traffic, may lead to a $300 citation.
Be Patient – With approximately 30,000 people coming to the area near Autzen Stadium there will be congestion. Trying to get that many people into and out of the area is a huge undertaking and takes time. By allowing plenty of travel time and expecting some delays you will improve your overall experience.