EWEB construction to continue on Juneteenth
2 min read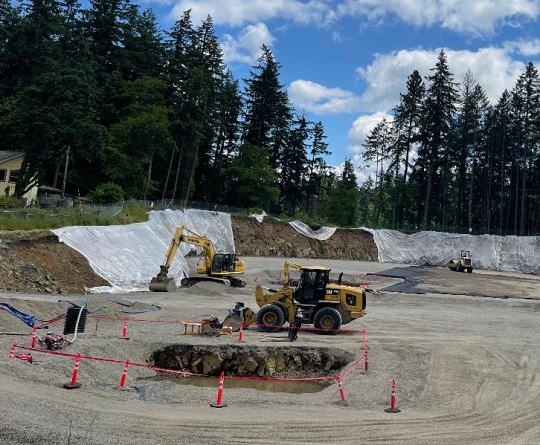 by the E. 40th Ave Project Team
This is just a brief note to let you know that construction work will continue at the site on the federally observed Juneteenth holiday, Monday, June 20.
What to expect at the site
Truck traffic and construction noise as crews continue the current phase of construction — laying the subgrade and constructing the drain system.
Work hours will be Monday – Friday starting at 7 a.m. and ending by 5 p.m.
Reminders regarding general construction impacts:
We will only do work during hours that the City of Eugene noise ordinance allows and we will communicate work hours as the work progresses.
Truck noise such as beeping is not easily mitigated as that is an OSHA-required safety feature and needs to be loud enough for someone to hear while wearing hearing protection. When possible, trucks will be routed around the site to avoid the need to back up.
While we can't anticipate or mitigate all impacts, we will be responsive to your questions, suggestions, or concerns. Please reach out to us directly so that we can quickly address any issues that arise by email at water.storage@eweb.org or by phone at 541-685-7899.
Contact us with questions
If you have questions or input, please don't hesitate to reach out to the project team at 541-685-7899 or water.storage@eweb.org. Emails sent to this address will reach:
Laura Farthing, Project Manager/Senior Civil Engineer
Jen Connors, Communications Supervisor
Jeannine Parisi, Customer Relationship Manager
Wally McCullough, Water Engineering Supervisor
---
From the project website: At the April 5 public meeting, EWEB's Board of Commissioners awarded the contract for tank construction to Pacific Excavation (Pac Ex). Pac Ex was the lowest responsive bidder and is the same company that EWEB contracted to provide tree removal and excavation services at the site.
The first phase of construction—laying the subgrade and constructing the drain system—is continuing. Following this phase, concrete work will last approximately a year.