EEA: White supremacists may be requesting educator names, addresses
5 min read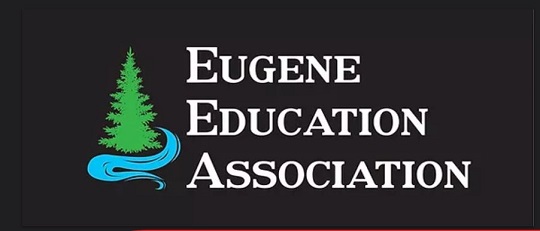 During public comment at the Human Rights Commission June 21, news that white supremacist groups may be requesting the names and addresses of local educators.
[00:00:10] Sabrina Gordon: Hi, I'm Sabrina Gordon. I am the president of Eugene Education Association. We are the union that represents all of the licensed educators, including teachers, in the 4J and Bethel school districts here in Eugene. So thank you for giving me a few minutes tonight.
[00:00:27] I come to you this evening to make you aware of a troubling situation and to request your help. Several weeks ago, there was a public records request made to the Oregon Department of Education for information about work being done by the Racial Justice Institute and for the names of educators who are participating.
[00:00:45] The aim of this Institute is to support educators of color in leading anti-racism work in Oregon's public schools, as well as creating and sustaining culturally- and racially-affirming environments in our schools. The names of 25 educators across Oregon were released in this request, including four educators who teach right here in Eugene. It is believed that the records request is connected to white supremacy groups working to undermine racial and social justice work in Oregon and to specifically target educators of color.
[00:01:18] I have two requests for help; first, for the personal and digital safety of the impacted educators. Here in Eugene, as individuals, each teacher is experiencing the situation differently and they each deserve to be supported in the ways they need.
[00:01:33] Our state affiliate, OEA, is providing some digital safety training. Other organizations may be needed to provide other supports for some of these educators. Support could look like a security analysis of their homes or workspaces. And if any of these educators experience threats or other intimidation tactics, they may want a quick response from public safety organizations.
[00:01:56] It will be important to communicate with each person to understand what support means to them. And the Eugene Education Association is ready to facilitate such communication.
[00:02:07] The other request comes from the unfortunate recognition that this kind of situation is likely to continue and intensify in the coming months.
[00:02:16] For the sake of our students, we need to stand in solidarity as a community against this type of intimidation. Students need educational spaces that are inclusive, affirming, and filled with opportunity for growth.
[00:02:29] School districts, teachers unions, the Oregon Department of Education, local public safety institutions, and elected officials need to stand together to protect these educational spaces that our students deserve.
[00:02:42] I look forward to hearing ideas on how the Eugene Human Rights Commission and other local agencies might partner with us in supporting Eugene educators and our students.
[00:02:57] Brenda Narayan-Wold: My name is Brenda Narayan-Wold. I am and have been a school counselor in the Eugene 4J school district and have been a member of Eugene Education Association for the last 15 years.
[00:03:09] I hold onto my truth, that the vast majority of people in all communities are decent, reasonable and rational. One of my hallmark standards of practice as a professional based on this truth, therefore, is to listen objectively, to seek understanding of perspective, to clarify, and to respect. This has allowed me to be an educator, practicing tenets of democracy for students, professionals, parents, and many other members of my community.
[00:03:35] I am speaking with you today because my colleagues and I are seeing a rise among splinter groups in Eugene-Springfield and throughout Oregon that are against diversity and equity, that want highly restrictive practices of what should be taught in public education.
[00:03:50] I say splinter groups because the messaging tactic of their anger are not decent, reasonable, nor are they rational. The tactics are intentionally interruptive and intimidating. They create discord, promote separation, and foster fear.
[00:04:05] These groups are attending and interrupting public board meetings. They are seeking numerous records requests of our public educational institutions to find specific teacher names attending professional educational workshops, to support black, indigenous, and students of color.
[00:04:21] In other Oregon communities, other splinter groups that are connected have found and misrepresented educators to their followers, have posted educator emails and addresses, and have invited their followers to respond to these teacher's emails. That's why we are so concerned about these names that have been released through this records request.
[00:04:40] Such a splinter group actually recently came to a 4J school board meeting to talk about permits and guns. Instead of following typical board processes, these people use belligerent verbal tactics of calling out specific board members—one board member of color—yelled, screechingly left, and motioned towards their weaponry in a room filled with educators and members of the community.
[00:05:04] The board called for a recess and many audience members visibly shaken left. These strategies are not reasonable, decent, nor are they rational. And they absolutely do not belong in Eugene's public processes at all. I'm sharing this with you because I believe such groups are working to undermine civil rights and social equity in our educational community.
[00:05:26] I believe it is necessary to have our educator community work with HRC to shut down belligerency and to shut down the hijacking and weaponization of classically held democratic processes in our communities.
[00:05:39] I'm going to end my comment with a quote by Atifete Jahjaga:
[00:05:44] ' Democracy must be built through open societies that share information. When there is information, there is enlightenment. When there is debate, there are solutions. When there is no sharing of power, no rule of law, no accountability, there is abuse, corruption, subjugation, and indignation.'
[00:06:06] May this not happen on our watch.
[00:06:11] Heather Marek, Human Rights Commission: Well, I, first and foremost, I just wanted to convey how alarming and disturbing that testimony is and to just express my support for the WeCU group examining it further and thinking about what we can do.
[00:06:27] I also wanted to just highlight what I see as a potential tension for a group that is committed to civil rights of members of the public, that I think it's really important to be aware of the potential free speech right that some members of the public— which I don't see as including intimidation, definitely doesn't include violence, that probably doesn't include speech that disrupts civic participation, that creates reasonable fear of bodily harm. But just to recognize that even hate speech has protections under our constitution. And certainly things like records requests are valuable for many groups, even if being used for more undesirable ends in this circumstance.
[00:07:20] So just to kind of highlight that tension and hope that the WeCU group is careful in thinking about how, what kind of precedent it's setting for the entire community in the kinds of proposals it comes up with. But I'm pretty confident that the WeCU group will have a nuanced perspective like that.