Revised East 30th plan would preserve traffic lanes
5 min read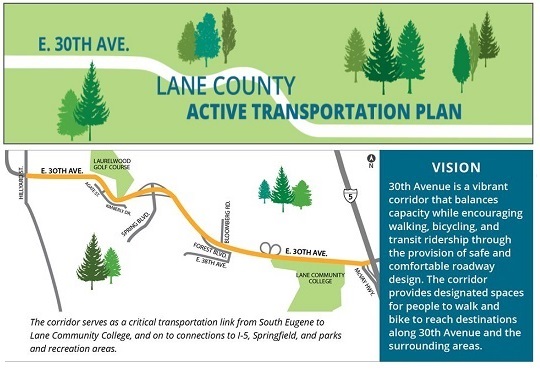 The East 30th project responds to public concerns and now recommends preserving all traffic lanes. At an open house June 28th, Lane County's Becky Taylor.
[00:00:10] Becky Taylor: I'm Becky Taylor. I'm a senior transportation planner with Lane County managing this project. The project focus is the portion of 30th Avenue that's under Lane County's jurisdiction or control, and that's primarily between Spring Boulevard and Eldon Schafer. We also are looking at the section between Agate and Spring Boulevard so that people walking and biking have a place to physically connect to the existing sidewalk system at Agate Street.
[00:00:43] John Q: It's all about safety.
[00:00:46] Becky Taylor: One of the key pieces of data that we learned is that we've got a safety problem. More people have died or been injured walking or biking 30th Avenue than any other road that's under Lane County's jurisdiction—so more than Territorial Highway, more than Row River Road. And Lane County has made a commitment to work towards zero deaths where fatalities on our roadway are unacceptable.
[00:01:12] So we looked carefully at this crash data and we realized that people driving are also experiencing harm. And so this data really helped us focus our recommendations and some of the design changes that we wanted to make, because we know that we can design roadways to be safer and we can make our roadways be more responsive or forgiving of human error.
[00:01:35] We don't want to create a lot of land disturbance, or we don't want to create a lot of environmental impacts through a lot of new construction. So we really want to utilize the existing space and make it safer for everyone.
[00:01:49] John Q: Becky summarized the public comment so far.
[00:01:52] Becky Taylor: The majority of people want to see change. They realize that there is a safety problem. They want to make the corridor better for everyone, especially for the most vulnerable people—the people walking and biking. If they get hit, if they're involved in a crash, something bad is going to happen to them without more protection.
[00:02:11] We did hear quite a few voices—52 voices—of people saying, 'We like 30th just the way it is. Don't do anything.' And so we really tried to pay attention to what the concerns were with the 'Do nothing' (category) to see if we could address those concerns and maybe move people into the 'Change' category. But we realize we're not going to make everyone happy and we don't have a perfect solution, but we're working toward better and we're working towards safer.
[00:02:36] John Q: The final recommendation would preserve all traffic lanes.
[00:02:40] Becky Taylor: We really backed off from vehicle lane reductions. People were fearful of us changing the number of lanes available for vehicles. And we decided not to make those big changes…and that's because the City of Eugene is identifying this basin as urban reserve, which means it's an area that if Eugene was to expand their urban growth boundary for urban development, this would be one of many other basins that would be considered for development. So we're putting that on pause. That's not going to be part of this planning outcome.
[00:03:18] John Q: They recommend putting in a concrete barrier to protect a pathway on the south side of 30th.
[00:03:23] Becky Taylor: We were proposing a shared use path from Agate to Forest Boulevard, and we proposed to create that essentially within the existing pavement width of the existing roadway by changing the widths and dimensions of other roadway features. So basically changing the paint and the pavement markings to create more space for people walking and biking on the south side of 30th Avenue.
[00:03:50] And the change that we're recommending is, in creating that space, we're not taking away vehicle travel lanes. So trying to maintain that two vehicle lanes in each direction.
[00:04:01] Some of the center medians—the space between opposing traffic—where that's too narrow, we're going to be looking at, are there physical barriers or other types of safety treatments that we can introduce there?
[00:04:15] We're also reducing the shoulder on the north side to really encourage people to use this facility that we're going to create on the south side for walking and biking. And we're proposing that this path include street lighting and a short concrete wall. We call it a Jersey barrier to provide that physical barrier between vehicle traffic and people walking and biking.
[00:04:40] We're adding to what we're calling the Interim Design and that's to continue that path along the south side of 30th, from Gonyea to Eldon Shafer.
[00:04:52] John Q: The design calls for a roundabout to improve safety.
[00:04:55] Becky Taylor: At Eldon Shafer and 30th, we're proposing to replace that T-intersection with a roundabout, because that is the location where we've had the most crashes and the greatest risk is that T-bone type of intersection. Most of the traffic volume turning into Lane Community College at that intersection puts the driver at risk if someone were to run the red light at that high speed.
[00:05:23] The benefit of the roundabout is, everyone has to move slowly, around 15 miles an hour, through that roundabout. And so when you do crash, you're not going to die or have a serious injury. it's proven to reduce fatal and severe injury crashes. So we think that's the appropriate thing to do here.
[00:05:42] We know more design work is necessary to make sure that big trucks are able to get safely and efficiently through the corridor and into the campus. And we need to look more closely at how people walking and biking get through that intersection as well.
[00:05:57] John Q: Agate is also a hotspot.
[00:06:00] Becky Taylor: At the Agate Street intersection, we heard quite a few comments about safety and ease of getting in and out of Agate Street from 30th. That is under the City of Eugene's jurisdiction, so we are going to be recommending that they consider installing a roundabout, but they'll need to study that and figure out what the right solution is.
[00:06:21] And we heard concerns that the McVay Highway intersection's not a safe place for people walking and biking. It's also an area of congestion for people driving and so we'll be making some recommendations to the Oregon Department of Transportation saying we need to continue safety for everyone headed east of 30th Avenue onto these state facilities.
[00:06:47] John Q: You can still provide public comment through July 12 and then again in September.
[00:06:53] Becky Taylor: Please email me any questions or comments, things that you want us to consider. If you do that by July 12, then we'll be able to get it into our summary response document.
[00:07:04] And then there's a formal opportunity: There's going to be a public hearing on Sept. 28 and that's where you could state in favor of the proposal, you could object to the proposal and why, and that will help that advisory committee develop their recommendation to the board about what to do.
[00:07:22] John Q: Public comments help preserve four traffic lanes on East 30th.