Sen. Wyden welcomes the world to WCH22
3 min read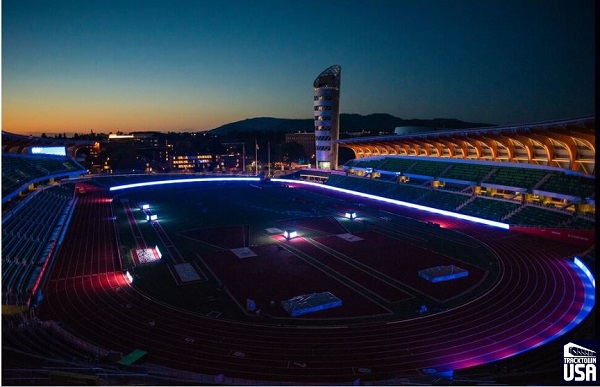 From the floor of the United States Senate, welcoming the world to Eugene, Oregon's Ron Wyden.
[00:00:05] Sen. Ron Wyden: This is an exciting time for my home state of Oregon. The eyes of the sports world are turning to the City of Eugene where thousands of elite athletes have arrived for the World Athletics Championships that start Friday.
[00:00:21] For those who may not have been paying attention, Eugene, Oregon is known in track and field circles as TrackTown USA. Eugene has fewer than 200,000 residents, but it punches far above its weight as one of the athletics capitals of the world, particularly the newly rebuilt Hayward Field—on campus at the University of Oregon. My view is: You're not going to find a better track and field venue anywhere else.
[00:00:53] And that is not only because it's where the Oregon Ducks routinely fly past the competition. It's the home of track and field in the United States, dating back decades to when Bill Hayward first had his vision for the sport in Eugene, a vision that picked up speed when Oregon's own Steve Prefontaine provided thrills for me when I was a law school student at the University of Oregon, as well as millions of running fans the world over. And of course, Hayward Field has been home for Olympics Trials and greatness as well as dominance by my fellow Ducks in college meets.
[00:01:33] The legacy of athletics in Eugene is a big reason why it is the first-ever American city to host the World Athletics Championships. This year, the games are known as "Oregon22." Two thousand top Olympic level athletes are gonna compete. They come from nearly 200 countries. They're the best of the best, ready to break records and make their home countries proud.
[00:02:03] A little bit ago I was home and I talked with the fantastic team of workers that have been working for years on this event. It's been a colossal team effort carrying the baton over the line, but now The Games are about to start. And I can tell you an awful lot of Oregonians are thrilled at the prospect of witnessing this level of elite competition in person at Hayward Field and across the Willamette River in the streets of Springfield.
[00:02:36] This is also a spectacular showcase for my home state. Not only is Eugene playing host to thousands of athletes, organizers, staff, media, and fans, the games will be broadcast to an audience of a billion people around the world. Let me repeat that: a billion people who are going to learn something about what makes my home state so special and different.
[00:03:05] London has hosted this competition. Paris has hosted this competition. Tokyo has hosted this competition. Now it's our turn in Eugene, Oregon, and I could not be more proud. So I would just say, Everybody ought to tune in from June 15 to June 24th, the athletes are going to put on an amazing show, and so is my home state of Oregon.
[00:03:35] John Q: Sen. Ron Wyden welcomes the World Athletics Championships to Eugene. Watch for reporters from KEPW's Youth Radio Project at the Eugene Riverfront Festival. To learn more, see KEPW.org.