Applications due July 27 to help craft argument against street bond
1 min read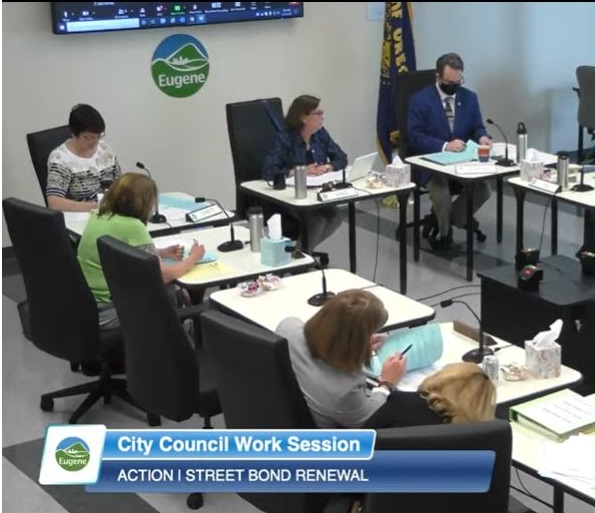 Petitions due July 28 for ballot title review
Katie LaSala, City Recorder
The City of Eugene is seeking volunteers to serve on a Voters' Pamphlet Committee to write an argument in opposition to a ballot measure on the November 8, 2022, general election ballot. Up to three members may serve on the committee. The following measure is being considered:
MEASURE AUTHORIZING THE ISSUANCE OF A MAXIMUM OF $61,200,000 OF GENERAL OBLIGATION BONDS TO FUND STREET PRESERVATION PROJECTS, WALKING PROJECTS, BIKING PROJECTS, SAFETY PROJECTS, AND STREET TREE PROJECTS.
Applications must be returned to the City Recorder by 5 p.m., Wednesday, July 27. If more than three applications are received for the committee, the committee members will be chosen by lot at 4 p.m. on Thursday, July 28.
For more information, contact the City Recorder at 541-682-5882 or klasala@eugene-or.gov.
---
Notice of Ballot Title
NOTICE is hereby given that a ballot title for a City of Eugene measure has been received by the Eugene City Recorder:
Title: Bonds Funding Street Repair and Walking, Biking, Safety, Tree Projects
Question: Shall Eugene repair streets and fund walking, biking, safety, and street tree projects using $61.2 million in general obligation bonds?
The City of Eugene, Oregon, measure will be voted on in a general election to be held on Tuesday, November 8, 2022. No later than 5 p.m. on Thursday, July 28, 2022, an elector may file a petition for review of the ballot title with Lane County Circuit Court.
---