Streets bond pollster: 60% approval when we say tax rates stay the same
7 min read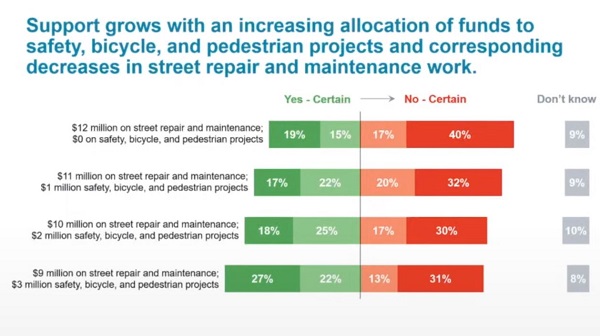 Eugene Council approves funding mix with best polling numbers
The City Council heard how voters would respond to slightly different versions of the streets bond. At the June 29 work session, from DHM Research, John Horvick.
[00:00:10] John Horvick: My name is John Horvick. I'm the senior vice president at DHM Research. We're an independent, nonpartisan public opinion and policy firm. That means some different things. One way to say it is: I'm a pollster. The way I like to say it is: It's our job to ask people what sort of communities they want to live in. And a big part of that is their transportation system, as well as their taxes that they pay to support that. And this survey gets right at those key issues.
[00:00:34] We wanted to gauge support for the transportation bond at the proposed level. We also tested some different levels as well, both to give you a sense of where voters in the community are at, and some details if you decided to move things around, how might voters respond to that?
[00:00:50] John Horvick: The first big survey results I want to share with you is this open-ended question. And we just ask, Hey, what's the most important issue that you want your local officials to do something about? And it's open-ended, people can say anything that they want. If more than 20% are saying a single issue is the most important thing, that's a real signal that it's driving voter concerns and here: Homelessness encampments, 51%.
You'll see that roads, infrastructure, traffic, transportation kind of that is towards the bottom.
[00:01:18] Next we asked about specific city services. And we just said, Hey, are you satisfied with the delivery of these services in Eugene? Are you not satisfied? Voters are saying, Hey, we're really pretty happy with them, especially fire and emergency medical services. Library is really up there too.
[00:01:37] And then we get to city streets. So here we're 50% satisfied, but 49% dissatisfied, so here, pretty divided. And in light of this bond, I think what voters are telling us is that, Hey, we see a need to make improvements to our city streets. And then being able to connect that need to this bond is going to be so the goal going forward.
[00:01:56] John Q: They tested voter support before and after saying tax rates would not change. John Horvick.
[00:02:02] John Horvick: And so we tested the bond measure multiple times in the survey. We asked, 'Shall the City of Eugene fix streets and fund bicycle and pedestrian projects using $61.2 million in general obligation bonds. Do you plan to vote yes for this or no?' With just that little bit of information: 46% Yes, 44% No.
[00:02:22] Next, we gave people a little bit more information. 'If the measure is passed, property tax rates would stay at their current rate of 63 cents per $1,000 of assessed value, which is on average $169 per year for the typical home. If the measure is not passed, property taxes would decrease by $145 per year on average for the typical home. But the backlog of needed street repairs would significantly increase and safety, bicycle, and pedestrian projects would be significantly reduced.'
[00:02:51] So we told voters, tax rates aren't going up. Once we give people that information, support goes up to 60%. Opposition drops down to 33%. The trend line of the past bond measures, kind of that high 50%-low 60% passage in the past, that's right where we're at.
[00:03:09] Now, pollsters like me, they'll tell you, before you put something on the ballot, you want to see 60% support and here we got it. It's not well above that, but it's in line with that historical trend. We get 60%. We got that 35% certain yes. 10 percentage points more than that. These are pretty solid numbers that I think you should feel good about at this stage.
[00:03:30] John Q: Voters were also asked how to allocate the funds.
[00:03:34] John Horvick: One of the questions is just how much dollars should be dedicated just to street repair maintenance, and how many dollars should be dedicated towards other projects like safety, bicycle, and pedestrian. And so what we walked people through were some different options.
The greatest support was this mix of nine to three: nine (million) street repair maintenance and three (million) in bicycle safety pedestrian projects.
[00:03:56] Now I would say that the typical voter doesn't have a clear idea of exactly what that's going to return in terms of investments or the types of projects or the tradeoffs. But I do think it's a clear signal to us that, boy, voters want to see that there are some of these safety, bike, and ped projects included in the bond.
[00:04:15] Councilor Alan Zelenka: The successful formula for the bonds had three components to it, which is that: (1) People knew there were specific list of projects. (2) We had rough equity, everybody around the city gets some benefit. And (3), We had some accountability, the promises made promises kept.
[00:04:31] And in this case, there's no list for the bike ped safety street trees projects. So people don't know what they're buying. Before that wasn't such a big deal because it was only a small percentage. It was a half a million dollars and it got bumped to a million, but now it's $3 million and that's fundamentally different than before.
[00:04:51] So the problem is time. We don't have time, enough time to get us a list and get public input on the list and vet it.
[00:04:59] John Q: He pointed out that taxes may go up, even though the rates are the same.
[00:05:05] Councilor Alan Zelenka: When we say won't increase property taxes, it's really, we should be saying it's increased property tax rate, because if someone's assessed value goes up and they have the same rate, they pay more tax, property taxes, right. Even if it's the same rate.
[00:05:19] Councilor Randy Groves: Councilor Zelenka found some streets that were not correctly listed. Bethel Drive is listed as being in Ward Six and Eight, and I believe that's Ward Six and Seven.
[00:05:30] Blackburn is in terrible shape and I was really surprised not to see it on here.
[00:05:36] And then how do we tie in if a street does not need repair, but it's certainly inadequate for pedestrian and bicycle. And I'm speaking specifically about Warren Street in my ward, which has a real narrow section, no sidewalks, brush encroaching into the street.
[00:05:52] And there's no school bus that runs up there. So we have school kids walking and biking to school where they have nowhere to go. And there's some turns in the road and visibility challenges. And it's a steep grade too, with vehicles coming downhill. And I would really like to find that, is there a way to tie that to Safe Routes to School?
[00:06:10] What are some avenues where we can maybe dip into other areas, even beyond the road bond, just to get with safety being an emphasis.
[00:06:18] Maybe even some brush mitigation that this has been raised by the people on the CAN (Churchill Area Neighbors) neighborhood association board. And I drove it this morning just to take another look at it and I do consider it problematic. So, from a safety standpoint, if there's things we can look at to mitigate that, that would certainly be appreciated by people in my ward.
[00:06:37] John Q: At the July 13 work session, Randy Groves.
[00:06:40] Councilor Randy Groves: I do appreciate that McLean Boulevard is being repaired from Chambers to Graham (Drive), but really that section from Graham on up to at least Lasater (Boulevard) is equally bad and sinking and falling apart, and I hear about that constantly.
[00:06:53] I'm also concerned about Blackburn, the whole thing. It's like driving down the Oregon Trail, wagon ruts and all. It's a mess.
[00:07:02] And then also Kenmore, and that's in my Bethel section of Ward Eight. And getting back to equity issues, it would be nice if we could have a street in that area that receives some attention as well, and not just in the southwest portion.
[00:07:19] Councilor Mike Clark: I do want to echo Randy's concerns about the upper part of Warren. You know, it's an incredibly dangerous street. That's an incredibly steep grade while it's also curvy back and forth and overgrown. So, it's terribly, terribly dangerous up there for pedestrians.
[00:07:37] Councilor Jennifer Yeh: I do share Alan's concerns about it being very nebulous about where this money is going to go. And that I have—I wonder if that will bother some folks, especially folks in my area who, I think, having the list where they can see what they're going to get is very important to them. I think folks in North Eugene don't always trust that things will be equitably distributed. And so seeing that list I think is very important.
[00:08:02] John Q: At the June 29 work session, Councilor Matt Keating.
[00:08:06] Councilor Matt Keating: Thank you, Councilor Groves, for pointing out the Blackburn Street in your ward in disrepair. I used to live there. I have family that lives there and you are so right on, that it is pothole after pothole. And so I appreciate you calling attention to that.
[00:08:21] John Q: He also questioned the timing of the bond election.
[00:08:24] Councilor Matt Keating: I suspect there won't be much organized opposition. But I have grave reservations about going out for a bond in a midterm election year in this economy, in this divisive political climate. The three wards that are carrying the proposed bond at this juncture don't have any competitive seats in them other than gubernatorial and congressional campaigns. Where there's competitive seats, for county commission, for example, in the sliver of Eugene and Santa Clara, the support wanes.
[00:08:56] I will support it if there's a majority. But at this point I have great reservations about going out in 131 days.
[00:09:02] John Q: At the July 13 work session, Councilor Keating moved to postpone the vote until next year, but could not find any other supporters. The streets bond will be on the ballot in November.