Eugene HAND, protesters demand survival over sports
4 min read
About 50 people marched from Campbell Center to Fifth Street Market to protest the bulldozing of homeless encampment sites.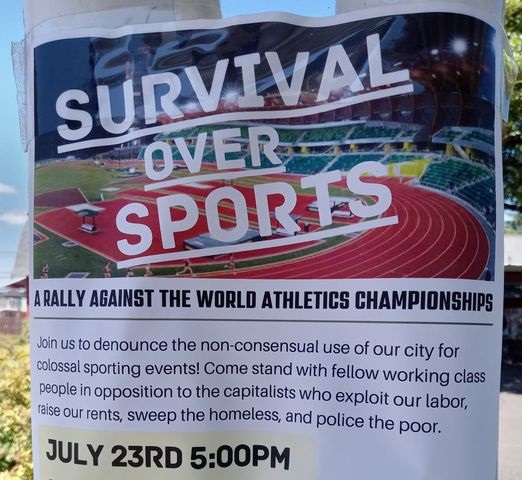 Julie Lambert: Recently I saw a poster. It was called 'Survival Over Sports, a Rally Against the World Athletic Championships.' And it says, 'Join us to announce the nonconsensual use of our city for colossal sporting events. Come stand with fellow working class people in opposition to the capitalists who exploit our labor, raise our rents, sweep the homeless, and police the poor.'
[00:00:33] This is for an event that happened on July 23 at 5 p.m. In the Campbell Park parking lot. It was precipitated by a series of stickers that were placed in prominent places that said this under the Tracktown USA logo.
[00:00:54] Did you know, in preparation for the world track events, several hundred Eugenians had their encampments homes destroyed by bulldozers, police, and city workers so that you wouldn't see them? About 50 demonstrators briefly marched through the streets, as reported by Tatiana Parafiniuk-Talesnick of the Register-Guard.
[00:01:20] The participants claimed the leaders of our city have prioritized beautifying the city for the event's thousands of guests, instead of focusing on issues like homelessness. The group walked towards Fifth Street Public Market, shouting chants like, 'No housing, no peace,' and, 'If they can house the sports elite, then they can stop death on the streets.'
[00:01:43] And they briefly blocked traffic in some streets. They stopped in front of Nike where they had criticism. The sports giant and capitalism, they believe that there is a cause and effect. There are also slogans, 'Hundreds displaced for your little race,' all around the city alluding to when Eugene closed sanctioned campsites months ago.
[00:02:11] Although the city does say according to city spokeswoman (Cambra) Ward Jacobson. there was no certainty that the events would be able to happen at rescheduled times, the city's unhoused response was proceeding regardless of the status of those events.
[00:02:28] Ward Jacobson said the city's unsanctioned camping activity since that time has been entirely based on responding to the requests of the community to address access, safety, health, and sanitation and livability issues. Unsanctioned campsite are removed as staff capacity allows, consistent with city code and park rules, and that will continue it after WCHOregon22 ends.
[00:02:56] However, for Lane County's over 4,000 people experiencing homelessness, there's not enough places to go. And while city officials share that more spots are opening in the near future—including 60 more safe sleep site spots, the 75-bed navigation center and the 45-bed permanent supportive housing shelter, 'The Nell'—as it stands, there's about 455 drop in shelter spots in the county and about 900 people currently sit on wait lists for the city's safe sleep sites.
[00:03:32] Dylan Weil, a co-founder of the youth-focused street outreach program organization known as CORE, was quoted as saying that it appeared that people had been pushed further outside of downtown, the areas of surrounding the University of Oregon and the riverfront. He said that every time this happens, clients get lost and it's a constant thing that we're up against in our field here.
[00:04:01] He says it's difficult because it furthers the divide between social services, law enforcement, local government, and the community at large. It really conveys conflicting messages. This event was organized by Eugene Housing And Neighborhood Defense (HAND) and they can be reached at EugeneHAND@protonmail.com. That's EugeneHand@protonmail.com.
[00:04:32] Good news for those looking for affordable housing: Homes for Good will be opening all 50 of their wait lists for housing programs around Lane County; 47 will be open to applications and three are accepting referrals only.
[00:04:49] Homes for Good will be opening all these wait lists during wait list connect event for two weeks, starting on July 26 and closing at 4:00 p.m. on Aug. 9. This will include the housing choice voucher program waiting list also known as Section Eight, as well as the project based voucher program, public housing, multi-family housing and affordable housing waiting lists.
[00:05:19] For more information about the types of programs that you can apply for and their requirements, please access their wait list connect resource guide, which has all the information that you'll need. The guide can be accessed on Homes For Good website, which is HomesForGood.org.
[00:05:37] Find the green bar that says, 'Wait list connect, two weeks, 50 wait lists' at the top of the page, click on the bar, and a popup will open that contains a link to the guide and the guide will automatically download to your computer.
[00:05:53] I can't emphasize enough how important this is. And there is a short timeframe. It is very unusual for 50 wait lists to open up simultaneously. So I would encourage all of our neighbors who are looking for more affordable housing to take advantage of this opportunity. Remember, you only have until Aug. 9 at 4:00 p.m. The information is also available in Spanish. Good luck to all our neighbors.
[00:06:28] This is Julie Lambert for KEPW, Eugene's Resistance Radio.