Oregon recognized for 1st state report on domestic terrorism
2 min read
Oregon was honored as the first state to issue an advisory report on how to protect citizens from domestic terrorism and violent extremist attacks.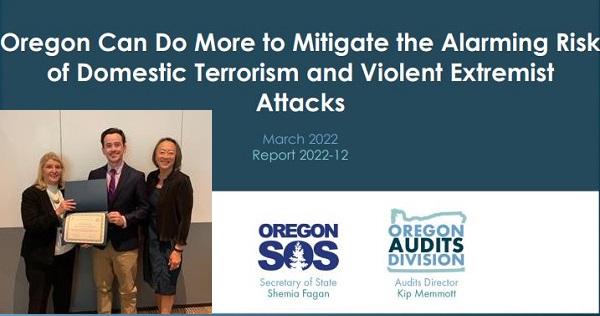 by Ben Morris, Oregon Secretary of State communications director
(SOUTH PLATTE RIVER WATERSHED, Aug. 3, 2022) – The National Conference of State Legislators (NCSL) presented the Oregon Audits Division with its Notable Document Award for the 2022 Advisory Report: Oregon Can Do More to Mitigate the Alarming Risk of Domestic Terrorism and Violent Extremist Attacks.
NCSL presented the award for Notable Document in the category of Public Safety to principal auditor Casey Kopcho and Deputy Secretary of State Cheryl Myers on Tuesday, Aug. 2, at the NCSL Legislative Summit in Denver, Colorado.
"I believe Oregon can be an inclusive democracy where all people live free from fear," said Secretary of State Shemia Fagan. "Domestic terrorism is an immediate threat to that vision and we cannot simply wait for the next incident to occur. We must do more to prevent individuals from escalating down the pathway to violence."
The advisory report — the first state report looking directly at this subject — found that Oregon has one of the highest rates of domestic terrorism and violent extremist attacks in the country, but the state lacks a clear definition of these acts.
The Oregon Homeland Security Council can do more to protect Oregonians by establishing a data-driven, statewide strategy to combat domestic violent extremist attacks.
"I'm proud of the work that Casey and the rest of the team did on this important report," said Kip Memmott, director of the Audits Division. "Recent events have highlighted domestic terrorism and violent extremism as a growing risk, both nationwide and in Oregon. The Audits Division is uniquely positioned to analyze these risks and suggest real changes that Oregon's leaders can take to mitigate this threat and better protect all Oregonians."
The full report is available on the Secretary of State website.
See also: State can do more on domestic terrorism