Claire Syrett raises $10K, asks court to stop recall
4 min read
Claire Syrett asks the court to stop her recall election because MovingAhead opponents made false statements. Recall organizers say those statements were copied directly from MovingAhead project documents on LTD's website.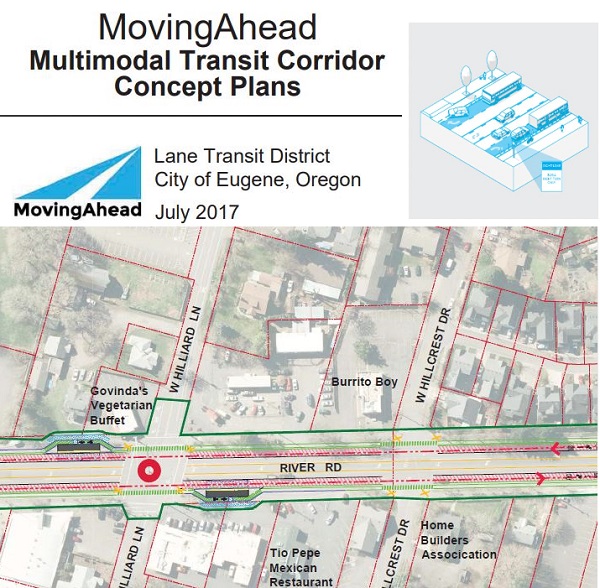 Democrats, Manning, Barnhart, Zelenka, Keating, Lesley among contributors
Flush with $10,000 in contributions since the beginning of August, Eugene City Councilor Claire Syrett has gone to court in an attempt to stop her Sept. 6 recall election.
She argues that the statement by recall organizers—"Claire Syrett voted to advance the multimillion dollar MovingAhead project that will remove two lanes for cars on River Road and replace them with dedicated EmX bus lanes"—is false.
Because MovingAhead is still in the planning stages, her 'Yes' vote to approve EmX on River Road as the locally preferred alternative did not lock in any specific changes, the complaint asserts.
Councilor Syrett is asking that Lane County stop mailing and counting the recall ballots. Her request for injunctive relief also asks attorney fees and $2,500 each—"or such amounts as may be proven at trial"— from Meta Maxwell, John P. Hammer, Mark Osterloh, Gerald Morton, the Recall Claire Syrett committee, and the Eugene Business Alliance.
Meta Maxwell responded on behalf of the Recall Claire Syrett campaign, saying the ballot statements are factually true because they came directly from MovingAhead project documents.
"The MovingAhead Alternative Analysis Report, dated September, 2018, shows: 'The MovingAhead project will remove two lanes for cars on River Road… The project will take substantial private property from businesses, including the loss of parking and removal of trees,'" Maxwell said.
Design drawings shared on the MovingAhead website also continue to show two lanes dedicated for River Road bus rapid transit lanes. Those plans have not changed since 2017, she said.
"The lawsuit filed by Claire Syrett to prevent the recall election asserts baseless claims," Maxwell concluded.
The complaint identifies four false statements in all. Councilor Syrett said the statement "Traffic congestion will increase" is also false because "[t]he purpose of the MovingAhead planning project is to consider proposals that will reduce traffic congestion."
Councilor Syrett asserts that she and the Candidate Committee suffered noneconomic damages and "are entitled to a monetary award of actual noneconomic damages or $2,500, whichever is greater."
She requested expedited treatment, noting that courts are directed to give election issues precedence "over all other business on the docket."
As of Aug. 19, the Lane County Circuit Court website did not show a scheduled date for case 22CV27863.
Democrats and elected officials lead contributors to Councilor Syrett
According to state campaign finance reports, the Claire Syrett for City Council campaign committee took in over $10,000 in contributions since July 29, including $3,280 in anonymous cash contributions under $100.
Through Aug. 18, named contributors included: Alan Zelenka ($200), Ann Cahill Fidanque ($500), David Fidanque ($500), Dawn Lesley ($250), Democratic Party of Oregon ($500), Gordon Lafer ($500), Greg Rikhoff ($250), Harriet Merrick ($150), Holly McRae ($500), James Manning ($250), Jerome Lidz ($250), Kim Dunbar ($200), Martha Dragovich ($250), Matt Keating ($250), Patricia Hine ($250), Patrick Walsh ($250), Paul Holvey for State Representative ($250), Philip Barnhart ($250), Rob Zako ($250), Robin Bloomgarden ($200), Rory O'Connor ($250), Rosie Pryor ($150), Ryan Moore ($101), Stefan Kwiatkowski ($170), Stefan Ostrach ($108), and Teresa Damon ($400).
The campaign reports also show a $7,500 payment to Tonkon Torp LLP.
Businesses lead recall contributors
The Recall Claire Syrett campaign also reported just over $10,000 in contributions from May 3 to July 23, including $621.14 in anonymous cash contributions under $100. Named contributors include 1280 Oak, LLC ($500), Brent Laing ($500), C & E Rentals ($500), Emerald Building ($500), Eugene Business Alliance ($4,750), Graffiti Alley ($134.83), J.P. Hammer (two $500 contributions), Kelly's Home Center ($500), Lube It USA ($168.56), and Specialty Crate and Pallet Inc. ($250).
Meet the lawyers
Councilor Syrett is represented by Jon P. Stride, Alexander M. Tinker, and Antonija Krizanac of the Portland firm Tonkon Torp LLP.
Jon is a partner and member of Tonkon's Intellectual Property Practice Group. As the lead trial lawyer, Jon has litigated patent infringement claims for an international distributor of health food products in multi-district litigation, manufacturers of machinery used in the wood products industry, manufacturers of parts for heavy trucks, and an inventor of electro-optic technology. He defended a national consulting firm accused of trademark and copyright infringement, and pursued copyright claims for a national senior housing company. He has litigated numerous misappropriation of trade secret and inevitable disclosure disputes between businesses or between a business and its former senior level employees.
Alex, a partner at Tonkon Torp, joined after graduating summa cum laude from Lewis & Clark Law School. As a student, Alex was inducted into the Cornelius Honor Society by the faculty, was named Outstanding Clinical Advocate, and won the first year Best Brief award in legal writing. He also received the John & Susan Bates Family Endowed Scholarship in Business Law, the Milt Smith & James Richardson Business Law Scholarship, and the Dean's Scholarship for Excellence.
Alex worked as a summer associate for Tonkon Torp and as a Judicial Extern for Honorable Ancer L. Haggerty, U.S. District Judge, during law school. Prior to law school, Alex worked primarily on policy advocacy in the nonprofit and public sectors, holding positions including civic engagement director and aide to an Oregon State Representative. He continues his involvement in the Portland community, serving as a cooperating attorney for the Oregon ACLU and as a board member for the Resource Innovation Institute.
Antonija joined the firm from Stoel Rives and has depth of litigation experience in the construction and building sectors. During law school, Antonija was a legal extern at the Northwestern Division of the U.S. Army Corps of Engineers, and a law clerk at Markun Zusman Freniere Compton. Prior to her law career, she was a program manager for Lockheed Martin Energy, and a project coordinator in the Special Projects Group of McKinstry Co. Antonija earned her J.D., cum laude, from Lewis & Clark Law School where she was a member of the Online Journal and an Editor of Environmental Law Journal. She has a B.A. in History and German Studies from Lewis & Clark College.
One of Tonkon Torp's founding partners is Terry Baker, who remains the only person to win college football's Heisman Trophy and play in the Final Four of the NCAA basketball tournament.