Eugene rental owners: City is avoiding us during public comment
3 min read
The city is deliberately avoiding notifying landlords on changes that directly affect them, according to Kathryn Dunn of Eugene Rental Owners.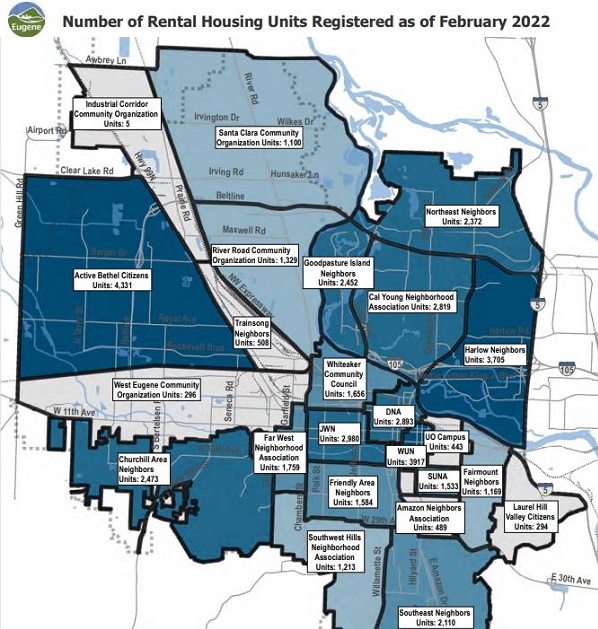 by John Quetzalcoatl Murray
Add another local group to those who say city government is deliberately avoiding them.
Moms trying to save their neighborhood buses from the joint city-Lane Transit District project, "Transit Tomorrow."
Business owners who want no part of the bus rapid transit recommended by the joint city-LTD project "MovingAhead."
Neighborhood associations hoping to moderate already-dramatic changes to middle housing required by HB 2001.
Local landlords say the city is avoiding them too, as it seeks to double the annual fee on each rental unit from $10 to $20.
"The City is deliberately avoiding notifying landlords of changes that directly affect them," says Kathryn Dunn.
Kathryn, a member of the landlord organization Eugene Rental Owners, points out that all landlords must register with the city and fund its Rental Housing Code program.
By using email addresses already in their possession, city staff can easily and economically notify all landlords of the proposed fee increase. They did not.
"They have our contact info," Kathryn said. "They are disseminating information all around us, but not to us."
An Aug. 8 notice stated that the fees would double "as a result of an investigation of the revenue needs of the City in processing Rental Housing Code registrations."
"That doesn't make sense," Kathryn said. According to the March 9, 2022 Rental Housing Code Program Update, the number of registrations declined last year from 5,550 to 5,186. Why would fees double if there are fewer registrations?
She knew the City planned to hire a Rental Housing Navigator and provide other tenant services. So she asked the City to "provide any information and/or data that was used to determine that there would be a problem processing applications at the current annual rate of $10 per unit."
Indeed, she was told, the proposed fee change was not related to processing costs. The explanation "could have been more clear," staff wrote.
The city will now reissue the notice and extend the public comment period.
"Staff will reissue the notice with a more complete statement of the reasons for the proposed fee increase and will restart the public comment period so that interested parties will have an additional 15 days (beginning from the date of the re-issued notice) to submit comments on the proposed fee increase," Kathryn was told.
Kathryn also pressed the city to send the notice to all registered landlords.
City rules on proposed fee changes require notice to be posted at City Hall, provided to the Mayor and City Council, and provided to persons who have requested a copy of the notice.
This particular notice was also published in the Register-Guard and sent to the Renter Protections and Housing Policy Board Interested Parties list, she was told.
But yes, the city confirmed, the notice was not sent to all landlords registered with the City.  
All landlords should have been told, Kathryn says. "We're the folks who should be first in line to be notified when there any potential or new changes to the code," she said.  
Kathryn said her experience was much like other groups bypassed by the city. She referred to internal whistleblower testimony that city planning staff deliberately avoided comments from city neighborhood staff and neighborhoods.
"That's exactly what just happened to rental owners," Kathryn said.
The City Council adopted Ordinance 20670 on July 11. The fee supports tenant support services which could include a "tenant hotline; eviction diversion; support for ex-offenders and other individuals with similar challenges who are struggling to qualify for rental housing; and support for tenants seeking rental housing that is accessible to and usable by persons with disabilities."
To receive notice about the proposed fee increase, email renterprotections@eugene-or.gov and ask to be added to the Renter Protections Interested Parties list.