Join Lane County's LEAGUE
4 min read
The LEAGUE---the Lived Experience Advisory Group for Unhoused Engagement---is looking for new members. For details, see the Lane County Poverty and Homelessness Board website.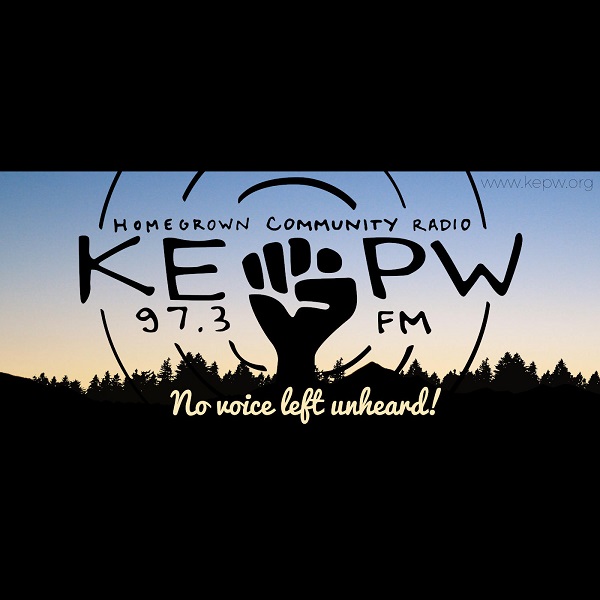 by Julie Lambert
This week, I'd like to talk about the Lived Experience Advisory Group for Unhoused Engagement, also known as LEAGUE.
[00:00:09] Kris McAlister, friend to this station (KEPW), was instrumental in the startup of this formal advisory group. He says, 'We recognized there was a need in Lane County. I met with Lane County staff in 2018 and created a proposal to the Poverty and Homelessness Board, which is our local Continuum Of Care board.'
[00:00:32] And the objective was to create and maintain an advisory group made of 100% individuals who are experiencing or have formerly experienced homelessness.
[00:00:44] So Kris came up with the acronym that day: 'It's a lived experience advisory group, so let's just call it LEAGUE.' And they agreed that it had a superhero ring to it.
[00:00:55] At this time, we are looking for members to complement our core group of folks. We report directly to the Poverty and Homelessness Board of Lane County and advise them as well. We are currently seeking up to four new members with at least two of them representing Lane County in the rural area, (residing in or having significant life experience living in rural Oregon / Lane County, outside of the Eugene-Springfield Metro area).
[00:01:30] But all individuals who are currently experiencing or have recently experienced homelessness are still strongly encouraged to apply.
[00:01:40] We are seeking to create a more diverse group of folks, but we won't turn anyone away that has a sincere interest in doing this type of work.
[00:01:50] So I'll tell you about our objective.
[00:01:53] We want to create and maintain an advisory group made up of individuals who are experiencing, or who have formerly experienced homelessness, the purpose of which is to:
Advise the Poverty and Homelessness Board on projects related to its mission and strategic plan from the perspective of current and formerly homeless individuals.
Provide expertise of those with lived experience and gain feedback from those who are currently engaging, or have previously engaged, with the homeless service system in Lane County.
Advocate for the needs of individuals and families experiencing homelessness in Lane County. Ensure a strong voice for those with lived experience is represented in all aspects of the Poverty and Homelessness Board.
[00:02:49] This group consists of no less than 100% homeless or formerly homeless persons. Efforts will be made to capture a diversity of membership and experiences, including, but not limited to: past or current engagement with various types of housing and services; race, ethnicity, and cultural background; youth; domestic violence; geographic diversity; and people with disabilities.
[00:03:16] The work group meets regularly and as needed and works on special agenda items. Their work plan includes both short-term and long-term action items. This group meets monthly on the first Friday in the afternoon at 2 p.m. until 3:30 p.m. with occasional meetings being held throughout the year as needed.
[00:03:41] Please note meetings are currently being held virtually via Zoom until further notice. Individuals submitting an application may be asked to participate in a brief interview with current members of the Advisory Group.
[00:03:57] Now, if this is something that you would be interested in doing, it puts you in a very good place.
[00:04:06] You have access to the folks who are making decisions that directly impact our unhoused folks and our low-income people as well. I'm primarily focusing on the unhoused people, but we have a lot of folks out there who need housing that is income based rather than affordable, because they're not the same.
[00:04:33] And if we lift people up out of homelessness, their next trajectory cannot be affordable housing. It has to be income-based. In the meantime, we invite any listeners who would like to participate in the evolution of our community. We have a space for you. A few of our recent projects. Something as simple as giving input as to what colors were going to be used on the walls at MLK Commons to working on the Navigation Center side-by-side with the people that we're also working on it.
[00:05:08] Currently, we are involved in giving input for continuum of care for designating a place or places where people can go to receive services and creating a visual map so that people can navigate their service. We'd love to have you join us in building and growing community applications can be accepted on the Lane County Poverty and Homelessness Board website under 'Vacancies' under Lane County.org/PHB.
[00:05:57] If you want to request an application by mail or other format. please call 541-682-4203. And if you're having any trouble accessing or completing the application, you can contact Amanda Borta at Amanda.Borta@lanecountyor.gov.
[00:06:20] This has been Julie Lambert for KEPW 97.3 FM, Eugene's Resistance Radio.