East Waldo under 'Get Ready' for evacuation notice
1 min read
The Lane County Sheriff's Office has issued a Level One (Be Ready) evacuation notice in the east Waldo area.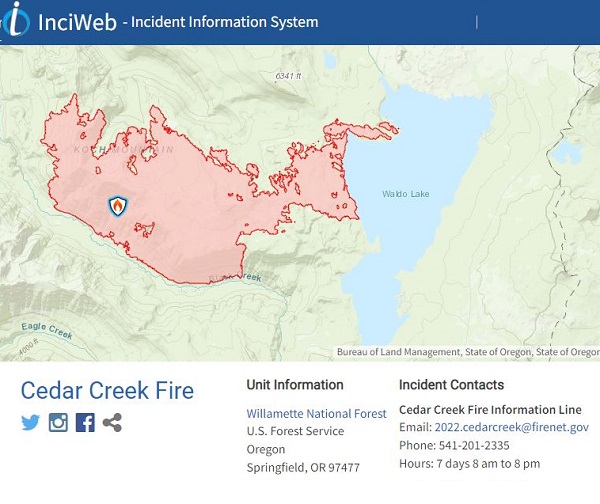 Campers, hikers and other people planning to visit the East Waldo area during the holiday weekend should consider making alternate plans.
Effective Sept. 1 at 3:30 p.m., the Lane County Sheriff's Office has issued a Level 1 (Be Ready) evacuation notice for the following areas due to the Cedar Creek Fire:
Islet Campground, North Waldo Campground, and Harralson Horse Camp
All dispersed camping and recreation in the area east of the Waldo Lake shoreline between the United State Forest Service forest closure to the north, and south to just north of Shadow Bay Campground, and east to the Charlton Lake and Taylor Lake areas. (At this time, Shadow Bay Campground is not included in the evacuation notice.)
Deschutes County Sheriff's Office Oregon has approved adding the following areas adjacent to the Lane County evacuation notice as Level 1 (Be Ready):
Irish and Taylor Lake campgrounds and dispersed camping in the Charlton and Taylor lakes areas.
Level 1 (Be Ready) means you should be aware of the danger that exists in your area, monitor local media outlets and telephone devices to receive further information.
This is the time for preparation and precautionary movement of persons with special needs, mobile property, pets and livestock.
People should make the best possible decisions for their safety.
Information about the #CedarCreekFire is available at https://inciweb.nwcg.gov/incident/8307/.