Neighborhood teams share ideas, prep for annual all-metro exercise
8 min read
Neighborhood preparedness groups share ideas and look forward to all-metro field exercises in September and October.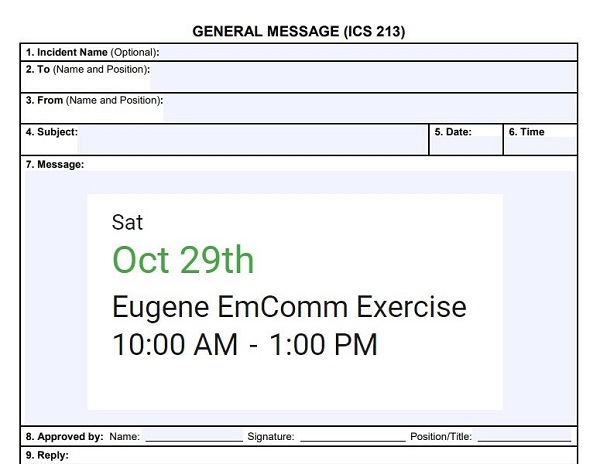 Neighborhood preparedness groups share ideas in August. From Southwest Hills Neighborhood Association, Elizabeth.
[00:00:06] Elizabeth: We've been going just for about a year now, just started out pretty small and we have five people up at The Highlands community that are residents and owners. We've been very busy, having wonderful, generous consultants come out, and we have radios. So we're really energized and excited. You know, we have about 124 units up here. That's a lot of citizens up in the hills in one small area.
[00:00:31] I think our intention just like joining this meeting, to share information and collaborate, make connections in the community, how do we get together, how do we inform other people in our community without overburdening them or have rules or something like that, but just share information and to be ready. We want it to be all of us together.
[00:00:52] John Q: From Southeast Neighbors, Lucy Bambrey.
[00:00:54] Lucy Bambrey: David Hazen and Barb Hazen, they had a good idea in our smaller neighborhood which is off of 43rd, off of Dillard, off of East Amazon, Shadow Wood Park, but they had a good idea of wanting people to volunteer, to be not a block captain as such, but maybe someone who like at Highlands, someone who would be willing to check on people and the different cul-de-sacs, about 10 houses. And I've said I'd be willing in an emergency or, you know, another Snowmageddon, to just make sure that everybody's accounted for, and if they need help, you know, kind of pass the word to the other neighbors, because we do watch out for each other on the cul-de-sac, which is good.
[00:01:40] So I thought that was a good idea, have someone in each cul-de-sac or each dead-end act as a go-between between David and the rest of the neighbors.
[00:01:51] John Q: From Friendly Area Neighbors, Thia Bell.
[00:01:54] Thia Bell: Our main push is probably going to be, try to morph our 'Map Your Neighborhood' groups into more generalized 'Be two weeks ready' format following the examples being set by Washington and Oregon emergency management programs.
[00:02:11] As far as getting, you know, individuals involved, I'm leaning more towards the one-on-one approaches, small is beautiful. Lucy's example of just getting somebody in a cul-de-sac, going even smaller than Map Your Neighborhood, getting just your nearest neighbors that you are visible, to link up by text or intention and also to be a Neighborhood Watch.
I'm an advocate of using public safety, theft, all that as a way to hook in younger people into emergency readiness, as well. That's as— equally as important as all those people that have energy to do the political lobbying and work on the larger scale.
[00:02:51] Lena: I'm Lena, I'm in the Friendly Area Neighborhood and participate in the Ready Friendly, which is our emergency preparedness. I like having that place for neighbors, neighborhoods that are wanting to get started and people to share what's working, what's not working, being that resource and kind of combining efforts, where we can tag on with each other, provide training, and the education part of it is really big. So we're not—every neighborhood's—having to reinvent the wheel, that we can kind all work together and with training and different opportunities. That's helpful.
[00:03:30] I work a lot with the Radio Ready team. We use Slack, which is a texting app for our radio backup, for communication. I think most of our radio operators are signed up to that and we use it— it's very limited. We don't use it for anything other than very brief announcements. or when we're on the radio, on the air, if people can't hear, or if we're changing channels or frequencies, we can post that on there. And it's a way to communicate, or to notify people to turn on their radios to a certain frequency or channel.
[00:04:07] John Q: From Ready Northwest, Matt Albertson.
[00:04:10] Matt Albertson: I would like to see more Winlink training, particularly with packet radio, because that's what I'm familiar with. It is not the least expensive option. It is not the most efficient option, but it is much more reliable in an emergency situation than is, say, the mesh networking, because the mesh networking has a very much a line-of-sight kind of signal.
[00:04:33] And if there's any obstructions, we may not be able to get from here to there. And packet is much better at that in the VHF range down there, it's like 140-150-ish MHz, and that's much more penetrative than is the other signal.
[00:04:49] The other thing I wanted to see was establishment of four district hubs with the proper equipment and people who know how to use it.
[00:04:57] There was some discussion over here at the new Eugene high school that's being built, the North Eugene High School, there's some talk about maybe having that as a hub, because it's been up to earthquake code and we do want to get more young people involved in the ham radio adventures and get them trained up.
[00:05:15] John Q: From Amazon Neighborhood Association, Randy Prince.
[00:05:18] Randy Prince: Most of the work that we've done, it has been education to prepare you better to do your work. Some issues are being overlooked in the public sector and government sector: We don't much educational program at the state level. It could use some citizen advocacy, so I hear, from some of the professional people who would like to see it bumped up.
[00:05:41] John Q: For the Eugene Springfield CERTs, Andy Davis.
[00:05:45] Andy Davis: Our new initiative for this year is to try to utilize our CERTs that are spread throughout the city of Eugene and Springfield, to work within their neighborhood and also to elicit a neighbor to develop a damage assessment team.
Each team consists of two people that will actually walk and do a survey of their neighborhood following a major incident: Go around and survey, take notice of what they see and then pass that information on back to their team leader, which then puts that information into a general message and sends it on up to the city EOC (Emergency Operations Center).
[00:06:27] We have what I call a dry run exercise the 24th of September, a walkthrough scrimmage. It's just basically going to be the Eugene Emergency Communication Network group and some CERTs, and some damage assessment teams within the neighborhoods.
[00:06:46] We will distribute to the participating neighborhoods an envelope that will be clearly visible; as the teams walk or do a survey of their neighborhood, they'll find these envelopes. They'll open them up. It will have a completed damage assessment form. And then these teams will take all the information on there and then use the ABCs to generate an ICS 213 general message by being Accurate, Brief and Concise, take the information from the damage assessment form.
[00:07:22] And then like we did last year, send it on up the radio chain to the district and then on to the EOC. W7ARD, Matt Dillon, he will be acting as the EOC and will be the net control for this exercise.
[00:07:38] John Q: Practicing in September will improve performance during the all-metro exercise October 29th. Andy Davis.
[00:07:47] Andy Davis: The 29th will be identical, only change for the 29th is the EOC will then be staffed by Eugene emergency management people. And I think they're going to open up the EOC this time at the Sheldon fire station, that's their normal EOC.
[00:08:08] The 22nd of October, the Saturday prior to the 29th, we could do a pre-exercise briefing. And we try to do the briefing at 10 in the morning on Saturday, so that everybody's finished with breakfast and it doesn't put a wrench into the rest of the day.
[00:08:26] Of course, with everything we need volunteers, we desperately need more ham radio operators to cover the neighborhoods within Eugene.
[00:08:35] The first ham that comes up on the air with the Eugene EmComm net, they are net control until they are relieved by someone else. So we're trying to teach that way to just, 'You've got to step up and take charge and carry out the plan of the day until you're relieved.' And so it's the same thing with the CERT program. If you're the first person there, you're the incident commander until you're relieved by someone else.
[00:09:02] Each of the ham radio operators are in need of a scribe or a secretary that will actually help this ham to write down the radio messages coming in over the radio, to keep track and make sure it is accurate and it's brief and it's concise coming in.
[00:09:19] Neighborhoods that do not have a ham radio operator to work with, they're either going to have to send a runner, so to speak, or that runner could be a bicyclist. Use what you have that's available. They've got to send the message by a bicycle to the next nearest ham that they know the location of that ham is at.
[00:09:39] John Q: Speaking at ENPN and Ready Southeast, Don Metheny.
[00:09:43] Don Metheny: We're practicing what we would do in a disaster— not the first five minutes or the first two days, maybe, but eventually we're going to want to go out and just situational awareness, have 'em walk around a bit, see what's going on in the neighborhood. Are the power lines down? Is the road blocked? Do we have anything to worry about? What do we have to report? Do we need any help?
[00:10:07] Walk around the neighborhood and be seen walking around the neighborhood. Anybody that's a a CERT can wear their CERT vest and identification and so be visible that way. And anybody who's not a CERT can wear—if they have one—one of the Southeast vests, or any vest they happen to have.
[00:10:28] John Q: It's also an opportunity to engage nearby neighbors.
[00:10:32] Don Metheny: One of my hopes from these exercises, by getting out into the neighborhood we'll be seen by neighbors and they'll want to know what's going on. And so that gives us an opportunity to talk to them about preparedness and what we're doing and why we're doing the drills. And, uh, hopefully get more people involved that way.
[00:10:56] John Q: At Ready Southeast, David Monk.
[00:10:58] David Monk: I do think it would be good for us as Don said, getting out into our nearby neighborhood and having our vests on, I think will be a fun exercise. I love the idea of damage assessment, of going up and down the street and looking at things and, pretending as if there were some issues at various neighbors' homes.
[00:11:17] And then whoever's volunteering to do the communications, whether they're with the group or not, we'll make sure they get that information and then convey it up the line to the ham radio operators.
[00:11:27] John Q: A walkthrough scrimmage coming up in September and an all-metro field exercise in late October. Contact your neighborhood association or the Eugene Springfield CERTs, and they will recognize your volunteer hours in the local timebank.