Red flag warning: Cedar Creek Fire expected to become 'very active' Tuesday
3 min read
"Red flag" or extreme fire weather conditions are expected most of this week on the Cedar Creek Fire burning near Waldo Lake.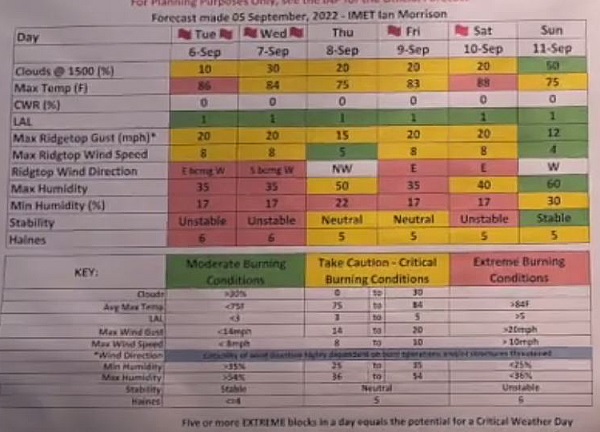 Easterly flow may bring smoke to Eugene Wednesday
A Red Flag Warning has been posted for Tuesday and may extend into Wednesday for extreme fire weather conditions.
As of Sept. 6, 2022 at 8:23 a.m., the Cedar Creek Fire is 18,143 acres with 12% containment. The fire grew 518 acres on Sept. 5. Fire teams are expecting active to very active fire activity today, with hot temperatures, lower relative humidity values and a very unstable atmosphere.
Smoke
Areas east of the Cedar Creek fire will continue to have the greatest smoke impacts today with La Pine, Sunriver and Bend in the moderate range. Oakridge will have some increase in smoke impacts today with moderate to occasional Unhealthy for Sensitive Groups (USG).
Easterly flow may bring increasing smoke to Eugene/Springfield early on Wednesday. Expect moderate, possible USG conditions in the morning, improving to moderate to good in the afternoon.
Health and Safety Message
Do you know how to check your local air quality? Try out the map at fire.airnow.gov for current conditions. For real time information see Fire.airnow.gov, oakridgeair.org, and LRAPA – Today's Current Air Quality.
Community Meeting in Oakridge
A Cedar Creek Fire Community Meeting will be held Sept. 6 at 6 p.m. in person at Oakridge Greenwaters Park. The meeting will also be streamed live on Facebook at CedarCreekFire2022.
Projected Incident Activity
Atmospheric instability is expected to build into the fire area. Moderate to active smoldering, creeping, backing and single/group tree torching. After recent fire growth, Div G will remain active along northeast flank and will grow to the east as spots continue to establish in the heavy dead and down. DIV D and A will continue to back down hill to the NW. With the poor RH recovery and extended burn period increased torching and spotting is likely. Fire growth is expected in DIV H where the fire has gotten established to the east of the retardant line.
24 Hours: Primarily surface fire spread with backing, flanking, torching, and spotting. Extended dry conditions may lead to more fire growth than has been seen over the past few days. Instability is expected to remain the fire area. The instability will have the potential to keep RH values low, temps high, and cause erratic winds.
48 hours: Warmer temperatures are expected which may allow an extended burn period. This could result in more fire growth. Instability is expected to remain in the fire area which could lead to large fire growth. Torching and spotting will be a concern. Fire activity expected mainly in heavy fuels and jackpots. Single tree and group torching is likely with short range spotting.
72 hours: High temperatures are expected over the fire area. Winds out of the east have the potential to lead to further drying. Large perimeter growth can be expected where wind and slopes align. Single tree and group torching with short range spotting is likely.
Anticipated after 72 hours: Low humidity, poor humidity recoveries and high temperatures will persist. This longer term drying trend will lead to potential for higher fire growth. If winds and slope align, fire has potential to burn to the north. Torching and spotting should be expected.
—From Inciweb and the Central Oregon Outlook issued by the US Interagency Wildland Fire Air Quality Response Program.