Left behind by MovingAhead
5 min read
The EmX option selected for River Road as part of the MovingAhead project has divided the community, Claire Shanley reports.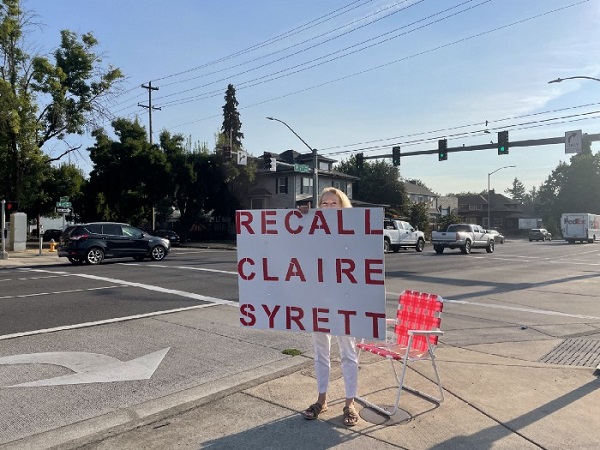 Why a transportation plan is dividing a community
It's a sunny Monday morning and Meta Maxwell is out on 7th Avenue holding a "Recall Claire Syrett" sign. It is the last in a series that together read: "She wants to take away your cars … and force you to ride the bus … Recall Claire Syrett."
The recall effort is tied to what Maxwell believes is a murky and misguided transportation plan called MovingAhead. "It is a very scary thing," she said, standing on the side of the street, "that there are no clear facts about the project."
Indeed, there is much confusion about MovingAhead. Ask any two Eugeneans and they'll likely give different answers as to what the project is about and where it stands.
According to the planners, MovingAhead is not about taking people's cars and forcing them to ride the bus. It is about improving transit options and safety on five key corridors in Eugene: Highway 99, River Road, Coburg Road, MLK Jr. Boulevard and 30th Avenue. The City of Eugene and Lane Transit District have been working in partnership on the project since 2015.
Controversy about MovingAhead has been bubbling for years. Tensions came to a head in March when the Eugene City Council voted six to one in favor of a package that calls for the exploration of Bus Rapid Transit — also known as EmX — on River Road. Syrett became the target of the recall because she represents Ward 7 where River Road is located.
To accomplish the plans for EmX, the city will need to repurpose two of River Road's four lanes for bus-only travel and vehicle turns. Maxwell and her supporters say this will be catastrophic for congestion. Local transportation experts disagree.
"What the recall people see as a bug, I see as a feature," said Rob Zako, Executive Director of Better Eugene Springfield Transit. He has been following the project for years but is not a part of the MovingAhead team. "River Road is too wide, too fast and too dangerous," he said. By reducing lanes, traffic will flow at a safer pace, which he believes will benefit everyone on the road.
Rob Inerfeld, a Transportation Planning Manager for the City of Eugene and project lead for MovingAhead, said a lane reduction project on South Willamette had little effect on travel time through the corridor. Further, he said the team has conducted modeling on River Road that "shows traffic will still flow efficiently when it is one lane each way."
While lane reduction is the major flash point, recall supporters have other concerns about the project. Chief among them are the costs, which they say combined with the greenhouse gas emissions associated with construction don't add up.
An alternatives analysis report published in 2018 shows a cost comparison for two options on River Road. "Enhancing the corridor" with increased safety features and other improvements would cost $24 million; EmX is $74 million — or more than three times the cost. One driver behind the difference is the need to construct new lanes to support the 60-foot accordion buses used for EmX routes.
When Zako first saw the numbers, he didn't think EmX was justified. But after additional conversations with the team, his understanding evolved. The bottom line, he said, "Is that the city doesn't have the money to build anything on their own." They need federal funding, and the grants available — like Small Starts — favor EmX over other improvements. The only way to know if it will be funded is to try. If the grants don't pan out, he said the team will consider other options.
Regardless, Zako understands how the opposition could look at the alternatives and conclude that EmX is a bad investment. Even as a local transportation expert, he said it took time and persistence to get satisfactory answers from the MovingAhead team.
This lack of transparency, according to Maxwell, is what angers her the most. She owns a commercial property that could be impacted if the plans move forward. Not on River Road but on Coburg. She says she did not hear about the project until spring of 2019 and did not see the concept plans until late 2019, more than two years after they had been developed. Further, she said the project team intentionally withheld the drawings and she had to push for access.
Andrew Martin, a Transportation Manager for LTD and project lead for MovingAhead, said there was ample opportunity for people to get involved. Martin said the team has held 22 open houses, 60 public meetings and canvassed 526 properties on the corridor to date. "We also mailed every single address within a half mile of any of these streets, inviting them to open houses," he said.
Maxwell did attend an open house and has since offered what she feels are better solutions: mini buses that are flexible to rerouting and vouchers for ride shares like Uber, as examples. But the plans did not change, she said.
The disconnect, from talking to planners, is that they are looking through a lens that the public can't see. Every suggestion they receive has to be filtered for multiple factors. Among them: Will it help people get around? Will it make the road safer? Can it be funded? Right now, according to the city and LTD, EmX fits these factors best for River Road. What they haven't been able to do, based on the current confusion, is communicate that effectively to the community.
Maxwell's message, on the other hand, is resonating. According to early results, it appears the recall of Syrett will succeed. It is unclear how this will impact MovingAhead, but it would have a "chilling effect" on public service, said Zako. "It's hard to imagine others not starting to look over their shoulders and thinking, 'I don't need this crap.'"
MovingAhead continues as the recall plays out. Inerfeld is working on a video simulation to show traffic flow on River Road; Martin is preparing for another wave of outreach to property owners to refine the plans.
---
Journalist Claire Shanley publishes at Medium. This article was also excerpted by Better Eugene Springfield Transportation in its September 13, 2022 newsletter, and is reprinted with permission.