Public hearing set Sept. 28 for 30th Avenue plan
3 min read
The public is invited to comment on the 30th Avenue design recommendation during a public hearing Wednesday, Sept. 28, 2022 at 5:30 p.m.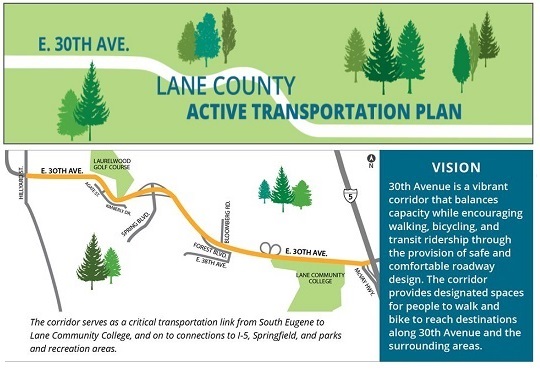 by Becky Taylor, Senior Transportation Planner, Lane County
The public is invited to comment on the 30th Avenue design recommendation during a public hearing Wednesday, Sept. 28, 2022 at 5:30 p.m.
Join the online meeting or join by phone: +1 (469)-949-9300 Phone Conference ID: 972 438 750#
With the goal of reducing crash severity for all roadway users—whether walking, biking, driving, or taking transit—the recommended design would:
Repave and restripe the existing roadway from Spring Boulevard to Eldon Schafer Drive to provide two vehicle travel lanes in each direction, as well as a protected walking and biking shoulder along the south side of 30th, separated from vehicle traffic by a short concrete wall;
Create center turn lanes at the existing intersections with 30th Avenue at Forest Boulevard and Bloomberg Road (the north/south park entrance);
Replace the signalized T-intersection of 30th/Eldon Schafer Drive with a roundabout;
Create bicycle and pedestrian crossings on Gonyea Road.
The design elements above are subject to commission approval because 30th Avenue between Spring Boulevard and Eldon Schaffer Drive is under Lane County's jurisdiction.
Lane County staff offered additional recommendations for other agencies that have jurisdiction over other portions of 30th Avenue.
Recommendations for City of Eugene
Create a protected walking and biking shoulder on the south side of 30th Avenue from Spring Boulevard to Agate Street to provide a physical connection from Lane County's portion of 30th Avenue to the existing sidewalk at Agate Street
Consider installing a roundabout at the Agate Street / 30th Avenue intersection
Recommendations for Oregon Department of Transportation
Install warning lights on the narrow bridge crossing of 30th Avenue over I-5 until the interchange and bridge can be redesigned and replaced.
Provide walking and biking amenities along both frontage roads east and west of I-5, known as Franklin East and McVay Highway, respectively.
Recommendations for Eugene, ODOT, and Lane Community College
Consider additional off-road walking and biking connections in the area, especially northwest of 30th Avenue and McVay Highway.
This design recommendation is the result of an 18-month planning process that included technical analysis and engineering provided by Toole Design and public involvement organized by Cogito.
Thanks to the Central Lane Metropolitan Planning Organization for providing funding for the planning process. Thanks to the hundreds of community members who participated in the process and provided input that helped us identify the changes most needed to reduce the high rate of fatal and serious-injury crashes on 30th Avenue.
The full report of the planning process along with the design concept drawings can be accessed online at Lane County's East 30th project website.
The public hearing is being conducted by the Transportation Advisory Committee, known as the "TrAC." The TrAC will develop a recommendation to Lane County commissioners on whether to approve, modify, or deny the design recommendation.
If the design concept is approved, the next step in the process is refining the design. Lane County will seek additional MPO funding for the additional design work. Construction funding has not yet been identified.
The TrAC is a volunteer citizen committee appointed by the Lane County commissioners.