Recall organizers retain high-profile attorneys
7 min read
Citizens seeking to stop what they consider an environmentally destructive transportation project have retained two high-profile attorneys from the Pacific Northwest's largest law firm.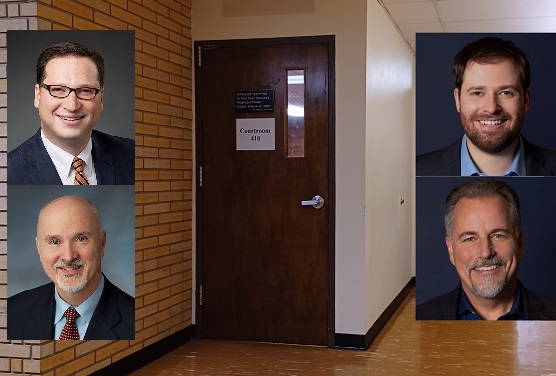 by John Quetzalcoatl Murray
Citizens seeking to stop what they consider an environmentally destructive transportation project have retained two high-profile attorneys from the Pacific Northwest's largest law firm.
Perkins Coie partners Stephen English and Misha Izaak will be defending Meta Maxwell, Mark Osterloh, Gerald Morton, the Recall Claire Syrett campaign committee, and the Eugene Business Alliance. JP Hammer is represented by his personal attorney, John Fisher.
The citizens submitted petitions to the city council in March seeking to stop construction of dedicated bus rapid transit lanes on River Road. When Ward 7 Councilor Syrett voted to proceed with the project, they submitted even more petitions in July to recall her from office.
In August, Councilor Syrett asked the court to stop the recall election, claiming that the EmX opponents submitted false statements for publication. She also asked for attorney's fees and damages of $2,500 "or such amounts as may be proven at trial" from each from the named defendants.
Ward 7 voted yes to recall Councilor Syrett by a 60-40 margin, with the final election results due to be certified on Oct. 3.
The first status conference for the case was held Sept. 23, with Misha Izaak reporting that the defendants will seek dismissal under a SLAPP claim. Oregon has passed a strong anti-SLAPP law to protect citizens from Strategic Lawsuits Against Public Participation—lawsuits that are meant to intimidate and silence political opponents by draining their financial resources.
Councilor Syrett added Tonkon Torp partner Paul Conable and associate Danny Newman to her three attorneys of record: lead attorney and partner Alexander M. Tinker, partner Jon P. Stride, and Antonija Krizanac.
Here are short profiles of the attorneys from their firms' websites (as retrieved Sept. 25, 2022):
Stephen English, Perkins Coie
Widely recognized for his skills and success as a trial lawyer, Stephen English has tried to verdict more than 100 cases in his 40-year career.
Called "one of the best trial attorneys in the history of Oregon" by sources in Chambers USA, Stephen has represented many of the region's most noted investors as both defense and plaintiffs' counsel. Nationally, he has represented clients in a range of often high-profile matters, including cases involving corporate fraud, sports law, technology, and the environment. His successful outcomes on behalf of his clients have included what was then the largest Taft-Hartley settlement in United States history. The resolution of this case prompted an invitation for Stephen to testify before the U.S. Senate Committee on Health, Education, Labor, and Pensions regarding protection of Americans' pension plans from fraud. He has successfully settled multiple complex matters, and received multiple verdicts resulting in seven- and eight-figure settlements.
Known for his ability to take a complicated case and make it understandable and persuasive to a jury, Stephen's trial experience includes business disputes, commercial torts, trade secrets, securities, policyholder disputes, product liability claims, and institutional liability. He also has successfully served as a mediator of last resort in particularly difficult and contentious disputes.
Stephen has been listed as "Lawyer of the Year" in Best Lawyers in America for nine of the past ten years, in areas including Bet-the-Company Litigation, Securities, Product Liability Litigation Defense, and Insurance. Chambers USA: America's Leading Lawyers for Litigation has included him for 15 years, including from 2011-2021, as well as ranking him as a "Star Individual" in Oregon. He is a fellow of the American College of Trial Lawyers, comprising the top 1% of the trial bar in the United States and Canada, and is a fellow of the International Academy of Trial Lawyers, an invitation-only organization whose membership is limited to 500 lawyers.
Misha Izaak, Perkins Coie
Misha Isaak has been trusted to litigate Oregon's most significant cases. He has successfully defended the state's congressional redistricting plan in court, obtained an injunction striking down Oregon's ban on marriage for same-sex couples, and represented the governor in brokering favorable settlements of state government's most important cases during her tenure, including its multibillion-dollar dispute with Oracle. He represents clients in state and federal courts, at both the trial and appellate levels, as well as in private arbitrations. Misha handles high-profile, complex litigation involving class actions, securities, corporate governance, antitrust, and business torts. He also advises clients and conducts investigations involving employment, professional standards, tribal affairs, and state government.
As Governor Kate Brown's chief counsel, Misha managed the appointment of a historic number of state judges, creating the most diverse bench in Oregon history. He represented the governor in negotiating favorable settlements of major state litigation, including the hoteling of foster youth, services for the intellectually disabled, treatment of transgender inmates, sale of the Elliott State Forest, tribal hunting and fishing rights, and property taxation of Comcast. He managed the governor's office's clemency program, facilitating pardons and commutations for reformed offenders and maintaining a moratorium on the death penalty.
Misha also litigates civil rights and constitutional cases involving free speech, equal protection, and privacy for business, nonprofit, and individual clients. In 2014, he led a successful challenge to Oregon's laws excluding same-sex couples from marriage, and then successfully opposed efforts to stop the marriages of same-sex couples at the U.S. Court of Appeals for the Ninth Circuit and U.S. Supreme Court. He has been recognized by the National LGBT Bar Association as one of the top 40 Under 40 LGBT lawyers in the United States, and by Basic Rights Oregon as one of the five most influential LGBT Oregonians.
Misha clerked for judges of the Ninth Circuit and federal district court. Prior to law school, he worked for U.S. Congresswoman Darlene Hooley and Oregon Attorney General Hardy Myers.
Misha has been an adjunct professor at Lewis and Clark Law School, a member of the Oregon Board of Bar Examiners, and a coach of Lincoln High School's Constitution Team—guiding them to four national championships.
Paul Conable, Tonkon Torp
Paul has a wide-ranging trial practice, representing both individuals and businesses in contract and investment disputes, government investigations, and environmental matters. Paul serves on Tonkon Torp's Managing Board and recently completed a term as co-chair of the firm's Litigation Department.
Paul's recent and ongoing litigation matters include:
Prevailing in a federal court trial against an out-of-state bank over ownership of $9 million of agricultural products. (Northwest Bank v. McKee Family Farms, Case No. 3:15-CV-001576).
Representing a coalition of business and community groups challenging the city of Portland's failure to address issues of homelessness.
Successfully representing the City of Lake Oswego, Oregon in state and federal lawsuits concerning the city's regulation of Oswego Lake.
Winning summary judgment on behalf of a large electric utility in a $500 million class action arising out of the closure of a nuclear power plant. (Dreyer v. PGE, Case No. 03C10640).
Obtaining a multi-million dollar jury verdict in a state court trial arising out of the client's losses in an investment fund (Beal v. Kerr-Cruickshank Inc., Case No. 1106-07241).
Prevailing in a jury trial in Boston, Massachusetts concerning ownership of a privately held investment company (Triebes v. IncTank, Superior Court Civ. Act. 10-1488).
Winning a multi-million dollar federal court jury trial arising out of the termination of a distribution agreement (Tinn v. Emm Labs, Inc., Case No. USDC CV07-963).
Before joining Tonkon Torp, Paul was a judicial clerk for the Honorable Susan P. Graber at the Ninth Circuit Court of Appeals and the Honorable R. William Riggs at the Oregon Supreme Court and Oregon Court of Appeals.
Danny Newman, Tonkon Torp
Danny Newman is an attorney in Tonkon Torp's Litigation Department, who focuses his work in the Bankruptcy & Reorganization and Government Solutions Practice Groups. Since joining Tonkon, he has worked on the largest chapter 11 cases in the Pacific Northwest, represented debtors and creditors of all kinds in state court litigation and out-of-court workouts, managed complex real estate and closely-held corporation disputes, and filed negotiated successful resolutions for challenges to ballot titles and investigations by various state agencies.
Danny joined Tonkon Torp after completing a clerkship with Judge Richard C. Tallman at the U.S. Court of Appeals for the 9th Circuit, focusing on the circuit's civil appeals. Prior to that clerkship, Danny worked on large and complex bankruptcy cases, bet-the-company commercial and energy litigation, and government anti-corruption and bribery investigations in the Houston office of Paul Hastings LLP. In his first job out of law school, Danny served as a law clerk to Judge Xavier Rodriguez at the U.S. District Court for the Western District of Texas in San Antonio, where he assisted with all aspects of civil litigation — from motions to dismiss through trial — as well as with criminal substantive motions and trials.
Danny also previously co-taught a negotiations seminar as an adjunct professor at Gonzaga Law and at South Texas College of Law Houston. He maintains an active pro bono practice, including forming and advising nonprofit clients, representing immigrants seeking asylum or special status, and pursuing civil rights claims.
Danny earned his J.D. from Northwestern University School of Law in 2014, and graduated from Rice University in 2010 with a B.A. in Political Science and Public Policy, with a focus on American government and urban policy.
Outside of work, Danny enjoys grilling, sports, politics, international travel, exploring the Lower Willamette watershed's restaurants and coffee shops, and hiking and relaxing everywhere from Oregon's coastal watersheds to the Deschutes River watershed.