Concert will benefit memorial for Silas and Ben
2 min read
A dozen bands will perform at a benefit concert Saturday Oct. 1 from 10 a.m. to 10 p.m. at WJ Skatepark. Funds will help build a memorial to local skaters Silas and Ben. Speakers at the event will also share information about mental health resources.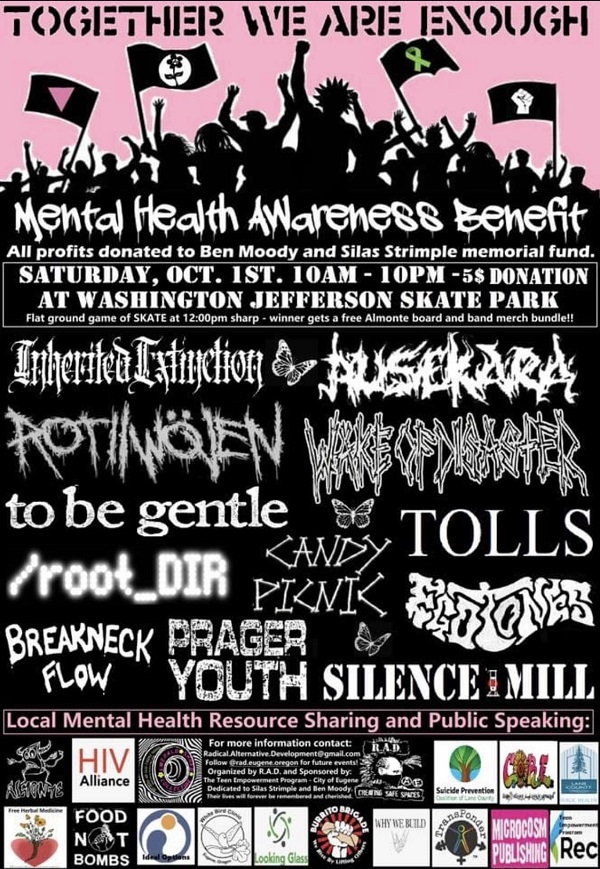 A benefit concert at Washington Jefferson Skate Park on Saturday, Oct. 1 from 10 a.m. to 10 p.m. will help build a permanent memorial for Silas Strimple and his friend Ben Moody.
Silas was a gifted artist, musician, and filmmaker. But his biggest passion was skating. He was a natural at it, and he spent almost every waking hour skating. He became well known, and skated Seattle, San Francisco, Portland, L.A., he skated the streets of Amsterdam and even the cold sidewalks of Oslo, Norway. Around the age of 15 he started to develop schizophrenia. In only a couple short years, the illness had completely taken over.
Ben was a skater who also called WJ Park his home. He also suffered from mental health issues. His depression got the best of him and he took his own life at age 17.
Speakers throughout the day will share resources about mental health and suicide prevention. The following bands will be performing during the benefit concert:
The benefit concert Oct. 1 launches Mental Illness Awareness Week, officially established by Congress in 1990 during the first full week of October. Advocates cooperate to sponsor activities, large or small, to educate the public about mental illness.
According to the National Alliance on Mental Illness, this year's theme, "What I Wish I Had Known," will focus on elevating the voices of people with lived experience, welcoming them to share with others what they learned during their recovery. Topics include:
Monday Oct. 3: What I Wish I'd Known About Stigma
Tuesday Oct. 4: What I Wish I'd Known About Medication
[National Day of Prayer for Mental Illness Recovery and Understanding]
Wednesday Oct. 5: What I Wish I'd Known About Therapy
Thursday Oct. 6: What I Wish I'd Known About Disclosing
[National Depression Screening Day]
Friday Oct. 7: What I Wish I'd Known About Caregiving