Transponder celebrates its first decade with MasQUEERade Oct. 15
3 min read
Dance the night away on Saturday, October 15, when Transponder celebrates one decade of serving the community.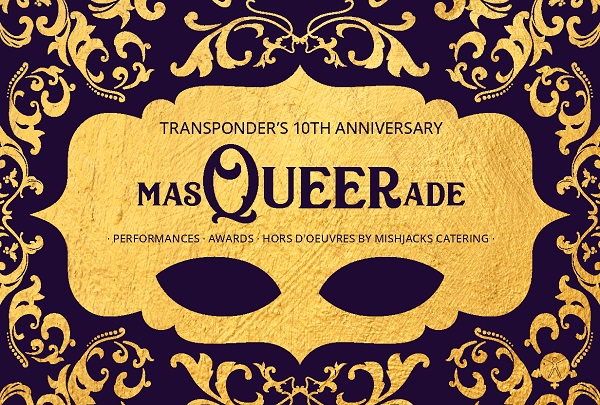 Pre-party Oct. 14 at Spectrum
On Saturday, October 15, Transponder is hosting our Annual Gala fundraiser to celebrate one decade of serving the community. The theme for this year's Gala is MasQUEERade.
We'll enjoy hors d'oeuvres by Mishjacks Catering, live entertainment by Haus of Blunt, Candy Whoreholla, and Edd Zackly; poetry readings by Jack Fluke and Jaylen; community acknowledgements and awards, and then we'll dance the night away.
Raffle prizes include (as of Oct. 2, 2022):
Each ticket comes with two free drink tickets! We'll have beer, wine, kombucha, and sparkling water available. Small bites provided by Mishjacks Catering (allergens will be listed at the venue):
Wagyu Beef Sliders (GF) : Oregon wagyu beef burgers served open-faced on rondelles of French bread with red onion confit, mini brie, cherry tomatoes & cornichon
"Shrimp & Grits" (GF) : Mini towers of firm, cooked yellow corn grits fried until crispy & golden brown on the outside, yet creamy in the center, topped with grilled wild gulf shrimp & sweet, salty bacon jam
Vegetarian Pan Bagnat (VG, GF) : A stunning French bread tartine of herbed flageolet gigante spread, marinated heirloom cherry tomatoes, Niçoise olives, haricot verts, shaved watermelon radish & caperberries
Savory Sweet Potato Beignets (V, VG, GF) : A variation of the classic, New Orleans-style light fritter, topped with buttered sorghum & garnished with a crispy yam chiffonade
Sweet & Spicy Lollipop Chicken (GF) : Creole-spiced organic "frenched" chicken legs cooked until crispy & juicy, then smothered in a hot honey glaze
Masks are required at the event. If you are attending, you are agreeing that you are either vaccinated or have had a negative COVID test within 48 hours. (Please see our COVID practices.)
We ask attendees to not wear fragrance. The venue is all on the ground floor and has ramp access. The building itself has no carpets and only a few rugs. There is a private bathroom which is also wheelchair accessible. There are four designated Handicap Parking spaces. There will be standard height dining tables available for those with accessibility needs; please inquire with the registration staff at the event. The performances are anticipated to be loud; please bring ear protection if you're sensitive.
We will be recording the event for anyone who can't attend.
Can't Attend the Gala? No worries, we're also holding a Pre-party!
When: Oct. 14 at 9 p.m.
Where: Spectrum
Who: 21+
Cover charge: $8-$10
Join us for a Gala preparty and the art of being fabulous! At 9p on Friday, October 14 @ Spectrum we'll be celebrating with our MasQUEERade pre-party. Hosted by Lyta Blunt, we'll have entertainment from Haus of Blunt, Candy Whoreholla, and Edd Zackly. Haus of Blunt is Lyta Blunt, Betti Blunt, Petra Etc., Chaka Blunt, Shirley Mental, and Wanda Anne Cosmos.
Two tickets for the TransPonder Gala: MasQueerade will be given over the course of the evening to those in attendance.
We'll be following the COVID regulations of the venue: masks and vaccinations required. Please contact Spectrum for details.
We hope to see you there!